I am so so very excited to share this fun post with you today! I got these incredible new front door mats AND I got my front porch holiday ready! 
Have you heard of Porte + Hall? They're dreamy. I'm telling you, once you use one of these front door mats you're never going back. (Thank you Porte + Hall for sponsoring today's post – I adore you!) 
These stylish doormats are for both indoor and outdoor use. The idea behind the company is to offer solutions to create a functional entry that's actually pretty. (Imagine that… 😉 ) 
The owner, Stafford, was underwhelmed by the doormat options out there, so she decided to create a line of doormats that created a sense of arrival.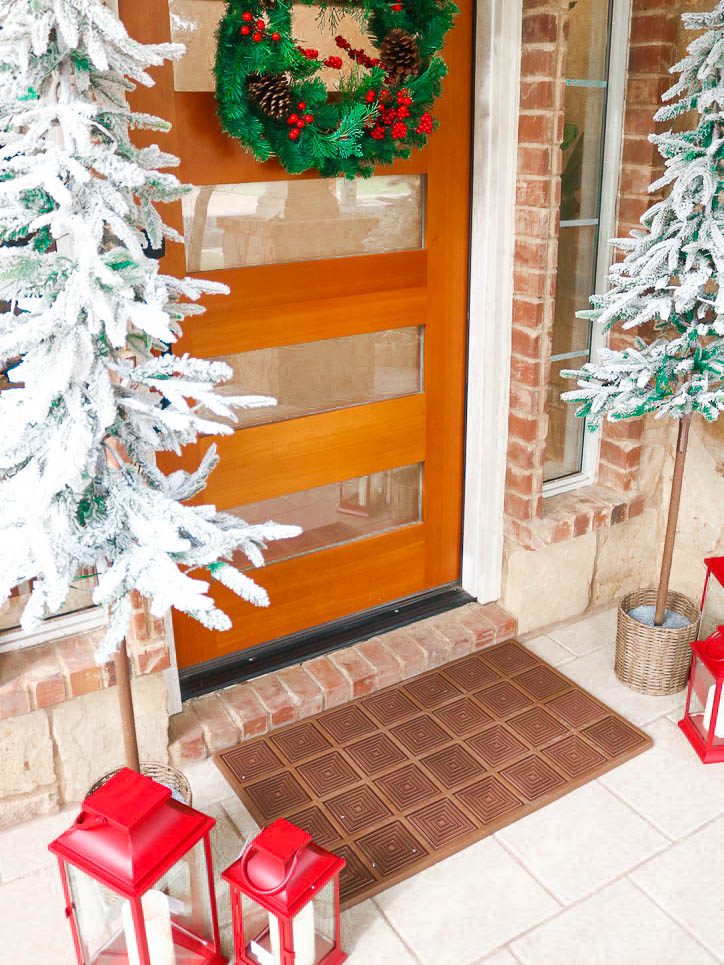 The result is a lineup of both indoor and outdoor doormats that are both functional and beautiful. 
They're sturdy and have all sorts of special design elements to make them out-perform other doormats on the market, but they're created by an interior designer who cares deeply about the way that the mats look and the first impression they give. 
(After all, your front entry is the first impression of your home!)
And you guys: Porte + Hall is offering So Much Life readers 15% off their entire order at checkout! Just use the code "SML15" at checkout and you'll get 15% off everything. AMAZING!  
So, I've totally bought those adorable front doormats at home goods stores that look oh-so-cute and seasonal..for exactly one season, and then they fall apart. 
I've also bought sturdy mats at home improvement stores. They're functional and do the job, but they're also very ugly. 
Porte + Hall walks the delicate line between functionality and style. Their designs are so beautiful, but these mats also do their job. 
Here's Why I Love Porte + Hall
1. They're made for heavy-duty use, but they don't feel bulky. Rainy, muddy day in Austin? No problem! 
2. They're a female-founded company. Yes, yes, and yes. I'm all about purchasing from female-founded and female-owned businesses! 
3. Porte + Hall doormats are gorgeous. The indoor mats are sleek and low-profile. The colors are vibrant and made to last. They're trendy without being too trendy (meaning they're made to last for years). The designs are beautiful. 
4. Porte + Hall doormats are easy to clean. I mean, this one should have actually been my first point, right?! As a mom to two young boys, "easy to clean" is basically my first priority whenever I purchase something. 
Porte + Hall walks the delicate line between functionality and style. Their designs are so beautiful, but these mats also do their job. 
I've now tried out both an outdoor rug and an indoor rug from Porte + Hall, and I adore both. The outside doormat that I got is called the Outlier Doormat, and the inside doormat is called The Insider. Both function exactly as promised – high durability, easy to clean, chic and pretty, and not something you have to "protect" or worry about because, well, they're just sturdy doormats. 
Porte + Hall The Outlier Review
I got The Outlier in this rich and pretty chestnut color. It's proudly made in the USA and consists of a simple geometric pattern. 
My favorite part about this doormat (besides how pretty it is!) is the secret weapon on it: those thousands of rubbery bristles. 
Here's a better close-up picture: 
See? You don't really notice them when you're standing up, but if you have mud or dirt on your shoes, those bristles 100% do their job to clean your shoes before you get inside. 
But from far away they just look like a cool geometric pattern. 
The other cool thing about this mat is it has a bunch of vents built into the pattern, so water won't get trapped in the divots. 
And look! I got my front porch all decorated for the holidays, and it goes perfectly! I love that I can use this designer doormat year-round and it's going to look great for any season.  
Porte + Hall The Insider Review
Indoor doormats are so tricky. They're rarely all that pretty (most of the cute designs are for outdoor mats) but they're equally important because they make a statement in the front entry AND they have to be a landing place for dirty shoes!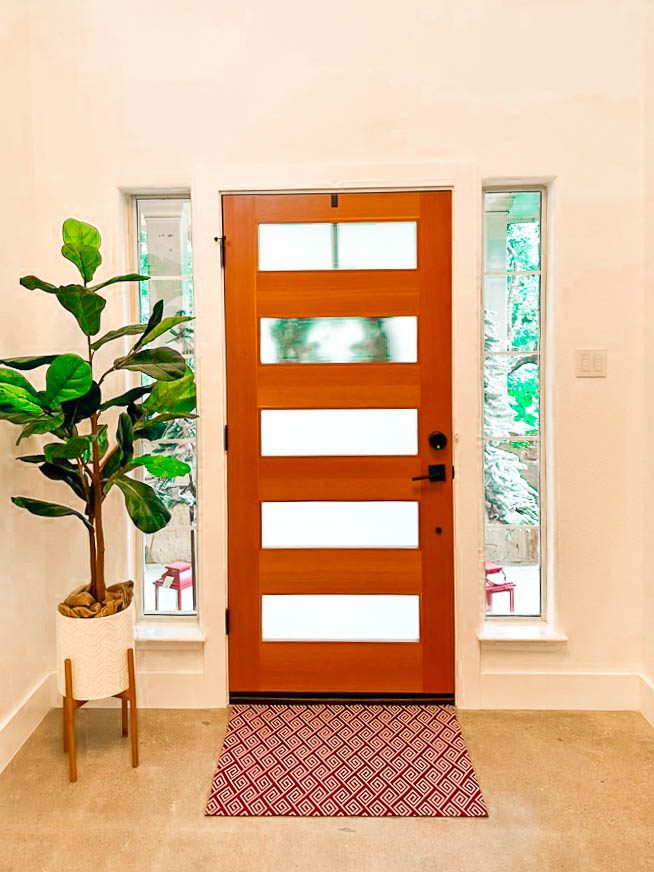 The best part of The Insider is the slip-resistant backing. So good! I don't have to worry about putting sticky corners under my mat. It just stays in place. 
The Insider is also slip-resistant on top and water absorbent to protect your floors. Now, I definitely wouldn't want to dump water on it…but if it's a rainy day and wet shoes land on it, I'm not worried about it.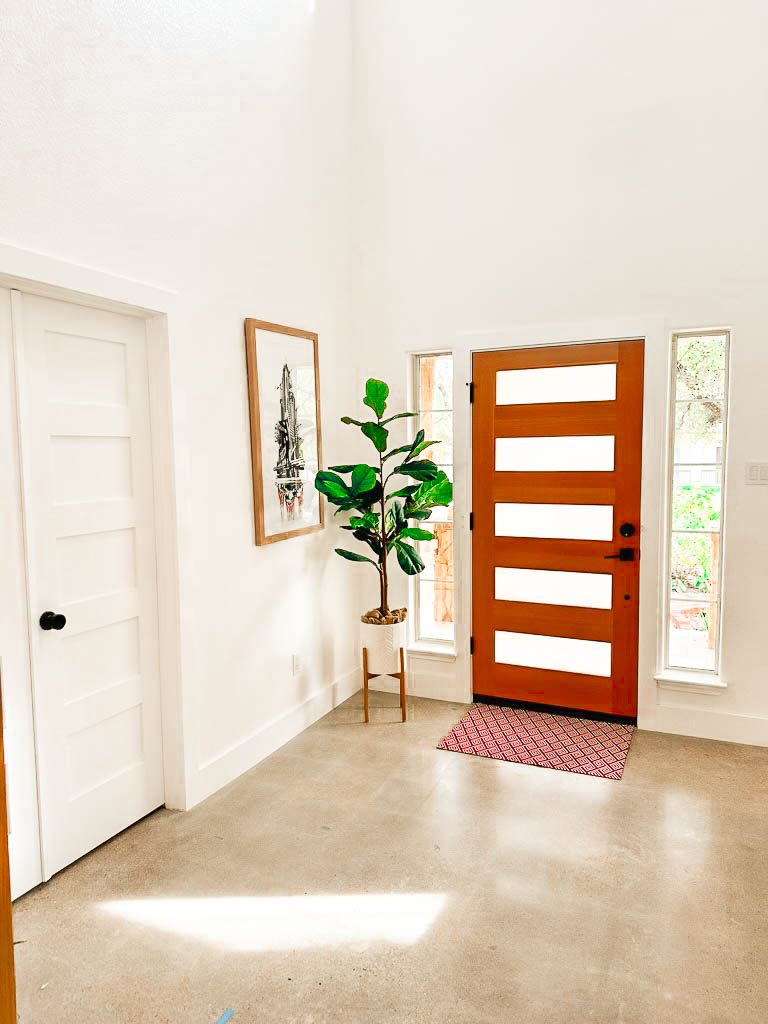 Can I put Porte + Hall Doormats In The Washing Machine?
No, that's not how these doormats are designed to be washed. Instead, you just apply high water pressure (cold) and then hang it to dry. If you put it in the washer, the backing might start to separate from the front. 
If it gets a really bad stain on it (hello, kids and pets..) you can use OxiClean and then just hang it to dry. 
And then for those Outlier outdoor doormats, they're made from a really durable rubbery material, and you can just shake it out when you want to clean it. If it has a LOT of dirt caked onto it, rinse it with a hose and hang it to dry. Easy.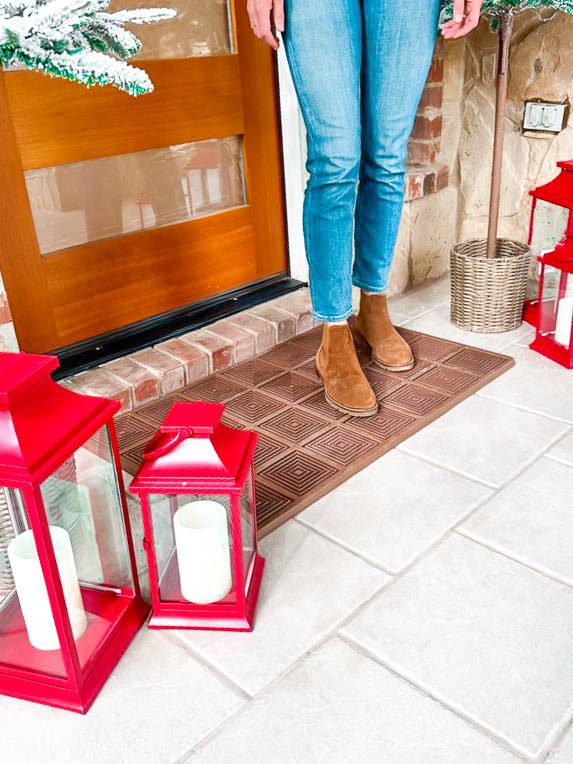 One more (great) thing about Porte + Hall
One more wonderful perk about these Outlier doormats? They're 100% recyclable! I truly appreciate a company that makes them this way, because it's a bit of extra work for them…but it's so much better for our earth! 
If you use your mat for a very long time and you've decided it's time to get a fresh new one, you can return your Outlier to Porte + Hall and they'll recycle it for you. 
Are Porte + Hall Doormats Worth It?
Friends, they're so worth it! And I say this fully aware that they're a bit pricier than what you might find at your favorite home goods or discount store. 
But I'm all about investing in things that will last a while so I'm not buying stuff that's going to be thrown in a landfill in a few months. 
These designer doormats are sturdy, functional, and so pretty.
And Porte + Hall was so generous to offer anyone 15% their entire order when they use "SML15" at checkout. You can get 15% off anything from the entire site!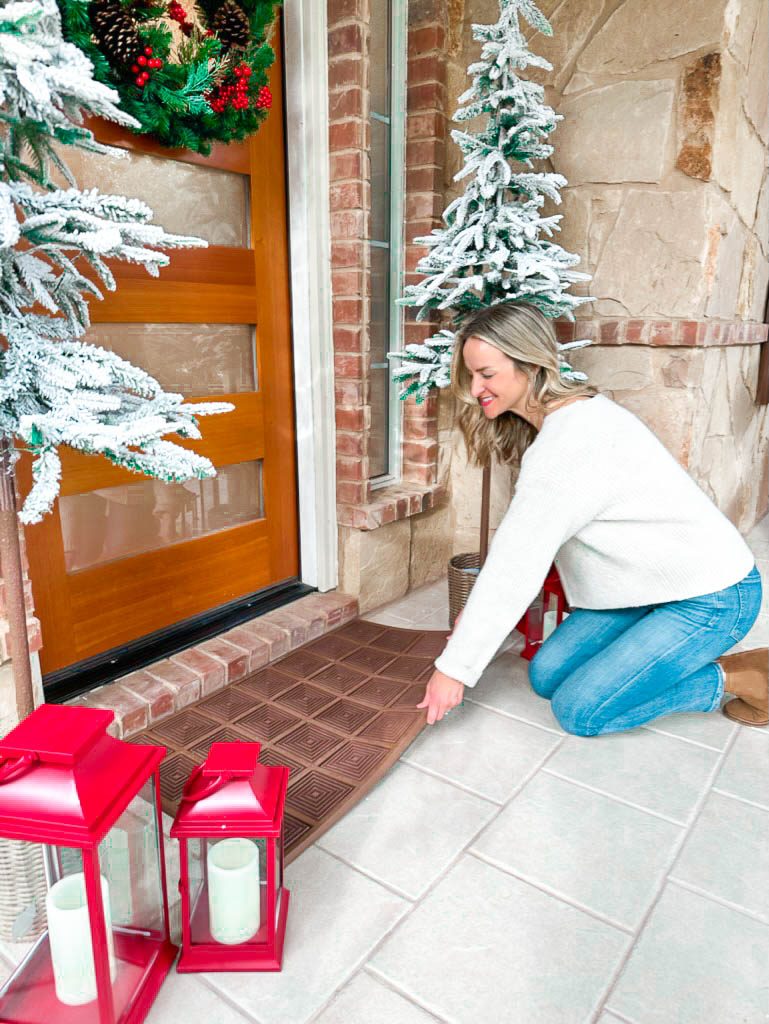 If you're looking for a very unique, fun gift idea, purchase one of those pretty indoor doormats for someone in your family!