I've been keeping a gratitude journal for the past few years, and this small practice has made a huge impact on my life. I'm not talking about the sort of thing that's like "I-think-it's-helping-but-I'm-not-really-sure." Nope, keeping a gratitude journal has literally changed parts of my life. It's something I've been wanting to share with you in detail because it's too good to keep to myself!
The benefits are huge. You can research the results that are scientifically proven to be true, both physical and emotional benefits from writing in a gratitude journal, but for this blog post I'll just share my own personal experiences.
---
I'm sharing my collection of 60 gratitude journal prompts – click here for an instant free download!
---
I've noticed that when I start my day with a gratitude journal, I breathe deeper and feel calmer throughout the day. Emotionally, gratitude journaling gives me greater happiness and sense of general fulfillment in life. (Seriously! I feel so much happier doing normal day-to-day things, like grocery shopping, changing dirty diapers, or brushing my teeth at night when I'm consistent with my gratitude journal.) And if you want to get really woo-woo, the emotion of appreciation is literally the very highest one on the Abraham-Hicks emotional guidance scale. That means that the more often I can tap into that emotion, the easier it will be for me to attract the things I really want in life. This has hands down been true for me: the more often I focus on the things and people and experiences I already have and how much I appreciate it them, the more good things flow into my life.
I started keeping a gratitude journal after reading Jen Sincero's book You Are A Badass, and I've never looked back. I love the mindset I achieve when I start my day by focusing on what I have, rather than lack. I've noticed a profound difference in the good things that I've attracted into my life since I've started practicing gratitude. (Whether I've literally attracted more good things into my life than normal, or I'm just aware of the good that would have existed anyway, I have no way of knowing. But the point is that I feel like I've won the jackpot on a daily basis, and we all know that none of us actually want the stuff, we just want the way the stuff will make us feel.) I go through seasons where I practice gratitude daily, and other busy times (like right after Milo was born) when I'll do a mental gratitude practice while I'm unloading the dishwasher. But I've realized that practicing gratitude is sooo powerful, and it's something that I'll incorporate into my life in one way or another until the day I die.
How to keep a gratitude journal:
There's really no wrong way to do it, so don't get caught up on specifics. All you need to do is write down things you're thankful for on a sheet of paper. But here are a few tips for keeping a gratitude journal that have helped me reap the most benefit out of it in the past few years:
Focus on the feeling, not the action. This is really the only thing you need to remember when you're keeping a gratitude journal. You reap the benefits of a gratitude journal when you can fall into a state of appreciation. So if you're writing down a list of things you're thankful for, but you don't feel the emotion of gratitude, you're not going to get the same results as you will when you're basking in the glow of appreciation.
Write by hand. Def not necessary, but the slow process of writing by hand helps me tap into the emotion of gratitude and abundance.
Try setting a timer, rather than focusing on a numbered list you need to fill out. This is one of my favorite little tricks! I set a timer for 10 minutes and just write until the timer buzzes. I can write as quickly or slowly as I like, and I'm not trying to just "cross it off the list" by filling out a certain number of lines.
How to stay motivated to write in your gratitude journal:
Get a fun journal that you use just for your daily gratitude practice. Again, not necessary, but I've found that a nice journal that I use specifically for my gratitude practice makes me excited to write every morning. I'm obsessed with using my standard black lined moleskine journal; I just love the way they look all lined up when I'm finished with them.
A few others that I love:
Grateful Peoples is a nonprofit that has donated more than 15,000 gratitude journals. I own the "Waking Up In Amsterdam" journal, and I love that it's made from 100% recycled paper and plant-based ink.
These Paperage journals on Amazon are less than $10 and come in a bunch of bright, happy colors. They're similar to the Molsekine notebooks, but about half the cost.
I love these monogram journals from Anthropologie! Anything monogrammed = a fun purchase.
Invest in some fun pens. I bought a few very expensive ones before I discovered that I don't need to spend much money on pens after all. The Papermate Flair Pens write beautifully and don't bleed, and they're just as great as the expensive ones. I got this huge pack of colors, and I get a little woo-woo and let my intuition guide me to pick a color that day. There's also a 4-pack of black ones for $4.
Follow these prompts when you're feeling unmotivated. I made this list of 60 gratitude journal prompts to help me on days when I feel low or greedy or dissatisfied with life and need some help feeling gratitude. You can print it and tape it to the back inside cover of your gratitude journal for those mornings when you need a little push. Click here for your immediate download.
---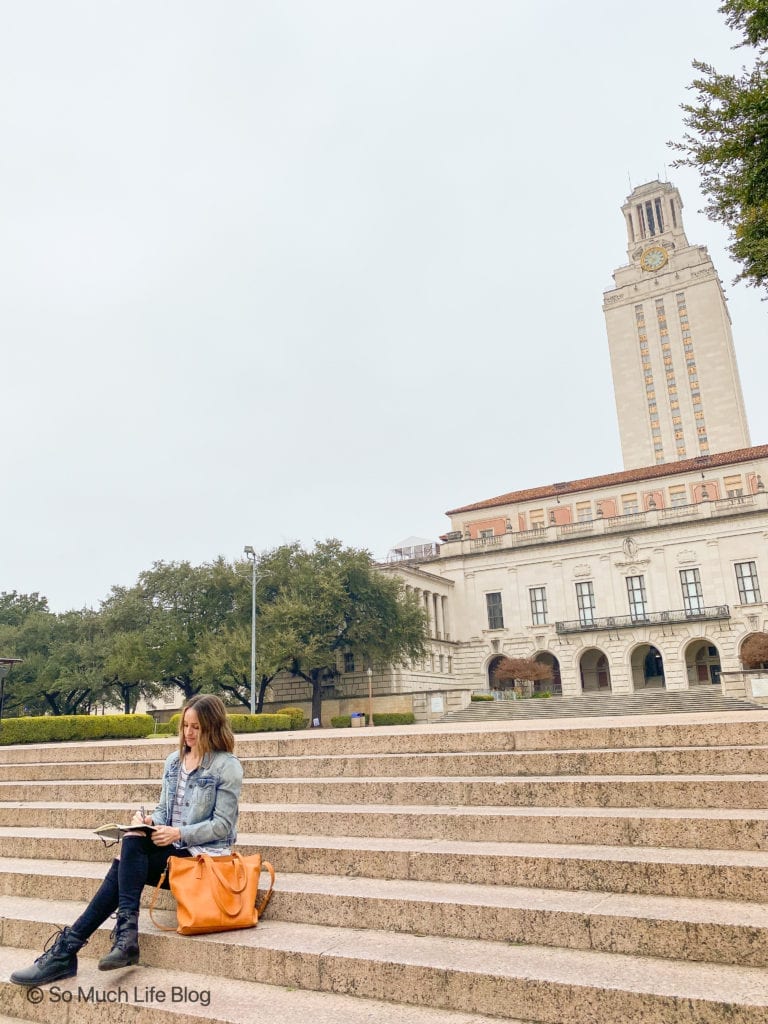 And that's it! Keeping a gratitude journal is simple, potent, and worth every minute I've invested. Hope this helps you feel motivated to start this powerful practice in your own life. If you're a gratitude journal veteran, I'd love to hear from you: let me know your favorite parts of it, specific journals you love, or some of the benefits you've noticed.
PS: 12 little monthly goals for 2021, and 3 tips to deal with instagram jealousy