Where To Eat And Drink on Rainey Street
Rainey Street is one of the hottest places for a night out in Austin, Texas. It's a historic district, full of the cutest little bars and bungalows.
Most of the themed bars lining Rainey Street were originally little houses 1900s that were gutted out and renovated. You can walk down the street from one bar to the next, sampling some of the best food, beer, and cocktails that Austin has to offer.
The street can seem a little overwhelming, so I've broken it down into three categories for you. After visiting Rainey street countless times, I've put together my top picks for all three categories!
[vessel-campaign id="90″]
---
BEST FOOD ON RAINEY STREET
1. Emmer & Rye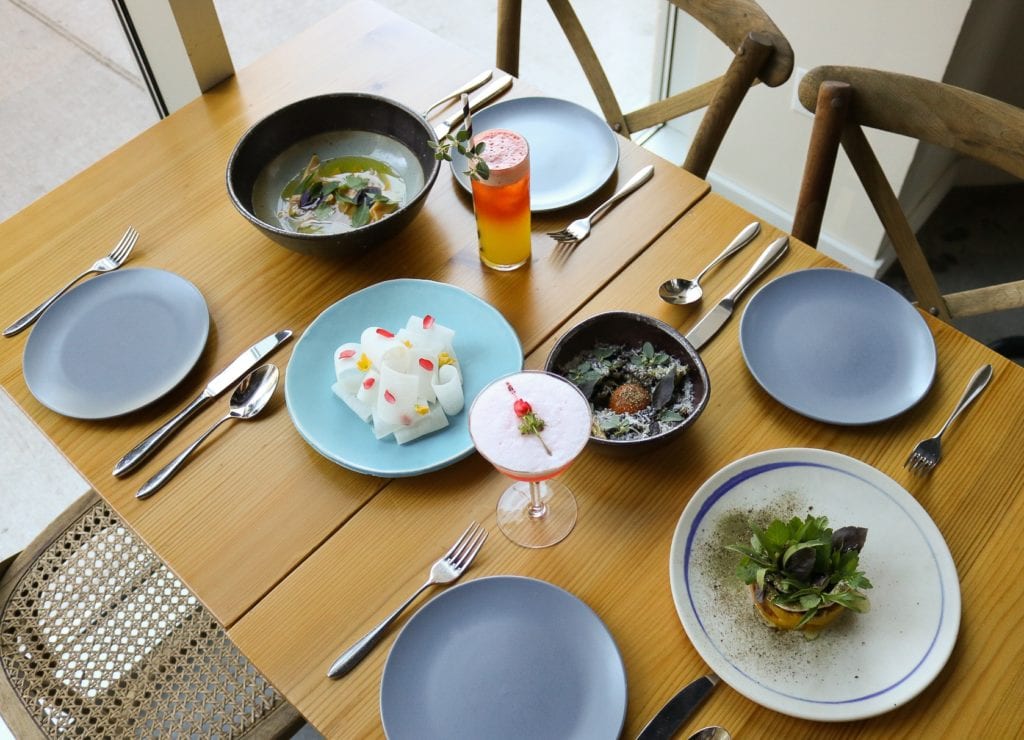 This is, without a doubt, my favorite dinner restaurant on Rainey Street. It's a farm-to-table American restaurant that not only makes their bread and pasta from scratch, but also mills their own flour! One bite of that famous Cacio e Pepe and you'll understand why they take this extra step.
There's a dim sum cart that's wheeled around during dinner service. Chef Kevin Fink wanted to be able to be able to offer guests the freshest food from local farmers, so he added this service. It's a fun way to taste a seasonal menu item that might only be available for a day or two!
WEBSITE | 51 Rainey St #110, Austin
2. G'Raj Mahal
G'raj Mahal used to be an Indian-American food truck, but it turns out that Austin can't get enough of those samosas, korma curry, and friendly hospitality. It's now a brick-and-mortar with a large front deck (perfect for people watching!) and an adorable pink patio in the back. The interior is beautifully decorated; this is seriously one of the prettiest restaurants on Rainey!
Weird fact: the bathroom doors here are super cool! I'm a weirdo and I'm always interested in how the restaurant bathrooms are decorated.
WEBSITE | 73 Rainey Street
3. Eat Drink Anthem
Ok my party pals, this one is for you! Eat Drink Anthem has a giant menu of "Texasian" food, which means you'll find everything from an "aloha burger" to raw oysters to "tiki taquitos." And so. much. more. The menu goes on and on!
This is good bar food for carb-loading before a night of drinking, or late-night noshing after an evening of bar hopping.
Psst: Anthem's happy hour has amazing deals on their snacks and strong cocktails.
WEBSITE | 91 Rainey St #120, Austin
4. Via 313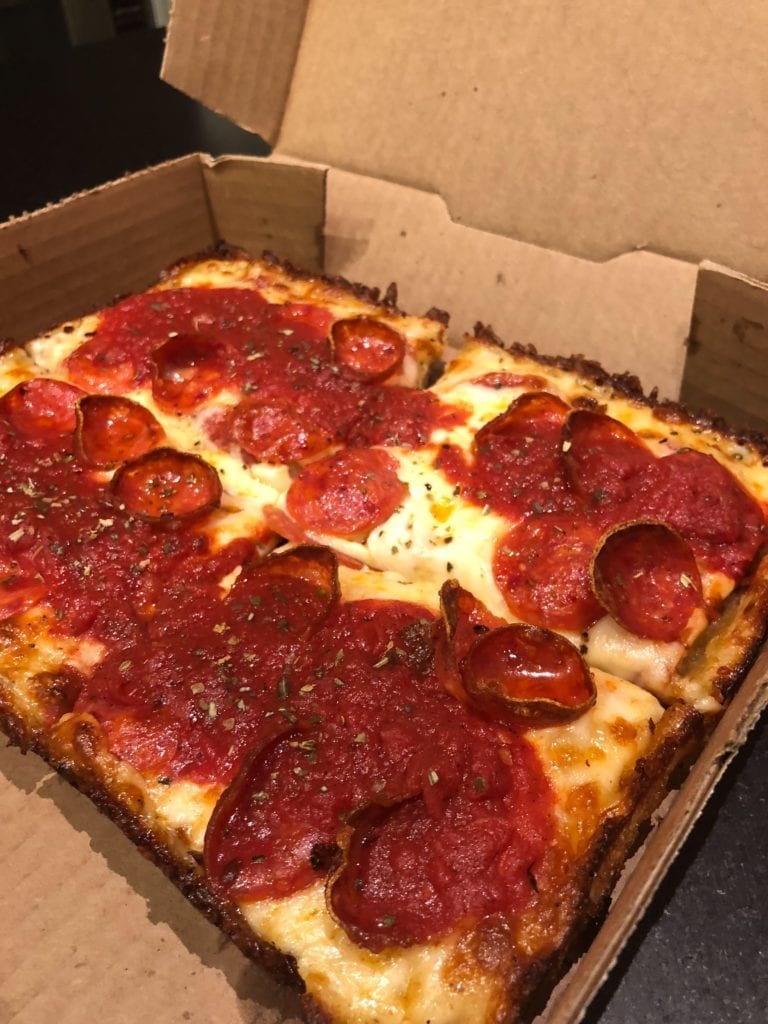 Ever had Detroit style pizza? It's ridiculously good. I might even be so bold as to call this my favorite pizza in the entire city of Austin!
They start with a thick crust pizza, which is loaded with a layer of pepperoni, a heaping amount of melty cheese, and a thick pour of red sauce. It's crunchy, bubbly, and the perfect treat to go with beer.
(Via 313 is a little trailer located in the back of Craft Pride bar, which I'll talk about in just a moment.)
WEBSITE | 61 Rainey St, Austin\
---
BEER
1. Banger's Beer Garden and Sausage House
Banger's has the largest tap wall in the city of Austin, so it's an easy choice if you're a beer nerd. The seating is made up of long rows up picnic tables. I love gathering with a big group of people for homemade poutine, sausage, live music, and lots of beer!
WEBSITE | 79 & 81 Rainey St, Austin
2. Craft Pride
If you're hoping to sample lots of Texas craft beer, Craft Pride is for you! There are over 50 taps on the wall, and it's all from craft breweries right here in Texas! Beer is arranged by flavor profile (malty, hoppy, sour, etc.)
Order a flight of 5 to compare and contrast, or grab an entire pint of your favorite and take it to the backyard to enjoy it under the twinkly lights. Not sure what you like? Ask the bartender for suggestions!
photo credit: Brian Ledden
---
COCKTAILS
1. Half Step
Esquire called half step one of the "50 Best Bars in America." This is where I always go when I want an exceptional craft cocktail on Rainey street.
Why are they so good? Half Step is one of the few bars in Texas that "grows" their ice from scratch. They start with an extensive filtration process, then freeze it into crystal clear, 350 pound blocks. These are chainsawed into 5 unique shapes for the various cocktails.
Not sure where to start? The easy-drinking cocktails on tap are great for a hot summer night in Texas.
WEBSITE | 75 1/2 Rainey St, Austin
2. Icenhauers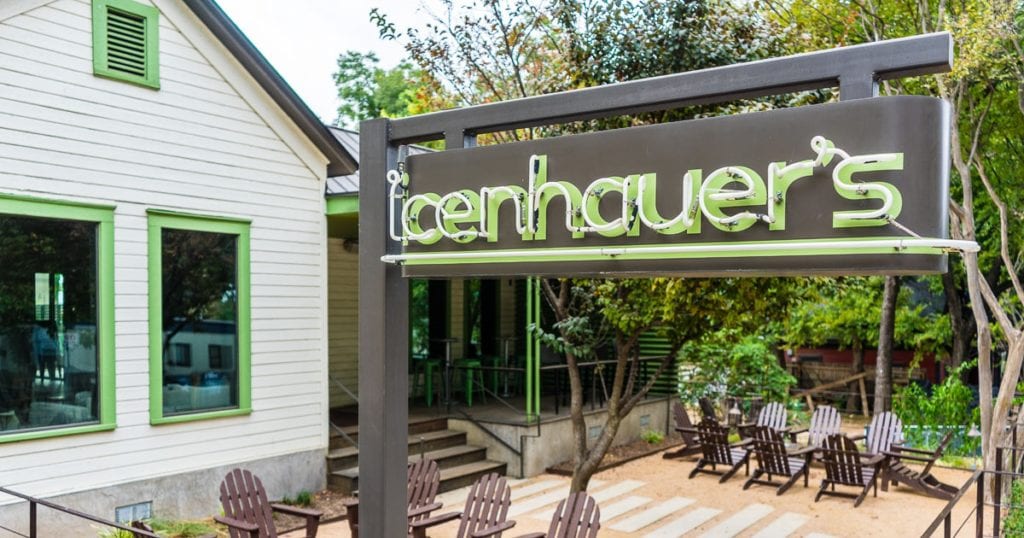 This 1895 build was renovated by the Michael Hsu House of Architecture (they're also responsible for the beautiful South Congress Hotel). This is one of the prettiest cocktail bars on Rainey.
I'll be honest….this place gets packed on the weekends and can feel like a club. If you like to dance, it's a good spot! But if you just want to quality cocktails, head to Half Step.
Happy hour on Monday and Tuesday goes all the way to 9 pm, and that's a great time to check it out!
WEBSITE | 83 Rainey St, Austin
3. Lucille
Lucille is a charming little Texas bar with sparkling chandeliers inside and a casual, dog-friendly patio outside. I don't think the cocktails here are necessarily the best on Rainey street, but the vibes are dope.
WEBSITE | 77 Rainey Street, Austin
---
There are loads of other fun places to hit up on Rainey Street. Be sure to check out the food trucks that are always in the food truck park. They rotate around from time to time, but you'll be sure to find something delicious for your late night cravings.
A few other bars worth noting:
Container bar is made of shipping containers! I've never been impressed with their drink selection, but the bar design is super cool.
Bungalow is home to the "I Hate You So Much" mural. (It's a riff on the famous "I Love You So Much" mural on South Congress.) Be sure to take a pic by it!
Geraldine's in the Hotel Van Zandt offers contemporary American fare. It's a great place to brunch on Sunday morning after a night out on Rainey.
---
Looking for more great eats in Austin? Check out my Austin Index to search for restaurants by neighborhood, type of food, or time of day!