Wondering where to eat in Austin if it's your first time to visit? You're in luck – I created this guide just for you! I'm writing this blog post by popular request, because without a doubt, the #1 question I get via messages on instagram, emails from readers, comments on the blog, or just random strangers who find out I'm a food blogger is:
Where Should I Eat In Austin As A First Time Visitor? 
It's kind of vague, and it's a little hard to answer! Haha. Now, to be fair, I ask the same thing of locals when I visit a new city. Without being able to specify exactly what type of food I'm craving and where in town I'll be hanging out, I just want the answer to my "generally-speaking-what's-the-best-food-in-town?" type of question…
---
If you want my FREE 3-day guide to Austin, click here for an immediate download!
---
So I compiled this list for all of you who are like me, who want to be given 3 solid choices in a wide variety of categories.
(Now, these are my top 3 choices, but I have SO many other suggestions on my Austin Index. Click here to run your own search by part of town, type of food, or time of day. Also, this guide to the Top 20 Restaurants in Austin is a good place to start!)
I chose 11 popular food categories for this list:
Breakfast Tacos
BBQ
Pizza
Breweries
Coffee Shops
Food Trucks
Ice Cream
Brunch
Dinner
Cocktails
Juice Bar/Healthy
---
Best Austin Breakfast Tacos
1.Veracruz All Natural. [WEBSITE] One of the most popular taco trucks in Austin with two truck locations + a  brick and mortar in Round Rock. Their migas taco is award-winning and will knock your socks off.
2. Polvo's. [WEBSITE] I adore these breakfast tacos! Polvo's makes their big, warm flour tortillas homemade every day and fills them up with your choice of ingredients. My go-to is a simple egg/chorizo/cheese or egg/bean/potato. These babies are pretty massive; one of them will fill me up!
3. Tyson's Taco's [WEBSITE] They're open 24/7 and "Authentically Austin," meaning the team at Tyson's Tacos learned how to make their tacos from Austinites! Expect lots of smoky BBQ flavors and funny names, like my favorite, the Avocado Abogado with ribeye and avocado! Mmmm…
---
---
Best Austin BBQ
1. La Barbecue. [WEBSITE] La Barbecue in east Austin is a popular place!! The lines can be long (but no where near as long as Franklin BBQ). It's ok….that just makes the brisket taste that much better!
2. Valentina's Tex Mex Barbecue. [WEBSITE] For something totally unique, try Valentina's. They serve meat by the pound and on sandwiches, but I'd pass on that and try their delicious tacos: smoked meat served in a fluffy, homemade flour tortilla. Yes. Please.
3. LeRoy and Lewis. [WEBSITE]  I adore this BBQ trailer opened by Evan Leroy and Sawyer Lewis. They offer "new school barbecue," because Evan said that he was tired of every bbq place having the exact same menu. I particularly love their desserts (if you can save room!) They rotate, but one of my favorites is the cheddar cheesecake.
---
---
Best Pizza in Austin
1. Homeslice Pizza. [WEBSITE] Get it by the slice or by the pie, but everyone needs to try Homeslice Pizza at least once….it's the most famous pizzeria in Austin! It's a New York style thin crust, but they also make a deep dish that is deeeeelish.
2. Pinthouse Pizza. [WEBSITE] This one is my personal favorite, and I eat it way too often…. You'll probably run into me here sometime! It's also an award-winning brewpub with some fantastic IPAs and a killer guest tap list.
3. Via 313. [WEBSITE] Perfect for those late-night cravings when you're bar-crawling. 🙂 Via 313 is Detroit-style, so it's a rectangular deep-dish pizza cut into four pieces. There's a a couple brick and mortar locations, but I love the food truck location at Craft Pride on Rainey Street best.
---
Best Austin Breweries
For a giant guide, click here to see the 22 must-visit craft breweries in Austin Texas. Just looking for my top 3 recommendations? Here they are:
1. ABGB. [WEBSITE] They won the Great American Beer Festival award for "Brewpub of the Year" for 3 years in a row, so need I say more? (I will.) The vibe is amazing, with a stage for live music/dancing, a giant outdoor area for hanging out with friends, and long picnic tables inside, perfect for big groups! The pizza is amazing. (I didn't include it earlier because I'm listing it here, but it's one of my favorite pizza places in Austin!) They've won many more GABF awards for their beer, and the "Hell Yes" Helles is my personal favorite. Parking can be a pain, but if you take a ride share, you can enjoy even more beer!
2. Austin Beerworks. [WEBSITE] This is an iconic and super well-known Austin brewery. You'll see their cans in grocery stores and on tap at restaurants, but it's fun to go to the taproom and try their beer fresh!
3. St Elmo Brewing Co. [WEBSITE] A small but mighty brewery and tap room located at The Yard in south Austin. This is such a fun place to hang out with friends, drink a few pints, and order some insanely delicious fried chicken from Spicy Boys food truck.
---
Best Austin Coffee Shops
1. Houndstooth Coffee. [WEBSITE] They have a lovely coffee program and skilled baristas, so you're guaranteed an expertly pulled shot of espresso or a deep and complex pour over. Three locations in Austin.
2. Fleet Coffee. [WEBSITE] Want to feel a little bit more hip, right away? Go to Fleet Coffee. It's an adorable, tiny, triangular coffee shop on the East Side with a knowledgeable staff and an impressive list of imported roasters.
3. Patika. [WEBSITE] This is a small shop in south Austin that serves consistently good coffee. (I love their cold brew, beautifully-poured cappuccinos, and house-made chai.) But the thing that makes Patika such a gem is their pastry program. Not kidding you when I say I've eaten their dense, buttery scones more times than I can count, and I always crave a second one right when I finish the first.
---
---
Best Austin Food Trucks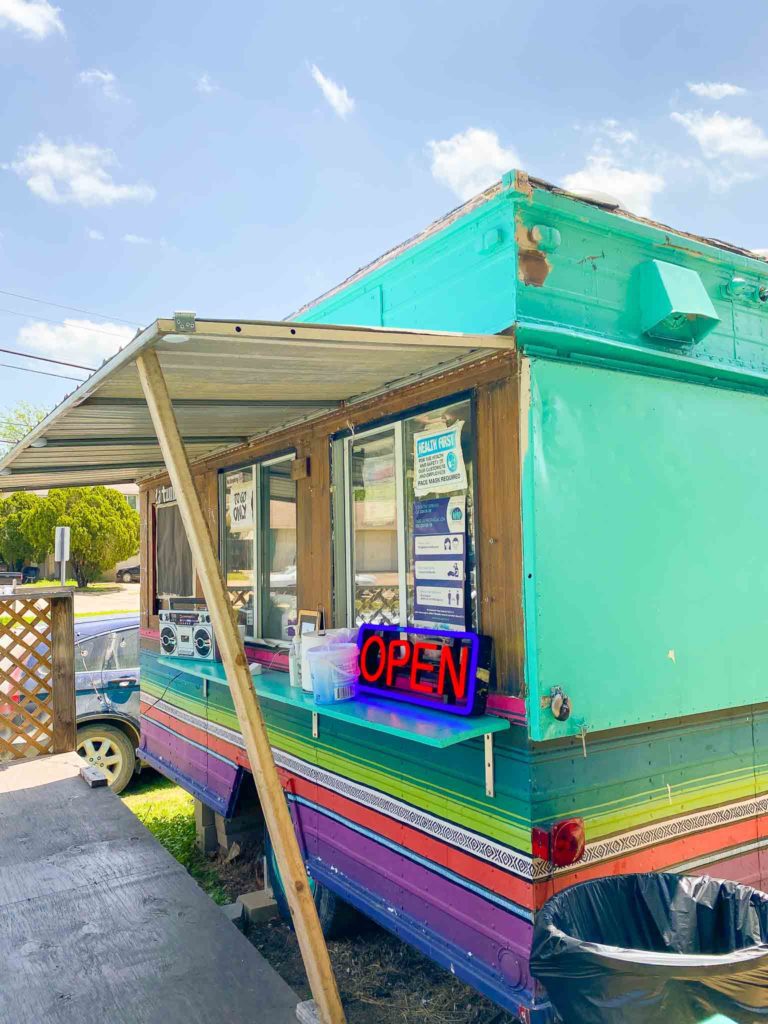 If you're serious about your food truck adventures, you need to use this interactive map to see the top 16 BEST food trucks in Austin!
1. Spicy Boys. [WEBSITE] Not kidding you…these fried chicken sandwiches will be your new favorite thing. They're SO tasty! The fried chicken comes in various levels of heat, plus they have wings, curry, and Thai dipping sauces. And be sure to get those tater tots, too!
2. The Churro Co [WEBSITE] You'll find one of the best desserts in Austin at the Churro Co., where churro dough is made from scratch and fried to order. Try all sort of delicious toppings (seriously, try them all!).
3. La Tunita 512 [WEBSITE] Have you ever had a birria taco? Birria is a Mexican cuisine made of stewed meat (traditionally goat, but most places in Texas use beef), and La Tunita 512 serves it inside griddled tacos that are also covered in a shell of cheese. So…basically it's heaven. (Psst: here's where to eat birria tacos in Austin.)
---
---
Best Austin Ice Cream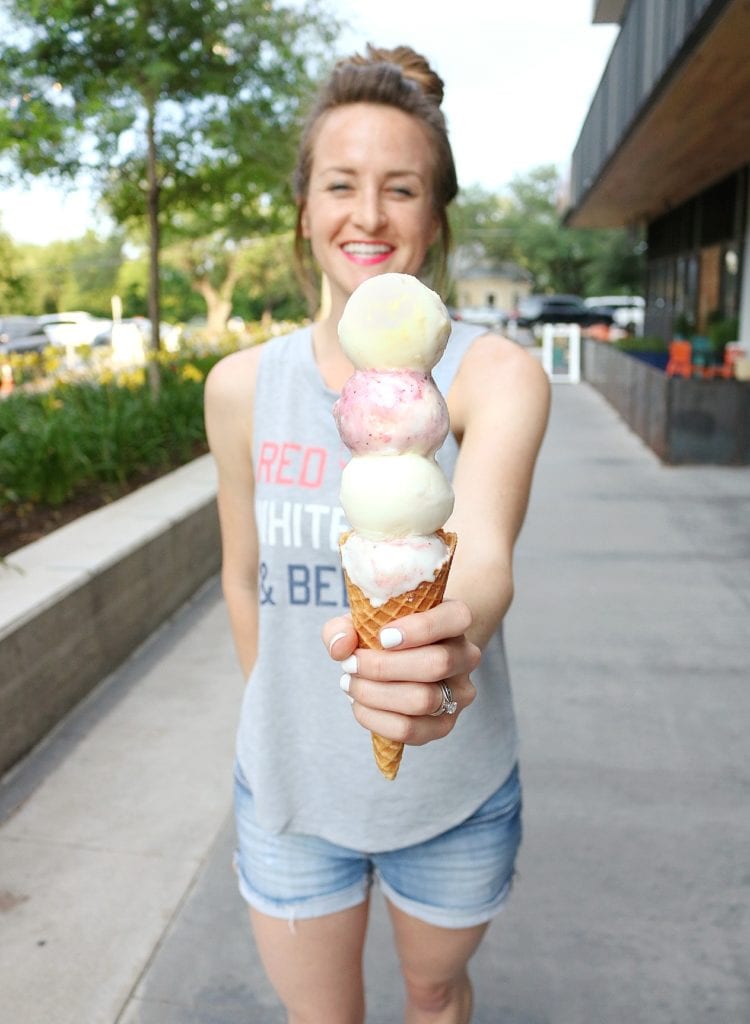 1. Dolce Neve Gelato [WEBSITE] This gelato shop is tiny and always busy. It's called "Local Italian Gelato" because it was opened by three Italians….and you can taste the authenticity! The flavors vary from typical Italian gelato choices (Stracciatella, Organic Pistachio) to more adventurous choices (Mascarpone with Figs.)
2. Lick Honest Ice Cream [WEBSITE] The ice cream masters at Lick start with really good ingredients, so you know the result will be something fantastic. Their regular flavors are anything but "regular", and the seasonal ones are so much fun…I have to taste them all every time I go! But without fail, Texas Sheet Cake is my all-time favorite flavor.
3. Amy's Ice Creams [WEBSITE] Amy's is iconic an iconic Austin ice cream chain. The busiest location is on South Congress, but that's also the best place to grab a scoop + mix ins (Mexican Vanilla is their #1 seller…it tastes like cake batter!) and walk over to the SoCo bridge to watch the bats.
---
---
Best Austin Brunch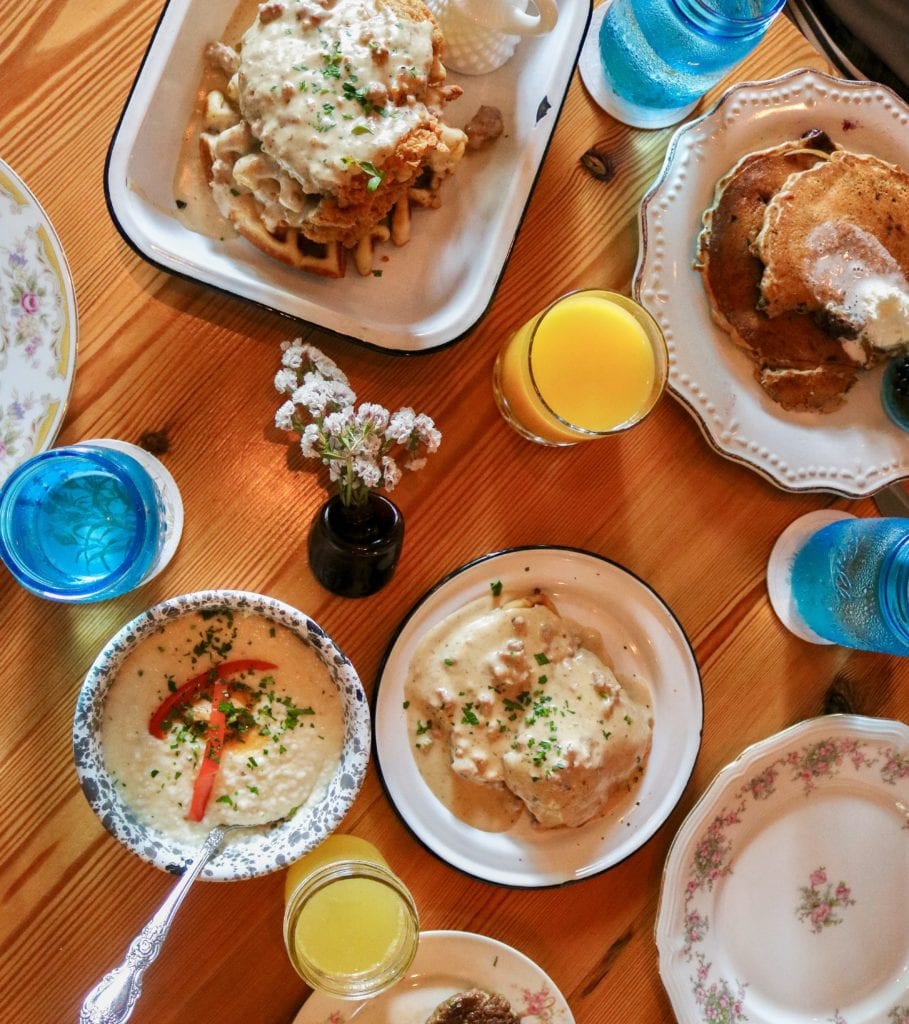 1. Dai Due [WEBSITE] This one is for all the carnivores out there! This supper club + butcher shop sources their meat locally, so you get a lot of Texas game (wild boar, beef, venison, quail) that is expertly prepared. The restaurant is smoky from the open flames, and everything smells delicious. (Visiting Austin on a weekday? Here's an awesome guide to some weekday breakfast options in Austin.)
2. Jacoby's [WEBSITE] Jacoby's is a ranch-to-table restaurant in east Austin (pictured above) with all the delicious southern breakfast stapes you could want: chicken fried steak and waffles, maple pecan pancakes, buttermilk biscuits and gravy, and so much more.
3. Launderette [WEBSITE] For classic American brunch favorites in a truly unique environment (this place is a renovated laundromat!), go to Launderette in east Austin. I love their pork shoulder hash, English muffin sammie, and amazing pastries.
---
---
Best Austin Dinner Restaurants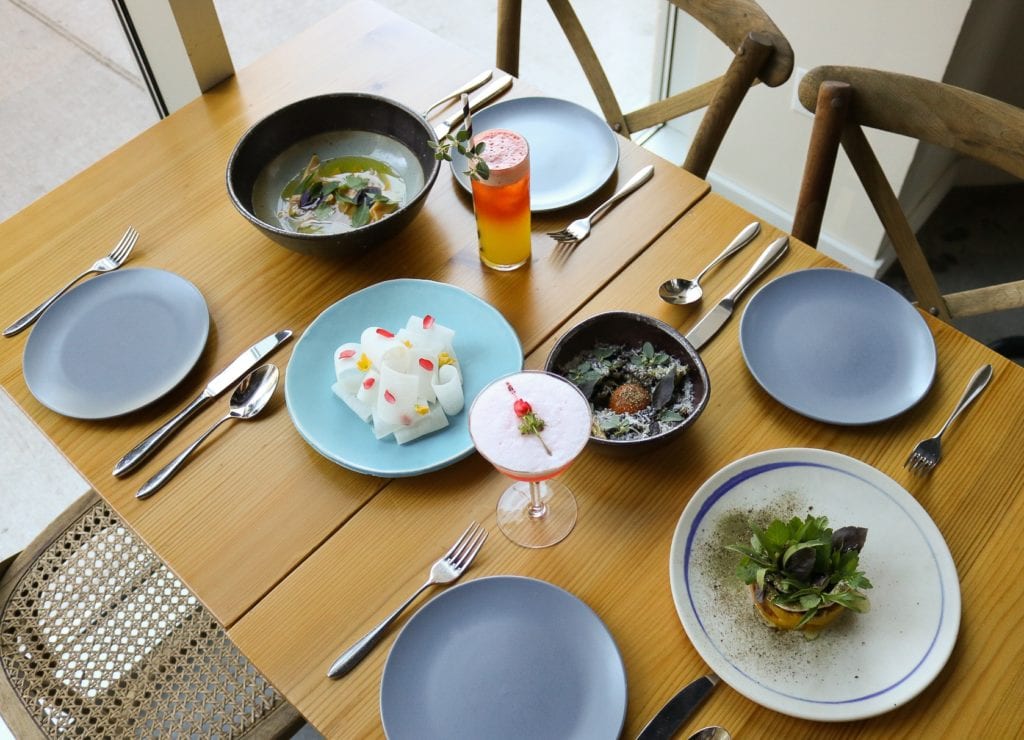 1. Emmer and Rye [WEBSITE] Chef Kevin Fink and team raised the bar by not only making their own bread and pasta, but also their own flour. A dim sum cart is rolled around multiple times during the meal to add one more level of fun to dining out!
2. Odd Duck [WEBSITE]  This food-truck-turned-brick-and-mortar is beautiful, trendy, locally sourced, and oh-so-delicious. Everyone should eat a meal at Odd Duck during their first visit to ATX.
3. Uchi [WEBSITE] There are now Uchi locations around the country…but come see the original sushi restaurant that started it all! Uchi means "little house" because this upscale sushi restaurant is in a small renovated house on South Lamar. Chef Tyson Cole is a James Beard Award winner, and the restaurant never ceases to amaze me.  I love the Sake Social from 5-6:30 for some discounted bites and sips. (It gets crowded, so show up early!)
---
---
Best Austin Cocktail Bars
1. Half Step. (WEBSITE) Rainey Street grows increasingly crowded with every passing year, but as long as bars like Half Step stick around, I'll keep showing up. The expertly crafted cocktails are best enjoyed outside, in my opinion, on the sprawling Rainey Street gravel patio.
2. Midnight Cowboy. (WEBSITE) This speakeasy-type bar is tucked away amidst the craziness of 6th Street. Ring the secret doorbell and you'll be seated to an attentive server who actually prepares the drinks on a bar cart in front of your table. Tip: be sure to make reservations.
3. Small Victory. (WEBSITE)  An intimate downtown space and undoubtedly the best martinis in Austin! Their progressive ice program means that you're guaranteed extra cold martinis that aren't watered down.
---
---
Best Austin Juice Bars and Healthy Restaurants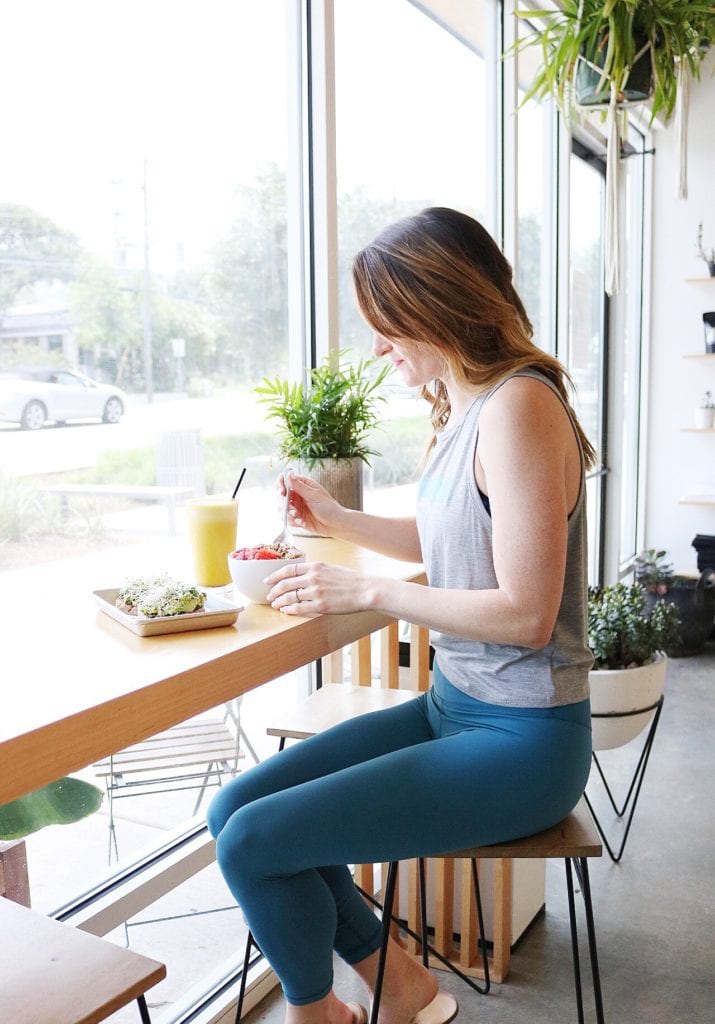 Looking for all the healthy restaurants in Austin? Here are 27 Healthy Restaurants in Austin (Sorted By Neighborhood) for all of you health nuts! For the rest of us, here are three options to get you going:
1. The Soup Peddler [WEBSITE] This is a very Austin-y juice bar. It began with the owner delivering soup via bicycle in 2002, and now it's a 5-location company that makes fresh juice, smoothies, and healthy soups every day. Walk up to the window to get a cold-pressed juice or a smoothie to go, or stop by for a delicious cup of soup if you're craving a healthier option for lunch or dinner.
2. Picnik [WEBSITE] "We Make Good Food That Also Happens To Be Good For You." Picnik was founded by a woman who has battled a chronic food-allergy-related illness her entire life, and her solution was to make allergen-free foods. If you have any dietary restrictions (or just need some really delicious, healthy food), Picnik is your jam.
3. Juiceland [WEBSITE] There are locations all over the state of Texas (and one in Brooklyn, NY!), but Juiceland started right here in Austin. Whether you're into green juice, or you just want something cold and fruity, Juiceland has flavorful options for everyone.
---
Looking for more restaurant ideas in Austin? Head to my Austin Index to see all of my foodie guides to ATX!
Save

Save

Save

Save
Best SaveSave
SaveSave
SaveSaveSaveSaveSaveSaveSaveSaveSaveSaveSaveSaveSaveSaveSaveSave
SaveSave