Summer in Austin means it's time to find the BEST ice cream in Austin! Let's be real…I eat it year-round in this city (because it's occasionally really hot in December), but I'm especially keen on cold, creamy treats in the hot Austin summer months.
I grew up eating ice cream daily; my dad would keep a minimum of 4 tubs in our outdoor freezer at all times, and he was always searching the ads in the mail for the "2 for $5 deal" of Bluebell Ice Cream to stock up.
---
---
Now that I'm living in Austin, I'm a big fan of all of the ice cream shops that source their ingredients locally, provide dairy-free options, and offer some of the most Instagrammable treats imaginable. (Like number 12 on my list…)
I'm pretty sure I never want to live a life without ice cream in it. Here's a new updated list for 2021 of the Best Ice Cream in Austin…including some vegan options!
17 Best Ice Cream Shops In Austin
1. Jeni's Splendid Ice Creams
Jeni's is easily one of the the top Austin ice cream spots. The concept is simple: just really, really good ice cream made from the highest quality ingredients. There aren't any gimmicks like mix-ins, cookies, or milkshakes here. You simply pick a flavor or two of ice cream and select a cone or bowl, and that's it. The flavors are mind-glowingly good and will have you coming back again and again. Try some of the regular flavors like Gooey Butter Cake, Brambleberry Crisp, or Salted Peanut Butter with Chocolate Flecks. Or, venture into the rotating specials or vegan ice cream options. I've truly never had a Jeni's ice cream flavor that I didn't thoroughly enjoy. 
Jeni's Splendid Ice Creams
1208 S Congress Ave, Austin, TX 78704
(512) 394-5038
2. DOLCE NEVE GELATO (vegan available)
I should really be a part-owner of this shop by now. I mean, I'm kind of obsessed with it. Dolce Neve has landed one of the top spots of this list of best Austin ice cream because of their care and attention to detail. 
It's the cutest little gelato shop in Austin! Anytime I have guests in town, I bring them here. The small size is the perfect for a quick treat, and the flavors are ridiculously good because they use real fruits and nuts and high-quality milk. Any time they have the mascarpone + fig or the fromage black + jam I get one of those flavors.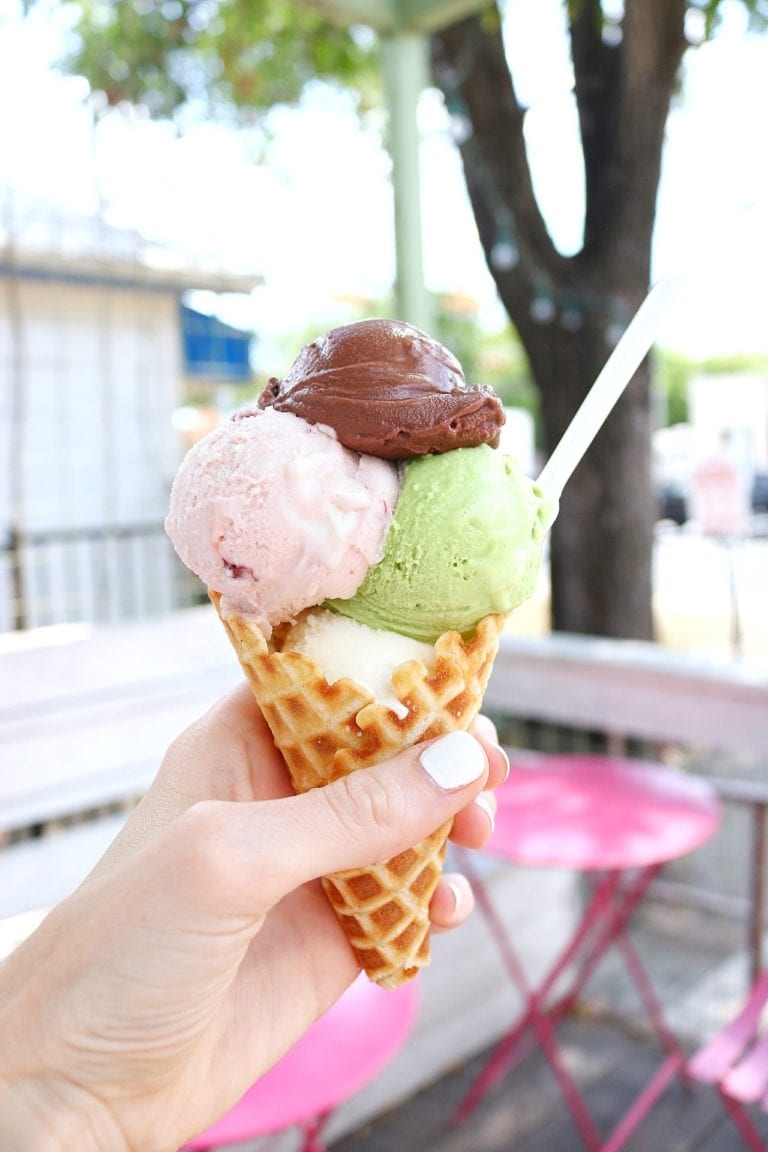 1713 S First St, Austin TX 78704
512-804-5568
3. Lick Honest Ice Creams (vegan available)
Lick's is a local Austin ice cream store with multiple locations. Their ice cream is made with yummy local ingredients like Mill King milk, Hill Country lavender, and Garrison Brothers whiskey. They hand roll their waffle cones and make all of the sauces and syrups and marshmallows are made by hand in their kitchens. It's also worth pointing out that  all of the Lick scoop shops have the friendliest employees who encourage you to try lots of samples! 
If I had my way, I'd always keep 4-5 pints of this ice cream in my freezer at home. Lick's approach to ice cream is simple: use the highest-quality local ingredients you can get, and the ice cream will be superb!
My favorite flavor is the Texas Sheet Cake, but the rotating seasonal flavors (Blueberry Crumble! Lemonade Pound Cake!) are crazy good, too. Also, their vegan flavors are amazing. Sometimes I even prefer them over the milk-based ones. 
1905 Aldrich St #150, Austin TX 78723
512-502-5949 
4. Fresa's Chicken Al Carbon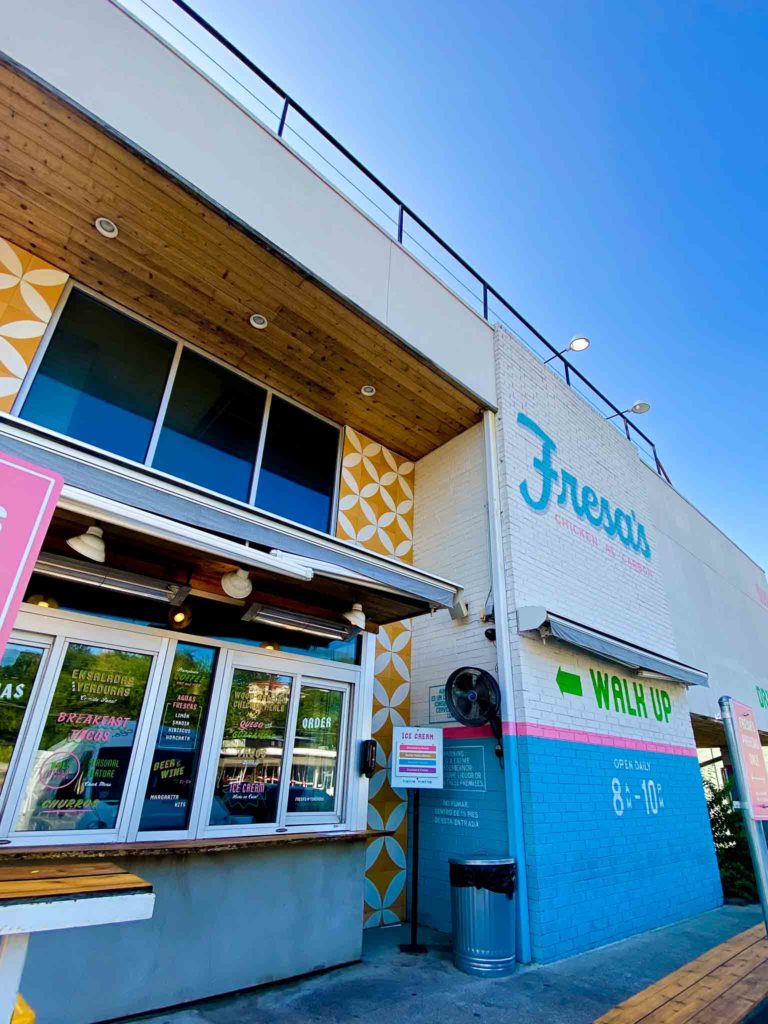 This is some of the best ice cream in Austin and also the hardest sell…because it comes from a grilled chicken restaurant. Unconventional, I know, but it helps to know that Laura Sawicki, the award-winning pastry chef at Launderette, is the mastermind behind these incredible pints. 
Flavors rotate, but expect something amazing every time. A few of my favorites have been Lemon Meringue Pie Ice Cream with big swirls of meringue, Mexican Chocolate (spicy!), and Rice Krispy Treat Ice Cream. 
You can get it as dessert after your meal, or just go to the walk-up window and order a pint to take home. 
Fresa's Chicken Al Carbon
1703 S First St, Austin TX 78704
512-992-9246
Amy's Ice Creams is possibly the most famous ice cream in Austin. It was my first ice cream shop to try when I came to ATX for the first time. I was visiting a friend, and she took me there while we were walking near UT  campus, and I fell in love and moved to Austin!
Amy's is sort of like Austin's version of Cold Stone Creamery – you pick a flavor and some mix-ins, and they put it on a cold slab of marble and mix in all the candy. 
They have lots of fun flavors and mix-ins to try, but be sure to at least sample the Mexican Vanilla ice cream. It's their best seller, and it tastes like cake batter!
3500 Guadalupe st, Austin TX 78705
512-886-5933
6. Nadamoo Scoop Shop (vegan)
If you're looking for the best 100% vegan ice cream shop in Austin, Austin company NadaMoo! wins. All of their ice cream is dairy-free and made with a coconut milk base. It's Austin's biggest vegan ice cream brand.
The South Lamar scoop shop dishes out their delicious ice cream in dairy-free cones. My favorite flavor is Birthday Cake Cookie Dough, which works really well with the coconut-milk base. They also have shakes and floats!
1701 S Lamar Blvd, Austin TX 78704
512-359-8441 
WOW! This place wins as far as unique ice cream experiences go. DipDipDip's "shabu-inspired" ice cream sandwiches and cones are full of the craziest ingredient like tamarind-soaked raisins, fried parsnips, and miso croutons. They're pricey, but this makes a fun date night spot. Each cone is full of FIREWORKS of flavor, and somehow the mix of sweet + umami all works out. Super fun and unique ice cream experience and it easily won a spot on this best ice cream in Austin list.   [photo source]
7301 Burnet Rd, St 101 Austin TX 78757
512-893-5561 
8. Dolce Bacio (Vegan Available)
If you want authentic Italian gelato in Austin, you must go check out the hidden truck in East Austin! It's still relatively unknown to the tourists, but I have a feeling that's going to change pretty soon because this stuff is LEGIT. 
A sweet Italian couple moved to Austin to start their business here, and all of the gelato and sorbet flavors are made from scratch daily with real, fresh ingredients. 
Here's what totally wows me about this place: whether you're ordering a milk-based gelato or a fruity vegan sorbet, the flavors are RICH! I mean, the pistachio ice cream legitimacy tastes like real pistachios (they don't dilute it with almonds like most ice cream shops do), and the cantaloupe sorbet tastes like sweet, cold, juicy cantaloupe.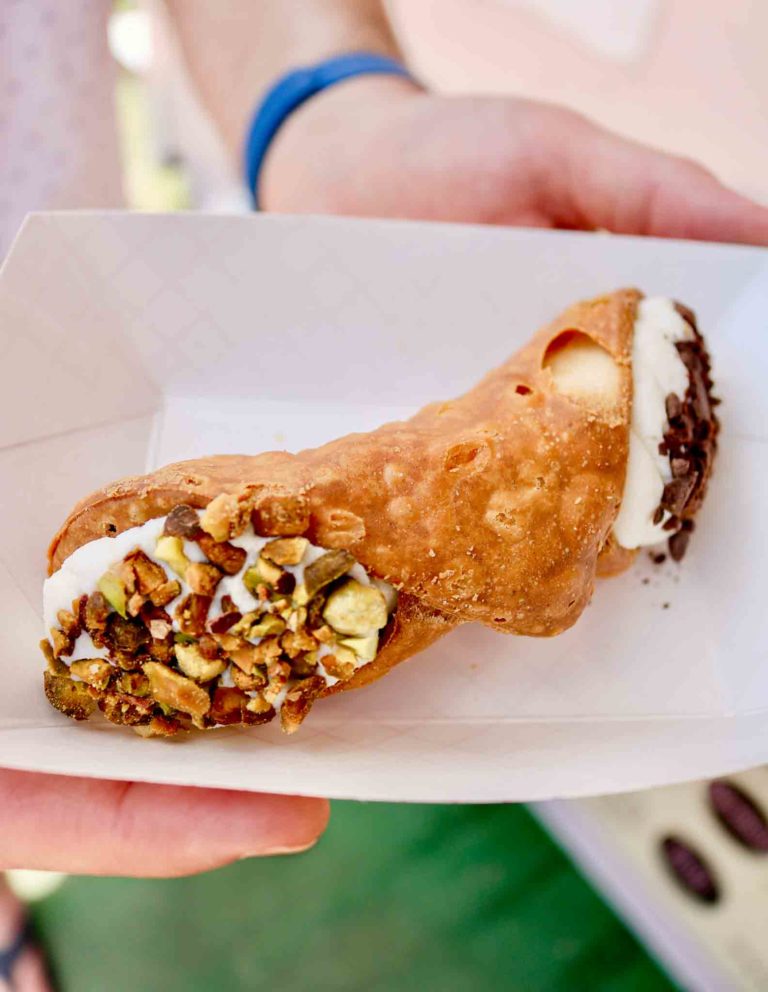 Dolce Bacio Gelato and Desserts
6900 Ranch Road, North 620, Austin, TX 78732
512-945-4542 
Go to Sandy's Hamburgers if you want to experience a true Austin classic. (Psst: see 23 classic Austin restaurants here.) This little drive-thru burger, custard, and root beer stand has been in South Austin since the 1940s. 
Sandy's frozen custard is one of my favorites places to get ice cream in Austin. I love getting a basic vanilla cone dipped in chocolate. It hardens instantly to make a crunchy chocolate shell around the cold vanilla custard and it's perfect on a hot Texas day. Here's a little tip: don't attempt to eat the chocolate dipped custard in the car….you'll just make a mess!
603 Barton Springs Rd, Austin TX 78704
512-478-6322
For phenomenally smooth, creamy vegan ice cream in Austin, you have to try Gati on the east side. It's an adorable bakery and ice cream shop that specializes in vegan treats, and the ice cream flavors are unreal! 
They have unique options like golden milk ice cream, beet chocolate cake, black sticky rice horchata, and so many more. They're all so good! 
1512 Holly Street, Austin TX 78702
512-220-1077
11. Zed's Real Fruit Ice Cream
Have you ever tried New Zealand fruit-blended ice cream? Zed's recently opened in Austin and offers the most delectable made-to-order vanilla base mixed with real fruit like strawberry, mango, or cherry. 
1814 Harvey St, Austin, TX 78702
512-598-0245
Image from Baked Bear/facebook The Baked Bear has these big, decadent ice cream and cookie sandwiches. The concept is simple: pick a cookie, brownie, or donut for the top and bottom layer of the sandwich, and choose an ice crema flavor to go in between. Then select toppings like sprinkles, nuts, or chocolate chips. This is a great Austi nice cream shop for kids because the ice cream sandwiches are so bright and colorful! 
211 Walter Seaholm Drive Suite LR150, Austin, TX 78701
(512) 300-0167
Do it for the 'gram! Oh my goodness….the cookie sandwiches "Unshakes" at Cold Cookie Company are MASSIVE, so plan on splitting one with a friend unless you want to go into a sugar coma! 
The bright colors make this one of the most instagramable ice cream stops in Austin, but the ice cream/cookies are absolutely delicious, too!
2512 Rio Grande St, Austin TX 78705
512-305-3771 
Luv Fats Ice Cream is a small-batch creamery that celebrates healthy fats like avocado and coconut milk. It's available every Sunday at the Mueller Farmers Market, and at Bee Grocery and Mozart's Coffee. So while it's a little harder to get (there's no scoop shop), it's well worth it for this insanely satisfying Austin ice cream brand. 
4209 Airport Blvd, Austin, TX 78722
512-968-3774
Sweet Ritual is another fantastic vegan ice cream shop in Austin! (Gosh…we have a lot of dairy-free options in this town..) Most of their ice creams are coconut or nutmilk based, so they have an irresistibly creamy texture.
The toppings are vegan as well, and they offer gluten free cones. If you have any dietary restrictions, Sweet Ritual is definitely an Austin ice cream you need to try. [photo source]
4631 Airport Blvd, Austin TX 78751
512-666-8346
Lou's Bodega is a fun stop in east Austin; it's a simple menu of custard + mix-ins. Start with the cold, sweet, soft vanilla custard, and select fun toppings like oreo rumble, brandy cherries, salted caramel sauce, or candied peanuts.
Lou's has a really great outdoor patio space with turf and tables. It's a fun ice cream spot to hang out at the end of a day exploring the east side of Austin. 
Street, Austin TX 78704
512-804-5568
17. The Yard Milkshake Bar
{Photo from The Yard} Get your phones out, because The Yard Milkshake Bar in Austin has one of the most photo-worthy ice cream desserts in the city. These massive milkshakes are topped with scrumptious goodies like whole slices of cheesecake donuts, fudge drizzle, and so much more. (Go check out their menu – it's overwhelming! ) This is one of my favorite places to stop for a treat at the Domain after a day of shopping (but be sure to check out the 20 best restaurants at the Domain.)
3400 Esperanza Crossing, Austin, TX 78758
(512) 551-9542