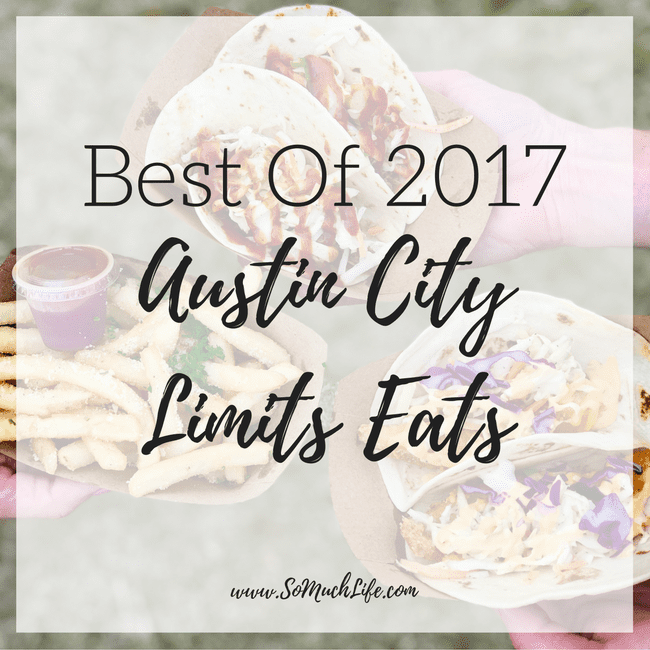 Hey! If you're planning on visiting Austin for ACL Fest 2019 and you want to know where to eat in Austin, I made this epic guide for you! It offers the best restaurant suggestions for you for every meal between Thursday night and Saturday morning! Check it out right here.
---
I was at Austin City Limits music festival last weekend, and let me tell ya: this was a good year! If you're heading to ACL for weekend 2, I'm jealous! I wish I could do it all over again!
One of my favorite parts of the festival is ACL Eats. This isn't your typical funnel cake and corn dogs type of festival food… The team at Austin City Limits fills Zilker Park with some of the best food vendors that Austin has to offer!
Wander around the foodie section and see what strikes your fancy; you really can't go wrong! I've got the staples that I make sure to eat every year (lookin' at you, Tiff's Treats!), and I always taste a couple new things each year.
Wash it all down with some craft beer from the Barton Springs Beer Hall, and you're ready to jam out another music set!
Here are just of few of my favorites from the Austin City Limits 2017:
---
The Via 206 from Burro Cheese Kitchen is hands down one of the most delicious things I tasted all weekend. It's made from cheddar, gouda, and balsamic apricot fig sauce…..sooooo, heaven in a sandwich form, basically? I adore this Austin food truck, and I'm so glad they have a booth at ACL Eats!
I love a good Mighty Cone! They're the original ACL food vendors…the Mighty Cone was actually created for ACL! If you're new to ACL, this should be on your to-eat list.
Mighty Cone has a double booth, and they still ran out of the chicken cone at one point during the weekend! (Don't worry: there was till plenty of shrimp + avocado while they got more chicken cooking.)
It's a piece of deep-fried chicken (or shrimp, but I like chicken best), wrapped in a tortilla, and served in a cone (similar to a paper sno cone), all topped with mango-jalapeno slaw and ancho sauce.
There are a few BBQ booths at Austin City Limits, but the BBQ sandwich from Micklethwait Craft Meats is by far my favorite! Their smoker fills the whole field with the smell of delicious smoked brisket, and the BBQ sandwich with a side of potato chips + pickles is perfection.
I can't make it through a year of ACL without my Tiff's Treats! Although it's technically a cookie delivery company, I love the brownie + ice cream the most! It's a pretty big brownie and could easily be split between two people…..but I kept it all to myself! Hehe..
The Kickass Nachos from chef Tim Love's Lonesome Dove are covered with ground elk meat. (I believe these used to be vegetarian in years past? They're better now!) Topped with cheese, sour cream, pico de gallo, and jalapeños, these nachos bring the party to ACL!
The Crispy Fish Tacos from The Peached Tortilla had the best fresh fish flavor, crunchy coating, and sweet slaw on top. I split an order with my husband, and I wish I had gotten a full order just for myself!
Temperatures were brutally hot this year, with Sunday's high in the mid 90s. UGH. The line for a shaved ice at Sno Beach was over 30 minutes long, but the wait was worth it for one of these cool, creamy, shaved ice snacks. It's for sure the best shaved ice in Austin!
Syrup flavors are much more limited than their regular truck on Barton Springs, but a few of the best ones are there like coconut, tiger's blood, and wedding cake.
The last thing I ate was an order of Chi'lantro's famous Kimchi Fries, which also happen to be what Nate and I served as dinner at our wedding this year. I just love 'em so much! I chowed down on these and then jammed out to The Killers concert on Sunday evening.
Weekend. Success.
Another year of ACL has come and gone (for me….I hope you're going to weekend 2!), and I'm a little sad about it. But at least I know that I lived it up for all three days!
What was your favorite food at ACL this year?
SaveSaveSaveSaveSaveSaveSaveSaveSaveSaveSaveSaveSaveSave
SaveSave