The food at Q2 stadium in Austin, Texas has been a much-discussed topic in the Austin foodie world. Ever since Q2 officially announced the local Austin restaurant line-up, we've all been excited/curious about what the menus will look like. The soccer stadium opened for matches last week, and I went to the second-ever match (the first-ever match for our very own Austin FC team, woot!) to watch the game and (let's be honest…) check out the local restaurants represented at the stadium. 
I've been sent lots of press releases about the concessions that will be available to fans, but I wanted to wait until I could get in to the stadium before sharing anything. It's one thing to have a list of restaurants, but it's another to know what they're offering, how long the lines are, and how much the food costs.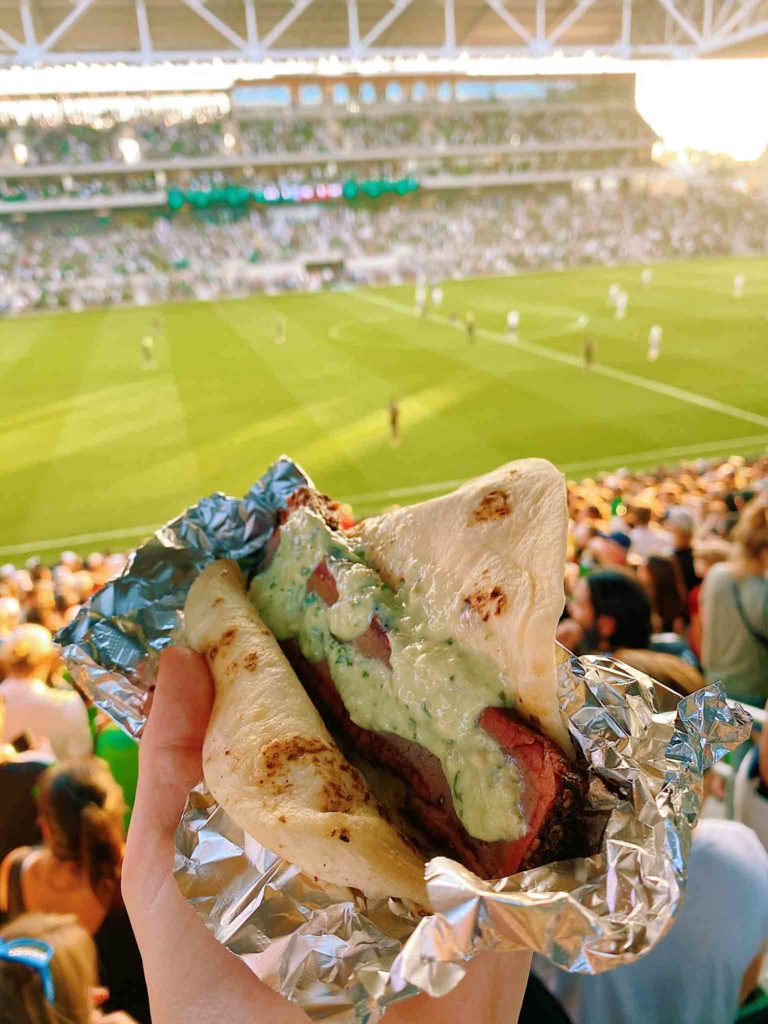 Ok friends, I'm here to be your inside scoop on all things food at Q2 stadium! I have a season ticket and will continue to check out the food scene as the season rolls along this summer 2021, but for now, here are all the details I know about local Austin restaurants at Q2 stadium: 
A LIST OF LOCAL RESTAURANTS AT AUSTIN'S SOCCER STADIUM
ATX MRKT – section 104 (grab-and-go options like beer, fruit, ice cream, and snacks)
Bao'd Up –  section 118
Casa Chapala –  section 121
DoubleDave's Pizzaworks – sections 105 and 123
Easy Tiger – sections 108 and 127
El Mercado – Section 102 (this is where you can get Mmmpanadas, Tamale Addiction, and other grab-and-go options) 
Grill Love – section 101 and 129 (cheeseburger, Impossible Burger, Chicken Tenders, Jumbo Hot Dog, Crispy French Fries, beverages/snacks)
Mmmpanadas – located in El Mercado near section 102
Munchies – section 103 (this is where you can get Slovaceck's Green Chili and Gouda Sausage, Tamale Addiction, Mmmpanadas, hot dogs, and nachos
One Taco – section 107
Pluckers Wing Bar – section 135
Queso Fountain – section 127
Slovacek's – sections 118 and 123, and located in Munchie's at section 103)
Tamale Addiction – located in El Mercado near section 102
Tacodeli – section 122 
Taco Flats –Premium Terrace
The Austin Table – section 137; appearances from local Austin restaurants and guest chefs
T-Loc's Sonoran Hot Dogs – section 119
Valentina's Tex Mex BBQ – section 137 and in grab & go markets 
512 BBQ – Section 119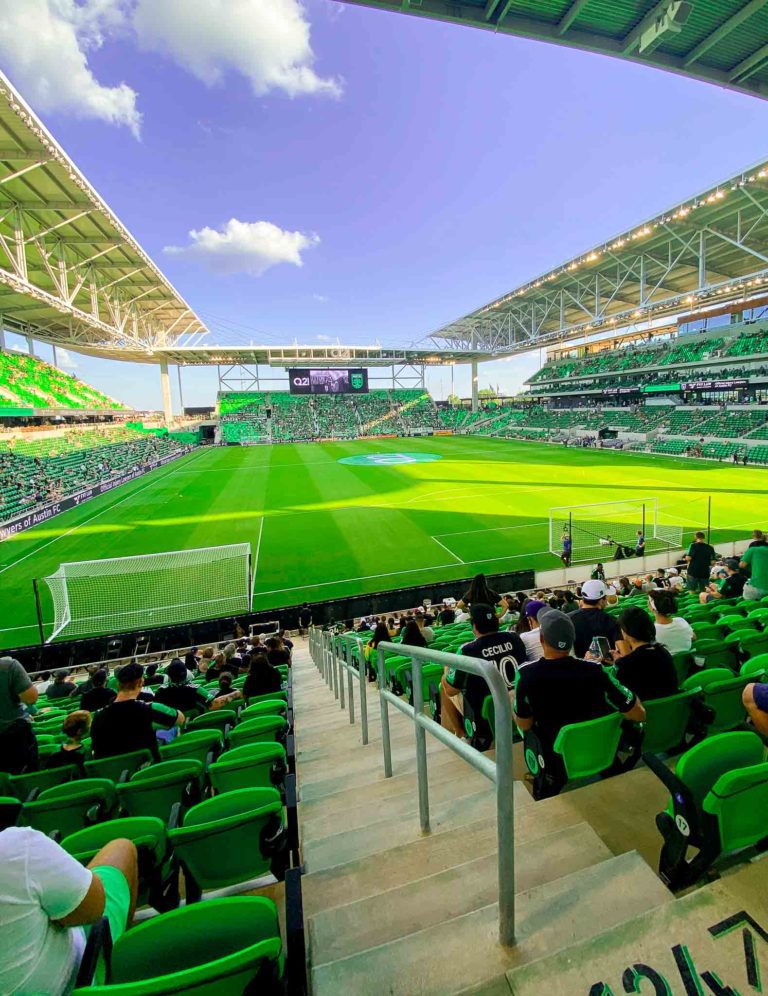 HERE'S THE FOOD YOU CAN ACTUALLY FIND AT Q2 STADIUM
Bao'd Up is a fast casual Modern Asian restaurant in Austin that's best known for their Bao buns (duh.)
You can find four of these bao buns offered at their kiosk at Q2 stadium: 
JUICY PORK $5.49)
SPICY BRISKET $5.49
TERIYAKI CHICKEN $5.49
VEGGIE (VEGAN) $5.49
Casa Chapala is a Mexican restaurant and Tequila bar in Austin that's known for its live music and strong drinks!
They have three offerings at their kiosk in Q2 stadium: 
Chicken Torta Verde $11.99
Beef Torta Roja $11.99
Chapala Nachos $11.99
This is a pretty big pizza chain based in Austin, Texas. Double Dave's actually has locations all over Texas and Oklahoma, and they also have the most real estate inside Q2 stadium. (See the photo above? They have TWO of those locations for fans to get their pizza fix quickly and conveniently.) 
They have 3 options available at the soccer stadium: 
Cheese Pizza Slice $6.99
Pepperoni Pizza Slice $6.99
Pepperoni Rolls (3) $8.99
SECTIONS 105 AND 123
Q2 STADIUM
This is the local Austin restaurant I was most disappointed by…because I LOVE Easy Tiger's locations in Austin, and the Q2 stadium booth didn't represent the restaurant well! 
Easy Tiger is a bakeshop, and if you visit the local locations in Austin, you can find all sorts of delicious baked goods. They also have hot and cold sandwiches served on their freshly made bread, cured meats, lots of great desserts, and a massive beer selection. 
At Q2 Stadium, they have one offering. I'm hoping that as the season goes on, they start to offer at least one or two other options, like their delicious cookies or a pre-made sandwich. For now, here's what you can get at both of the Q2 Easy Tiger kiosks: 
Giant Pretzel $13.99
SECTIONS 108 AND 123
Q2 STADIUM
I'm really happy that Grill Love and Oak Hill Grill (section 129) are at Q2 stadium! While they don't offer local eats, they do have the Impossible Burger on the menu. Yay! It's a fantastic plant-based burger that is delicious for both vegans and meat-eaters alike. 
Offerings at Grill Love: 
All Austinite Cheeseburger W/ Fries $14.99
Impossible Burger W/ Fries $17.99
Chicken Tenders W/ Fries $11.49
Jumbo Hot Dog $7.49
Crispy French Fries $5.99
SECTIONS 109 AND 121
Q2 STADIUM
This is a great all-in-one stop where you can grab a few different local Austin favorites, plus drinks and snacks. 
Slovacek's Green Chili & Gouda Sausage $9.99
Tamale Addiction (Beef/Chicken/Veggie) $5.49
MMMpanadas (Black Bean & Goat Cheese, Poblano & Cheese) $6.99
Jumbo Hot Dog $7.49
Cheese Nachos $9.99
Snacks/Drinks
One Taco is an Austin favorite in the taco world! They've been featured on Diners, Drive-ins, and Dives, and you'll find them on my guide to the best breakfast tacos in Austin. 
At Q2 stadium, their little kiosk is small but mighty: 
Taco Al Pastor $6.99
Carne Asade $6.99
Taco Del Dia $6.99
Nachos Extremos $11.99
Frozen Margarita $13.99
Plucker's Wing Bar started in Austin in 1995 and now has a bunch of locations all over Texas and Louisiana. I was so happy to see that they have some easy-eating boneless wing options at their Q2 stadium location! Wings are awesome when you have a bunch of wet napkins, but they can be tricky to eat in a stadium seat. Thankfully, Plucker's took that into consideration and put some stadium-friendly options on the menu. 
Wings & Fries $12.99
Boneless Wings & Fries $12.99
Waffle Fries $6.99
Slovacek's is one of the most famous kolache stop in West, Texas. If you're driving from Dallas down to Austin, chances are you've stopped at least once to get some of their 35 different kolache options. 
At Q2 stadium, you can find the following at their 2 kiosks: 
Chili Cheese Sausage $11.99
Green Chili & Gouda Sausage $9.99
SECTION 118 AND 123
Q2 STADIUM
TacoDeli is one of the biggest taco names in Austin. Unsurprisingly, they have one of the largest taco locations in the stadium as well. Even with the big storefront, the line was long! 
Here's what you can find at TacoDeli's restaurant at Q2 stadium: 
Frontera Fundido Chicken Taco $6.99
Frontera Fudido Sirloin Taco $6.99
Bean & Cheese Taco $4.99
Chips & Salsa Doña $9.99
Chips & Queso 9.99
Ever tried a Sonoran hot dog? They originated in the Mexican state of Sonora, and they're typically wrapped in bacon and served in a bolillo-style bun. Toppings include beans, tomatoes, onions, jalapeños, mustard, and mayo. 
I'm so happy that this little Austin eatery is represented at Q2 stadium! Here's what's on their kiosk menu: 
(Note: the names don't describe the dogs very well. I've yet to try all three of these at Q2 stadium, so if you have a better idea of the toppings on these dogs, leave a comment please!)
AFC Sonora Dog $8.99
Goal Kick $8.99
Yellow Card $8.99
Valentina's has gotten the most buzz for being a food vendor at Q2 stadium. Why? Because we all freaking love them! They're on my list of best Tex Mex in Austin, best breakfast tacos, and they're pretty much my go-to recommendation for anyone who is looking for a general "best food in Austin" spot.
At Q2 stadium, they have an actual little food trailer set up in the southwest corner.
Menu offerings include:
Chopped Brisket Sandwich Plate $13.99
Smoked Pulled Pork Sandwich Plate $13.99
Sliced Brisket Taco $9.99
Street, Austin TX 78704
512-804-5568
QUICK TIPS FOR FOOD AT Q2 STADIUM
Everything is cashless. Not that many of us carry cash these days anyway… But leave it at home, because you won't need it at Q2 Stadium. 
You can order ahead through the Austin FC app. I highly recommend this! Lines get pretty long, and you can save yourself 20-30 minutes by placing the order in advance and walking to the pick-up window. 
Lines are the longest 20-30 minutes before kick-off. I mean, this is pretty standard sports stadium stuff, but the lines will be really long right before the game begins. I recommend getting your food early (an hour before the game), or placing your order on the app so you can pick it up and be back to your seat for the start of the game. 
Fans can bring their own water bottles! Per the Q2 Stadium Official Guidelines, each fan is allowed to bring in 1 20-oz factory-sealed water bottle. Yeti has a silo at the southeast corner where you can re-fill your water bottle. If you don't bring your own water bottle, Dasani bottles are available around the stadium for $5.49. As someone who can easily chug 3-4 of those bottles on a hot Texas evening, I'm happy to be able to save $20/game by bringing my own water. 
HERE'S EVERYTHING THAT'S WRONG WITH THE Q2 STADIUM BEER HALL
I haven't mentioned the beer hall yet because I wanted to give it its own section in this guide. Firstly, if we're just talking about the location of the beer hall: it's amazing! It's upstairs in an air conditioned and spacious hall. While you don't have a view of the field from the beer hall (it's tucked behind the box seats), there are plenty of screens so you can see the game from the comfort of air conditioning.
But… (you knew there was a but, right?) craft beer lovers in Austin have been up in a tizzy about the beer selection at Q2 stadium ever since the official announcement of local beer offerings. 
What's so bad about the local craft beer offerings? Well, it's not so much about what's offered as what isn't on the tap wall. Austin is a city full of craft beer supporters, and Q2 stadium is walking distance to several awesome craft breweries. 
But the beer represented on the tap wall at Q2 Stadium doesn't reflect the spirit of Austin's craft beer scene; it does, however, reflect the money that's in the beer world. The two largest brewing companies in the world (AB InBev and Heineken) have a firm grip on the tap wall real estate as well as the beer fridge shelves throughout the stadium.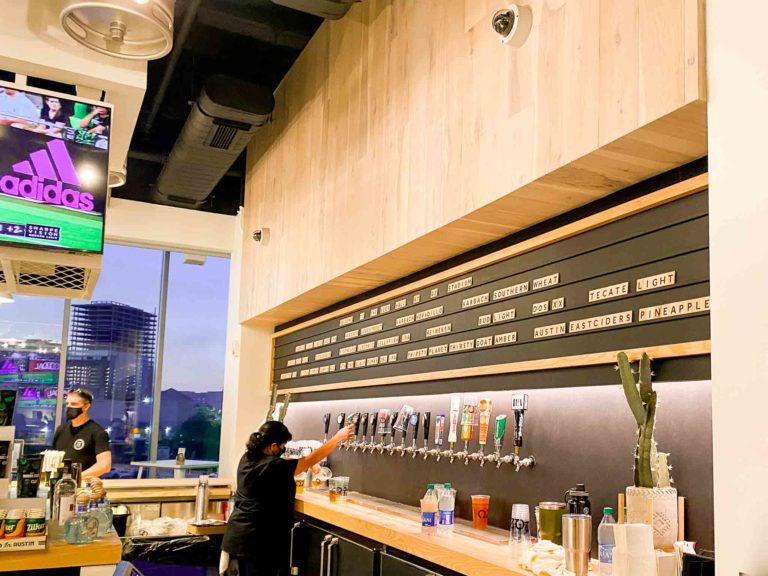 There are only a handful of true Austin craft beer options on tap at the Beer Hall at Q2 Stadium: 
4th Tap Brewing Co: Black Pumas (pale ale)
Thirsty Planet: Thirsty Goat (American amber)
Circle Brewing: Blur (Texas Hefeweisen)
Pinthouse Brewing: Electric Jellyfish (hazy IPA)
Austin Eastciders: Pineapple (cider)
You can also find a few other options in cans: Texas Brewing Co. Amber, Zilker Parks & Rec pale ale, and Austin Beerworks Pearl Snap German pils.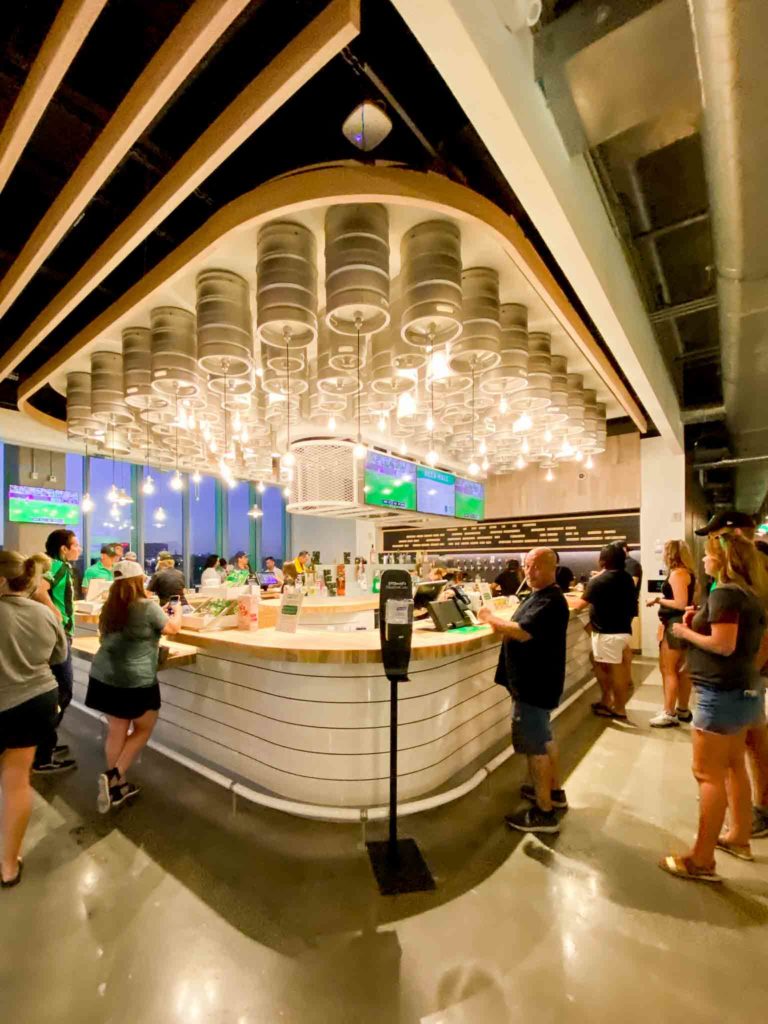 So, there are some options, but the variety isn't great when you compare it to the dozens of great craft breweries in our city and the hundreds of thousands of craft beer supporters. 
The point I'm trying to make is this: Q2 Stadium clearly make a huge effort to include local food options for fans, but the same effort wasn't put into the beverage selection. This is most likely for financial reasons. Large beer companies like AB InBev have the money, and local Austin craft breweries can't compete.
But when you look at the ways that Austin craft breweries have supported our city (remember snowpocalypse 2021 when Austin breweries offered their clean drinking water to Austinites whose water had been shut off? They stepped up on the local level even before the state helped out), it's disheartening to see that our first large professional sports stadium isn't putting in a serious effort to support these local businesses. 
There's always room for change, though! Hopefully Q2 Stadium will make a point to support more of the local Austin breweries and maybe knock one or two of those AB inBev or Heineken taps off the wall. 😉
Until then, there are lots of breweries near Q2 stadium where you can pre-game and support local breweries: 
Circle Brewing Co. (.5 miles, 10 minute walk) |WEBSITE|
Adelbert's Brewery (.5 miles, 10 minute walk) |WEBSITE|
Hopsquad Brewing Co. (.6 miles, 11 minute walk) |WEBSITE|
Celis Brewery (.7 miles, 15 minute walk) |WEBSITE|
4th Tap Brewing Co. (1.1 miles, 22 minute walk) |WEBSITE|
Oskar Blues Brewery (1.1 miles, 22 minute walk) |WEBSITE|
Austin Beerworks (1.2 miles, 23 minute walk) |WEBSITE|