What's up? I'm typing this from the comfort of the Downtown Austin library (one of my favorite places to get work done on a weekday!) while the hustle and bustle of SXSW 2019 goes on out the window. I've been traveling and had guests in town, so I had to turn down most of the SXSW invitations this year and just picked a few events to attend. One of my favorites was the evening with Uber Eats where Roy Choi gave a talk about LA Hip Hop. He make some carne asada tacos while a DJ provided a soundtrack of Hip Hop hits from the past few decades. Aaron Franklin even made a guest appearance!
Moving on to the 5 restaurant recommendations I have for you this weekend! I share on of these posts on the 2nd and 4th Friday of every month (see some of the other posts here, here, and here) and I always have trouble narrowing it down to just 5 recommendations.
---
5 Restaurants You Need To Try in ATX
1. Moroccan Food in Austin: Darna
I had never tried Moroccan food before I visited Darna with Monique, and now I'm wondering why it took me so long to venture to this cozy downtown restaurant for lunch. We tasted delicious bites like fresh, zingy hummus, Zaalouk, chicken Shawarma salad, two different tagines, and a bunch of sweet little Moroccan cookies.
WEBSITE | 408 W 11th St, Unit #100
---
2. For some crazy good organic desserts: Paper Route Bakery
Paper Route is a teeny-tiny bakery on the side suite of Cenote coffee shop on East Cesar Chavez. It's literally a one man show: Aaron wakes up at the crack of dawn each morning to bake homemade scones, cookies, and breakfast cakes, and then he stays awake (amazing, I know!) to sell them to adoring customers.
I tasted two types of cookies and a cinnamon coffee cake. My favorite? The Lemon Meltaway cookie!
WEBSITE | 1010 E Cesar Chavez Suite D, Austin
---
3. The hottest new Asian fusion restaurant: Fat Dragon
Seems like EVERYONE has been talking about Fat Dragon, right? I finally ventured up to north Austin to check it out for myself, and I a few bites into my meal, I understood the obsessions! This is a complete hole-in-the-wall Chinese fusion (the are little bits of Korean and Japanese food incorporated into the restaurant, too) from a husband-wife team who came to Austin by way of LA. They understand Asian cooking so well and make all of their delicious soup dumplings, ramen, Szechuan dishes, and standard American-Chinese plates (like orange chicken and sesame chicken) with fresh ingredients every day. I'm completely obsessed with those Shanghai soup dumplings!
WEBSITE | 8650 Spicewood Springs Rd #109, Austin
---
4. An old-school Austin classic: Shady Grove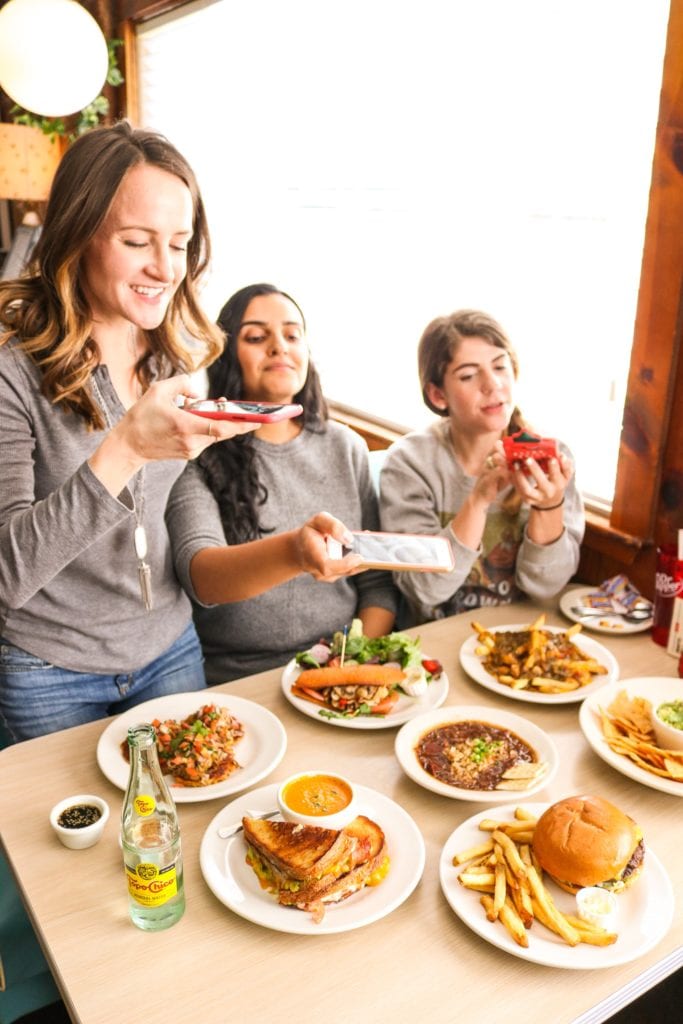 It's crazy to me how many awesome Austin restaurants there are that I tend to completely forget about! Shady Grove is one of those. This bar + grill on Barton Springs Rd has been open since 1992. When I was a kid and my parents wold drive me down to Austin for swim meets, it was my favorite place to eat lunch between prelims and finals.
I went a few weeks ago with Caitlin and Monique for a weekday lunch and we tasted some of the old classics that I know and love (hello cheeseburger and Chile cheese fries) as well as some new menu items, like the brie grilled cheese with tomato soup, and the chicken and andouille gumbo.
Shady Grove is a great restaurant when the temps heat up because, like the name says, they have a great big patio that's shaded by a grove of Live Oak trees. So Austin-y!
WEBSITE | 1624 Barton Springs Rd, Austin
---
5. Just in case you still haven't been: Valentina's Tex Mex BBQ
I mean…you've been, right? EVERY barbecue or Tex-Mex lover needs to check out the glory that happens when these two cuisines are combined. Think: brisket queso (yes please) and thick homemade flour tortillas filled with pinto beans, rice, and smoked meat. Divine.
WEBSITE | 11500 Manchaca Rd