We took off last week for a few days on the beach, and it was wonderful! This was our first family vacation since pre-pandemic. (Remember when we flew to the UK for Milo's first international trip right before the pandemic hit?) This was also our first road trip with a toddler (not counting the drives from Austin to Dallas, which are about 3.5 hours.) We had a blast, learned a lot, and took a ton of pictures!
This was a family vacation with a bunch of my siblings, so we started planning this trip in the winter. We picked Gulf Shores, Alabama because it's not quite as far of a drive as some of the Florida beaches we love, but it's on the same coast line and has a similar feel. And it's a step up from Texas beaches. (We've been to Corpus, Galveston, Port Aransas, and South Padre Island…SPI is definitely my favorite of those, but we'd been told that Gulf Shores is a step up from South Padre.)
So Nate, Milo and I loaded up the car and left for our 11 hour drive to Gulf Shores! The rest of my siblings met up in Dallas and road tripped together from there, and we all met up at the condo rental.
I was up in Indianapolis for a wedding the weekend before, so I touched down on Monday morning, did a quick load of laundry, and then re-packed for the beach! That meant we didn't get away from Austin until the afternoon, so our plan was basically to drive 7 hours on the first day, stop at a hotel, and then finish up the drive up on day two.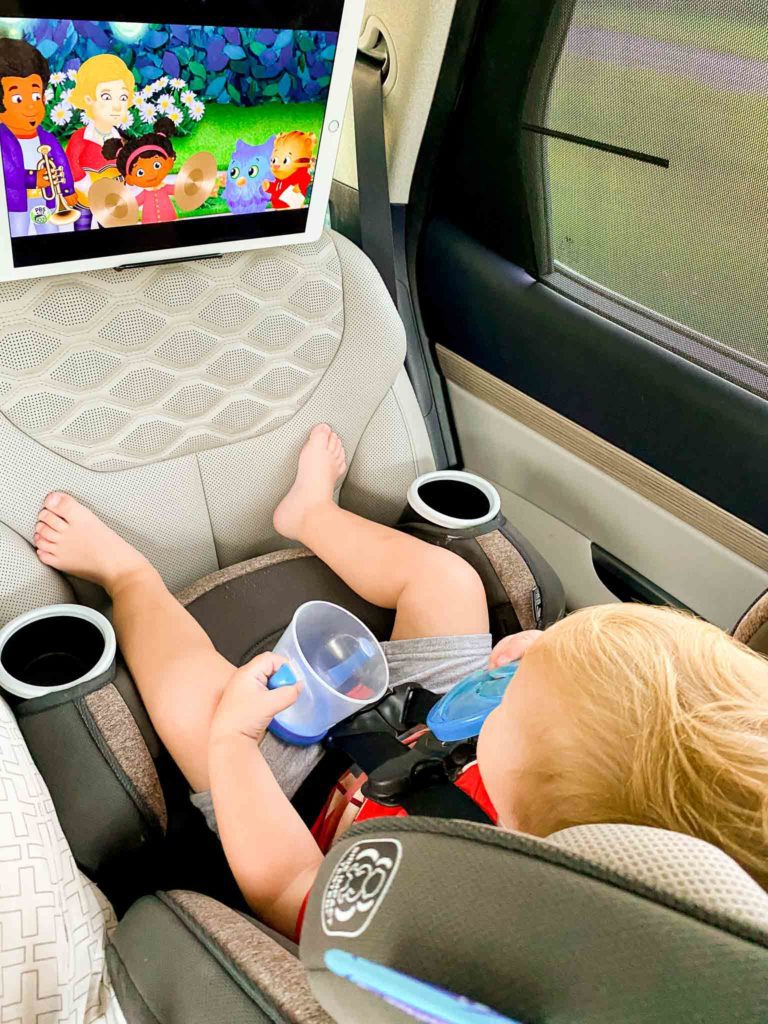 Milo man's little set up! I got this iPad holder and downloaded some episodes of Daniel Tiger. 7 hours was his longest stretch in the car thus far, and he did so well! We packed lots of snacks (yogurt pouches and goldfish), water, listened to the Daniel Tiger songs in the car, and then turned on the iPad when he was at his limit. A 7 hour drive took a lot longer than 7 hours because of all the stops to let him get out and stretch his legs, but overall I'm so proud of how he did!
It was hot and humid (95 degrees) so I voted we try to find indoor rest stops for him. Buc-ee's was a HUGE hit! If you don't live in the south, Buc-ee's is an epic rest stop chain with a very loyal following. They have dozens of gas pumps, a really big indoor store (coolers and flip-flops and home goods and other random stuff), a bbq counter, fudge counter, massive wall of candy, soda fountain machines with every drink imaginable, and tons of other goodies. Milo loved it!
His favorite part was standing at the automatic doors and yelling "OpEEn!" and then waiting for someone to walk to the sensor and seeing the doors open and close. Pretty fun stuff.
The next big rest stop was at dinnertime. We did a curbside pickup at Chickfila (that way mama can get a salad, baby can get chicken nuggets, and everyone is happy) and then drove a mile down the road to a huge wooden playground.
He played so hard! This park was amazing. It was in Beaumont, TX but it was nearly an exact replica of a park I used to visit with my sisters in Dallas when I was young. (We called it "the castle park" because it had a few roofs that looked like castles and we were always so thrilled when my mom announced that we were driving to the castle park for the afternoon.)
Pretty sure it was 100% humidity here. Milo got hot and sweaty and muddy and wet and burned off a ton of energy.
Re-hydrating! Nate and I "bathed" him with a bunch of diaper wipes to get off as much of the mud and sweat as possible. Then we changed him into clean jammies, gave him a cup of milk, and turned on the sound machine to signal that it was bedtime. He fell asleep for the final few hours of the drive.
We pulled into a hotel for the night and all three of us slept soundly!
And we woke up in Baton Rouge! We had such a fun family morning here. We stopped at Coffee Call for some fresh beignets and a big cup of coffee.
Blurry pic…delicious beignets. They had a drive-thru (huge win when you're traveling with a toddler), and through the window I could see them frying the dough fresh for each order. Mmmm…
Turns out that beignets are a pretty easy sell to a 19-month-old. We parked at LSU and wandered around the campus for an hour so Milo could get some of his wiggles out before the drive. It was nearly empty (summer) so he just ran and ran and ran!
We stopped to see Mike the Tiger! He was very sleepy.
Milo kept saying "tat tat!" (His word for cat.)
And then off to run some more! I ducked into a Starbucks to grab a green juice and a yogurt, and then we were back on the road to Gulf Shores.
I'm sharing all these details because they're so new to me! For all of my adult life I've been able to road trip on my own terms: I only stop when my legs need a quick stretch or I need a bathroom break. It's so interesting to have to account for this little human who can't quite articulate his needs just yet (but has a lot of them!) and needs me to look out for him. Road tripping with a toddler is a completely different experience than road tripping with adults. I had to keep reminding myself that this is supposed to be different. It's supposed to take longer to get places, I'm supposed to have moments that feel a little frustrating because Milo is hot and sticky and sweaty and tired of being in the car, and I'm supposed to recognize that road tripping feels different than it did before.
And then a few hours later…boom! We're at the beach, baby! Gulf Shores, you are beautiful! We stayed in the San Carlos Condominiums – there are lots of units available on VRBO, and they all have views of the ocean! We were on the 12th floor in a 3-bedroom unit.
The first night was all the typical vacation prep stuff: unpacking, grocery store run, and then checking out the beach and the pool!
Here are my thoughts on Gulf Shores: I really like the town! It's pretty built-up and has lots of tourist shops and fun places to grab ice cream/shaved ice. It's only about 10 minutes from Orange Beach, which has a lot of good restaurants. (Thank you to all of you who sent restaurant suggestions my way via instagram!)
The water and sand were absolutely lovely. There was a loooot of algae floating around in the water, but I think this was just a temporary thing? It had been raining before we got there, so maybe things were just really churned up. Anyway, that made the water kind of icky to be in because you had to swim through tons of plants, rather than clear beach water.
Honestly, I think the sand and the water were fairly comparable to South Padre Island, but the town itself had a lot more to offer in regards to rental accommodations and food and activities. So I'll definitely go back to Gulf Shores, but I also think that South Padre is nice for family road trips since it's a shorter drive from Austin.
Ok, the next three days were just a blur of happiness! Most mornings started early (the sun was up at 5:45, so I was awake by 6:30) with some coffee on the balcony. My sisters and I would gather out there and drink our coffee quietly while reading books.
This little man was up soon after me. I love his sleepy little face in the morning!
This little booster seat is only $35 and folds up really small! It's where he ate all his meals in the condo. The canvas seat is removable so I could pull it off and throw it in the washer when it got food on it.
My morning breakfast…
…which was quickly confiscated by Milo. 😉 It's ok kiddo, I'm happy to share with you.
Milo is so lucky to have the best aunties and uncles in the world! I was a bit nervous about going to the beach while I'm pregnant and have a toddler. My energy levels occasionally dip really low, and at 31 weeks pregnant my body is just so big and gets overheated and sore. But it was the easiest trip ever because of my sisters! They played with Milo all the time, offered to take him to the pool so I could enjoy uninterrupted lounge time on the beach, and made my job as his mama so much easier! If I didn't have them on this trip, it definitely wouldn't have been the restful vacation that it was.
Milo was kind of "meh" about the waves, but he warmed up to the idea of sand! He spent a lot of time playing with his sand toys (I got this big pack of toys + a mesh bag from Amazon before the trip) and loved filling up the buckets with sand and then dumping them out.
Milo and auntie Ky Ky!
Haha, I love this picture because Milo was just #kingoftheworld on this trip. Truly soaking in his last vacation as an only child before little brother arrives. 😉 He didn't like the wet sand (only the dry sand), so his aunties and uncle would give him the beach chair or let him sit on their laps while they fed him snacks and re-applied sunscreen. I mean…not spoiled at all.
Ahhhh, beach time! I loooove lounging under an umbrella with a book, a cold sparkling water, and the sound of the waves. Happy place for sure.
And lots and lots of snacks. What are your favorite beach snacks? For this trip, I munched on berries, peanut m&ms, and lots of sweet/salty snacks like Oreos, Nutter Butters, and Cheese Ritz Bits. I don't buy processed snacks to keep in my home, but there's something about being on the beach that makes me crave #alltheprocessedfood.
My sweet sweet boy! It's getting harder to carry Milo with this big bump, but I'm also embracing the fact that it's probably the easiest it will ever be for me to hold both of my boys at the same time.
Since my pregnancy skin is so prone to pigmentation, I lathered up on the sunscreen, stayed in the shade, and wore this long sleeve maternity rash guard and a floppy hat nearly the whole time. Not my cutest look, but my skin was much happier! In the evenings I would go out in just a swim suit, but when the sun was its brightest I kept everything pretty covered up. (By the way – it's so hard to find maternity rash guards! There aren't many on the market. This one was was comfy and inexpensive, and it fit TTS. I wore a small pre-pregnancy, and the small maternity shirt fit me, too.)
The beach was hit or miss for Milo depending on his mood, but the pool was ALWAYS a win! He spent so many hours there! (Can you spy Milo in the picture above? He's wearing a yellow shirt and hanging out with his auntie Ky.)
My cute cute boys. I love them so much!
Ha! Like I said..Milo was the center of attention on this trip. He's so funny when other kids come up to him, because he's pretty unashamed to say exactly what he wants. So if he's not in the mood to talk to someone, he'll just shake his head back and forth and say "all done" or "no." End of conversation.
My little fam! (Nate wore a sleeve over his leg to protect all of his scars from sun exposure.)
31 week baby bump. I'm wearing this Due In August maternity swimsuit! (BTW – here are all of my favorite one-piece maternity swimsuits under $30. Maternity swim season is just so short, I don't want to spend very much $ on these suits. Under $30 is my sweet spot!)
The whole fam! Sunkissed and salty and having a blast.
Ok friends, that's the extent of my photos from the beach. I totally unplugged and didn't photograph each moment…but there were lots of meals, family game nights, relaxing evenings on the balcony watching the sunset, and long conversations. We had the most magical time as a family and I can't wait to go back to Gulf Shores!
We were able to get an earlier start for the drive back, so we did the whole thing in one stretch instead of stopping at a hotel. We had to do even more stops to let Milo run around and so we didn't get back until dark and early the next morning, but it was nice to not have to unload at a hotel for the return trip.
One of my favorite rest stops was Cracker Barrel! We didn't eat there, but we let Milo run around in the little store. Again, it was hot hot hot in Louisiana and sooo super humid, and I wasn't up for being outside at a playground. So he just roamed around the store for 30 minutes, had a diaper change, and then Nate and I let him pick out a toy to bring back in the car with him.
Another indoor road trip stop (unpictured) that worked well was Target. We were looking for a restaurant with an indoor play place, but most of them are still closed due to Covid. So we stopped at Target and let him run around for a while. He ended up at the sporting goods section and found the soccer balls. Nate and I stood at either end of the aisle, and he would kick the balls back and forth to us. He had a BLAST, I got my air conditioning, and everyone won.
Our dinner stop was Torchy's! I crave salads during preganncy, so I got an airstream salad, Nate got tacos, and Milo ate beans.
And totally didn't make a mess at all. 😉
After dinner, we did the same bedtime routine as we did on the way to the beach: "bathed" him with diaper wipes to get as much of the sweat and dirt off as possible, changed him into some fresh jammies, gave him a cup of milk, and then turned on the sound machine as the sun was setting.
---
Awww! I loved this trip so much! It was a really special memory since it was Milo's first time to the beach, our first family road trip, and the final vacation before baby boy #2 arrives in August.
If you want to see all of my travel posts, they're here! I've been recapping them for the past 4 years, so there are a bunch of trips and photos and stories there.
Thanks for letting me share these memories with you!