Are you planning a bachelorette party in Austin, Texas? Lucky you! I've got the ultimate bachelorette weekend all lined up for you in this blog post. Also be sure to check out these 101 Austin Bachelorette Party ideas!
This is one of the BEST cities in America for a Bachelorette party! We've got food, dancing, night life, amazing hotels, shopping, rooftop swimming pools, and all sorts of photo opportunities. You're going to have so much fun in Austin Texas!
I also created a free 3-day PDF itinerary! If that sounds like something that would be helpful, I'd love to send it to you!
---
Click here for your free 3-day Austin Texas bachelorette weekend itinerary!
---
The Ultimate Bachelorette Weekend in Austin Texas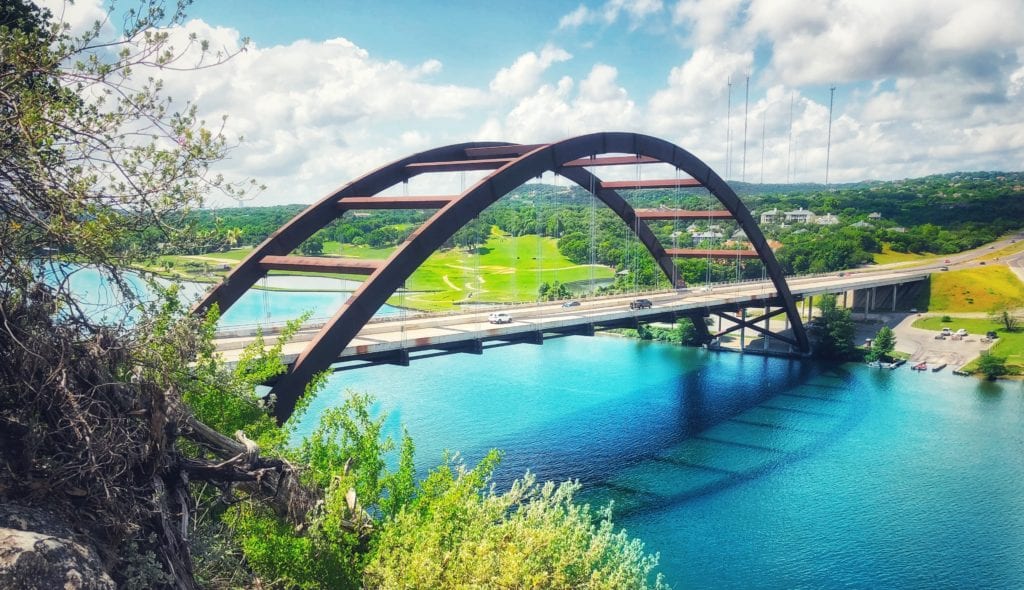 1. Getting here
The Austin Bergstrom International Airport is just 8 miles from Downtown Austin. You can rent a car, but if you book a hotel or Airbnb in a walkable area, you can probably get by with just a few rideshares and avoid a car rental completely.
---
2. Where to stay
For a bachelorette party, I recommend two main areas:
1. Downtown. You can walk to most everything you'll need for an amaing weekend in ATX! Nightlife, concerts, and food are just a few steps from some of the swankiest hotels in Austin. Honestly, if I was planning my own bachelorette weekend in Austin, I'd choose a downtown hotel.
SPEND+++: The W offers a swanky stay with waterfront views and a rooftop pool if you have the budget for it, or look for rooms at The Line, a boutique hotel that overlooks the South Congress bat bridge.
SAVE+: Consider Native Hostel (ignore the word "hostel" because this is NOT your average hostel!) for a great place to stay near downtown. It's a luxury hostel in a historic 1890s building with suites that sleep 4 or 6, or a big "romper room" that sleeps 10. There's a bar, cafe, and kitchen downstairs with craft cocktails and delicious bites.
2. South Congress Ave (or surrounding neighborhoods). SOCO is the iconic tourist street with lots of restaurants, shops, and a few concert venues. From here, you can walk a mile to get downtown (or catch a quick ride share.)
Spend+++: The South Congress Hotel is one of my favorite places to stay on South Congress. It has an awesome rooftop pool, a coffee shop and three restaurants, and easy access to everything on SOCO. For a slightly less expensive option, look into the Austin Motel, a recently updated retro Austin institution with an iconic sign out front and a kidney-shaped swimming pool
Save+: There are plenty of vacation rentals available in various price points in the surrounding neighborhoods, too. Check out this gorgeous rental with a pool!
PS: Check out the 12 best airbnbs in Austin Texas here.
---
3. What to do during the day
Boating: Feb – Sep
Rent from the top boat rental company in Austin, Float On Rentals. They offer everything from small, fast ski boats to giant pontoon boats that will fit the entire party! All boats are provided with a Yeti cooler that you can fill up with your favorite beverages while you enjoy floating up and down the Colorado River. They also provide these fun Lilly Pads, which are basically giant floaties that are made for groups. Hello, photo opp! |WEBSITE|
Paddle Board or Kayak on Lady Bird Lake
There are rental companies all around the lake where you can rent a SUP or a 1- or 2-person kayak for a couple hours. Austin has warm, sunny weather for most of the spring, summer, and fall, so you can take advantage of the lake for most of the year.
Take an aerial class at sky candy
Ever wanted to learn how to be a aerial artist? Well, you might not master it in an hour-long class, but you'll get to attempt a few fun tricks (and probably have a lot of laughs along the way) with a beginner class at Sky Candy! |WEBSITE|
Take pics by the famous Murals
Explore Austin's top murals! Stop by a few of the iconic murals while you're frolicking around the city. See Austin's Most famous South Congress Murals and Where To Eat By Them.
Swim at Barton Springs
Ready for some coooold water? Barton Springs is a natural spring-fed swimming hole in the middle of Austin with water that's 68 degrees year-round! (It feels AMAZING on the hottest days of the summer.) |WEBSITE|
Experience the ultimate nail art at Cute Nail Salon
This is seriously theee cutest nail salon in Austin! Their nail artists are the best of the best. You can do anything from simple colors to crazy creations with jewels and texture. Check out their instagram page for inpspo.
If you're visiting Austin with a big bachelorette party, you can even book the entire salon so all your girls can't their nails done. Head to their events page for details. |WEBSITE|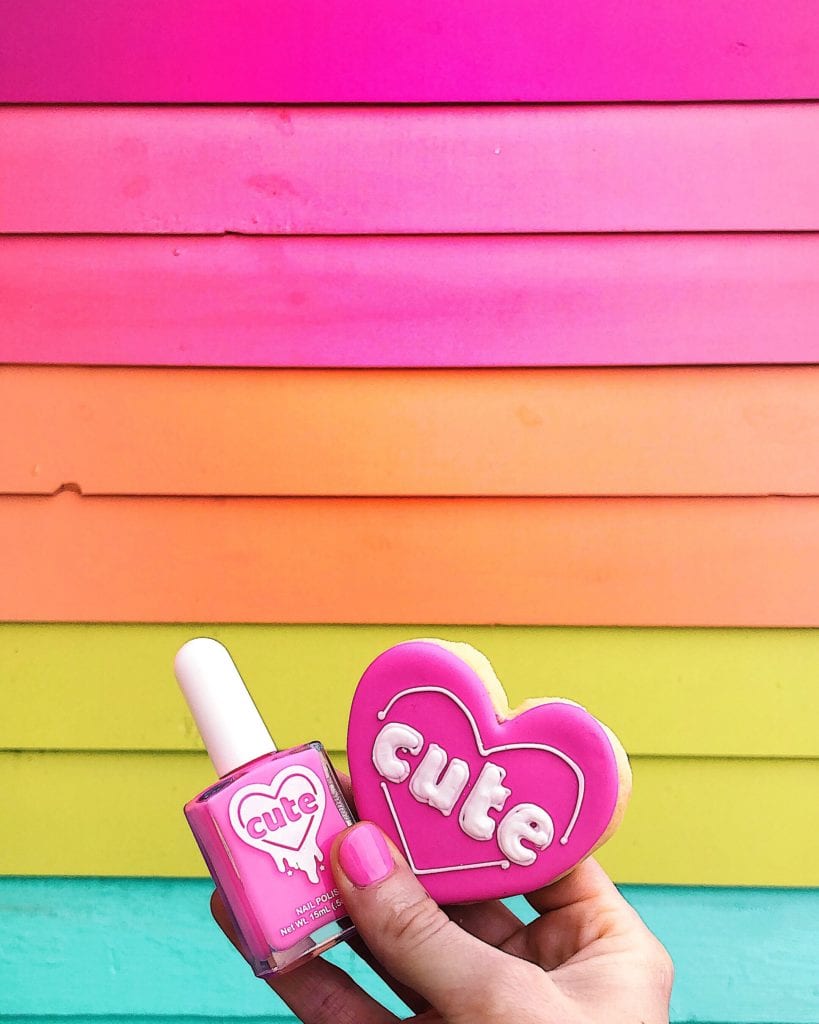 Explore South Congress
It's a very touristy street in Austin, but I swear that it's SO much fun and not a tourist trap at all! As an Austin local, I still spend many weekend afternoons just wandering up and down the street with friends. There are some great shops and restaurants. Check out this guide to South Congress for all my top picks!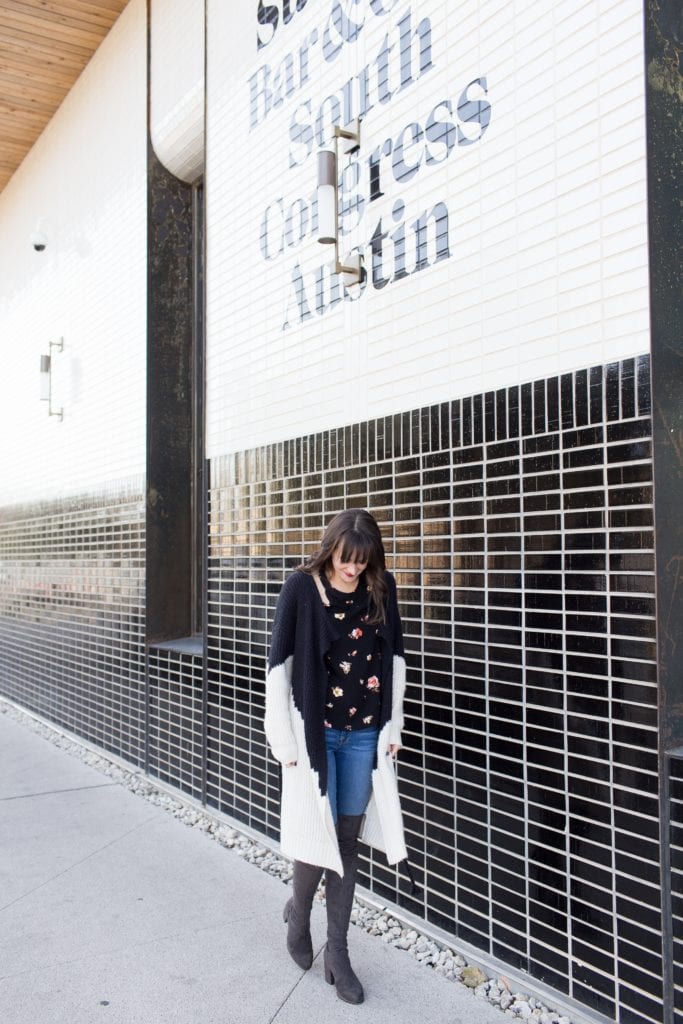 Pedal the PubCrawler of Austin
Book a tour on the PubCrawler and pedal your way around the pubs of West 6th or the Capitol/Warehouse district. Each bus holds 15 passengers, and you can BYOB on the bike for two hours of bar-crawling fun! |WEBSITE|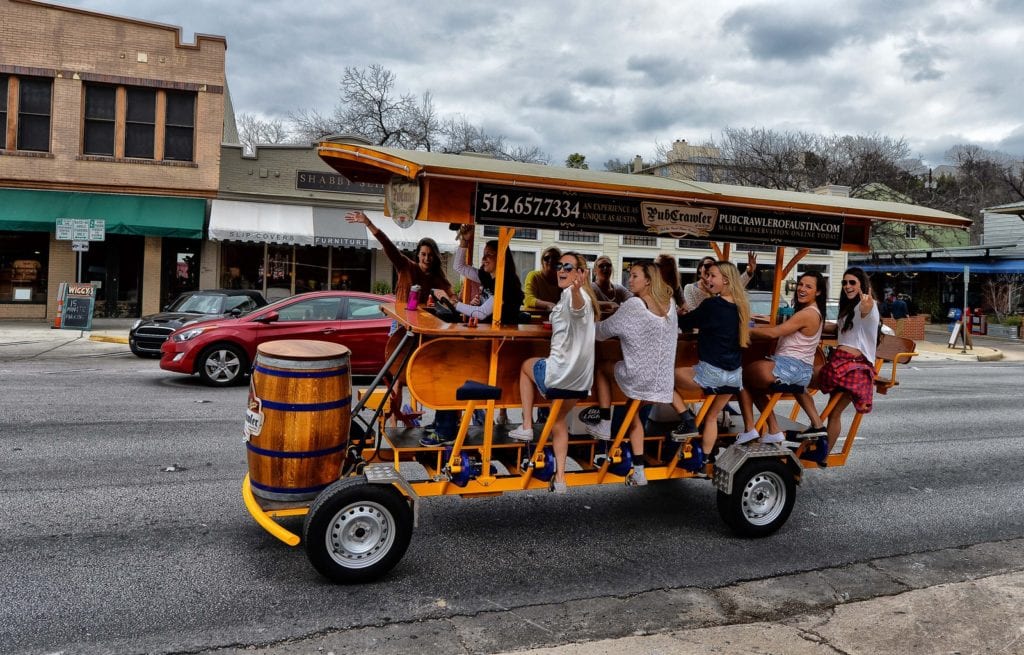 Alamo Drafthouse
Alamo Drafthouse movie theater started in Austin in the 90s, and since then it's grown in popularity and now there are dozens of these awesome movie theaters around the country.
Why is it so great? They have craft beer, bottomless popcorn, and delicious food that is brought to you by a server! You never have to stand up during the movie to get refills. For the most unique theater experience, head to the Ritz location downtown, which opened as a small theater in 1929 and went through several lives as a music hall, club, and comedy house, before it became Alamo Drafthouse in 2007. |WEBSITE|
---
4. What To Do At Night
See live music
You are in the live music capital of the world, after all! Here are a few of my favorite venues in Downtown Austin that you can hit up during your bachelorette weekend in Austin:
Moody Theater // where ACL Live is filmed, but they also offer lots of other shows. As an Austin local, this is my very favorite place to see live music!
Stubb's// some of the biggest bands that come through Austin play here! There's a smaller intimate stage indoors, and an outdoor stage for the big names.
The Mohawk // multi-level indoor/outdoor music venue with a roof top deck
The Elephant Room // jazz music for your classier side
Antone's // iconic blues bar
The Erwin Center // this is the BIG concert venue where the mega stars will play.
Go out on Rainey Street
Rainey Street Historic District is a street lined with little midcentury bungalows that have been turned into themed bars. There are so many places to eat and drink and dance and listen to music on this street!

Go out on Sixth Street
Sixth Street is the bar-lined crazy town in Downtown Austin…only head here if you're up for a rowdy time! (But if you're visiting Austin for a bachelorette party, there's a good chance you're up for it..) Also called "Dirty Sixth" by locals, Sixth Street is blocked off to vehicles on the weekends so pedestrians can have it all to themselves.
There are rows of bars to visit, so if your goal is to imbibe (and maybe get some drinks bought for you…) you'll have no problem finding plenty of bars!
Here are a couple of my favorite places on Sixth Street:
Midnight Cowboy // a speakeasy cocktail bar with no sign marking the door – check the websites for directions to find it! Midnight Cowboy makes right by your table (dinner and a show!) and has one of the best cocktail programs in Austin. |WEBSITE|
Voodoo Doughnuts // I mean…is there any better drunk food? Keep in mind that this place is cash only, but they do have an ATM inside. |WEBSITE|
Backspace // an intimate pizza restaurant that seats about 30. It's a lovely place to grab a few pies and bottles of wine before heading out to see a movie or a concert. Make reservations!! |WEBSITE|
---
---
Parkside // the sister restaurant to Backspace, this is a much larger restaurant with a second story rooftop patio that's great for people watching on Sixth Street. Psst: they have a great happy hour here! |WEBSITE|
Easy Tiger // a creekside beer garden at the very end of Sixth Street with craft beer, cocktails, housemade sandwiches and sausages, and outdoor ping pong tables. Easy Tiger is a great place to chill from the craziness of Sixth Street. |WEBSITE|
Firehouse Lounge // another speakeasy with craft cocktails. It's inside the oldest firehouse in the city, dating back to 1885. |WEBSITE|
---
Where to eat
On to the fun stuff! Austin is a foodie's playground, and I wouldn't judge you if you planned this entire trip around where you want to eat.
Prettiest restaurants in downtown Austin:
La Condesa // interior Mexican restaurant with bright colors, a gorgeous bar, and some of the tastiest margs in Austin. |WEBSITE|
Le Politique // A swanky French restaurant with an accompanying patisserie. Head for lunch or dinner, or just stop by in the morning for coffee and some of the best chocolate croissants in the city. |WEBSITE|
Red Ash Italia // an Italian grill that has theeee most delicious housemade pasta and wood-fired entrees like beef bone marrow and wild mushroom risotto. YUM. |WEBSITE|
Walton's Fancy & Staple // a stunning little cafe in Austin with the yummiest options for all-day eats. This is a great girlfriend stop for a relaxing lunch. |WEBSITE|
Lambert's // when you think of bbq restaurants, you usually think of greasy lunch spots. Lambert's breaks all the rules by being a fancy BBQ dinner restaurant in Downtown Austin. It's great if you want to enjoy some of the best BBQ in the city while also enjoy a classy dinner restaurant worthy of your bachelorette party. |WEBSITE|
Emmer & Rye // a farm-to-table restaurant on Rainey Street that also happens to be one of my FAVORITE restaurants in the entire city of Austin! They have a rolling dim sum cart that will be brought to your table a few times throughout dinner service with nightly specials so you can taste whatever chef Kevin Fink thinks is truly the best and greatest food available from the farmers and fishers. |WEBSITE|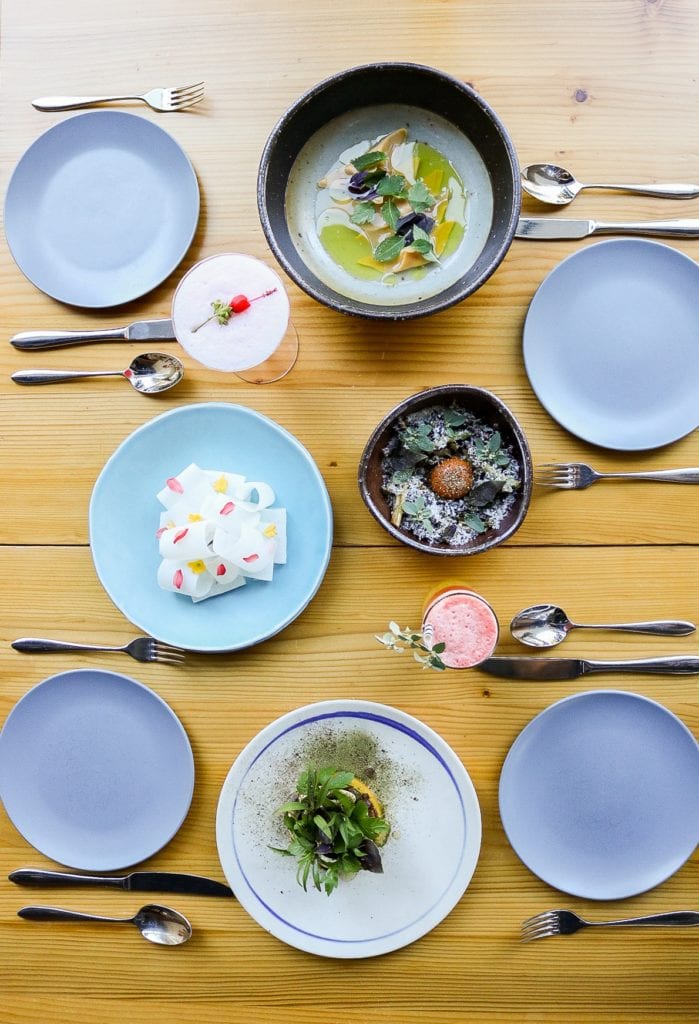 I have a ridiculous number of restaurant suggestions for your bachelorette weekend in Austin. Here are a few to get your started, and then head to the Austin Index to search for food, drinks, and activities by time of day, neighborhood, or meal: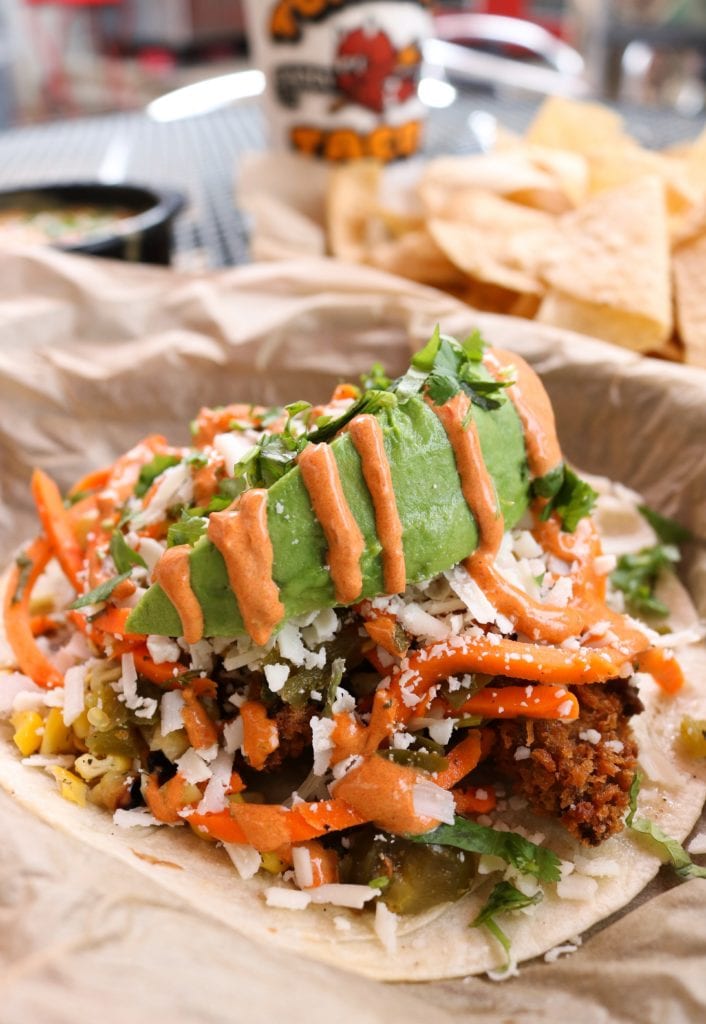 ---
Click here for your free 3-day itinerary to the ultimate bachelorette weekend in Austin Texas!
Liked this post? Pin it!