This is the first time my husband and I have been intentional about date nights. Before all this craziness happened, date nights just happened. I work as a food blogger, and we live in a super rad city with lots of stuff going on, AND for the first 6 years of our relationship we didn't have kids. We found ourselves going to cocktail bars, movie theaters, new restaurants, and beer gardens on the weekends. We didn't put much effort into it, mostly because our favorite activities (food and drink) lend themselves to epic date nights without trying. Last month that all abruptly changed. The world sort of shut down, all of the dining rooms and movie theaters and wine bars closed, and we started practicing social distancing and staying at home. And now we're learning how to do a special date night at home because…well, that's our only option. Ha.
We celebrated our third wedding anniversary a little differently than we originally planned. The first idea was to go to our favorite restaurant in London for an early celebration. But when our trip was cut short and we had to catch an emergency flight home, we decided to go to a restaurant in Austin. But within a few hours of being home, all restaurant dining rooms in Austin were forced to close, so we quickly moved to plan C: we enjoyed the Hestia Date Night meal at home.
There are lots of fancy Austin restaurants that offer curbside pickup or delivery for special occasions. We picked Hestia because we were in the middle of a 14-day quarantine, so we needed an option that would deliver to us since we couldn't do pick-up at the time. Hestia has a $5 delivery fee if you live within a certain radius, so that was an easy choice. We plated the food (following these guidelines for safe food delivery), turned on some jazz on the Bose (this mini speaker lives on our bookshelf and fills the whole house with sound), lit one giant candle (at first I tried tea lights, and I quickly discovered they're romantic but too much work) and opened a bottle of wine we'd been saving from our honeymoon.
And we had SO much fun! It almost (almost, aaaaaalmost) felt like we were in a restaurant on a normal date night.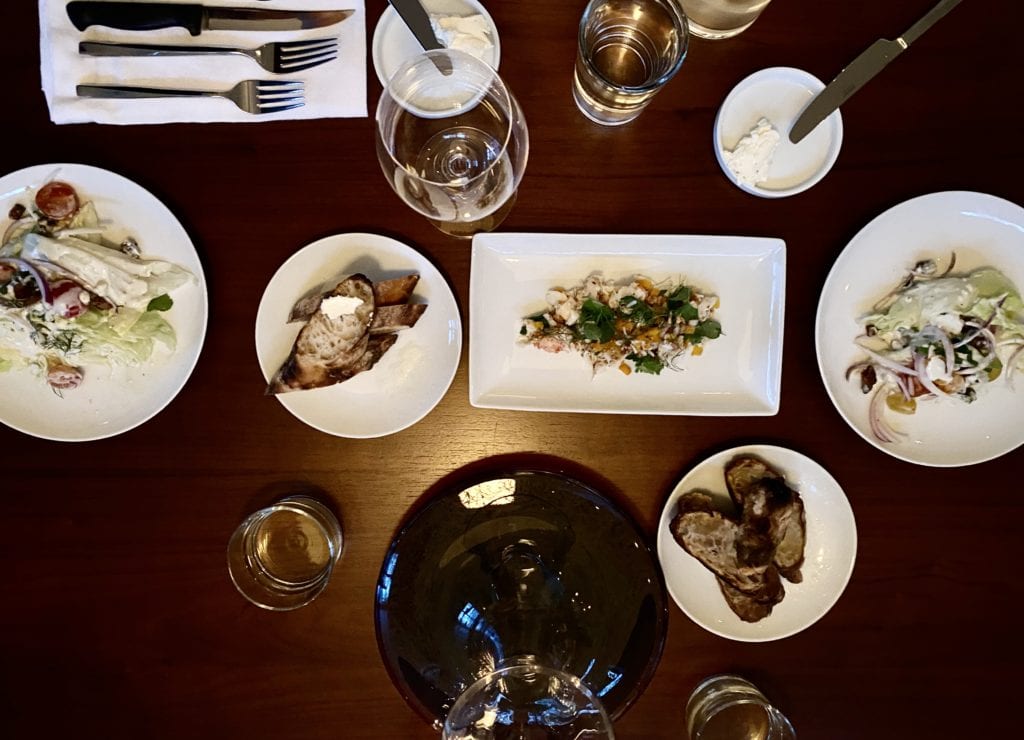 And now we're commited to creating a special date night experience every Friday night, as long as we're stuck at home. I'll be honest: it still feels a bit weird. Since we're in this house together 24/7, it feels strange to also set up a date night. (Like, aren't we already together all the time??). But taking the time to make one night a little bit different than the others, ask each other more meaningful questions, and put on real clothes (haha) has been a highlight of our shelter-in-place days. Here's what I've learned thus far about how to do a special date night at home:
How To Do A Special Date Night At Home
1. Mindset is everything. There are no amount of candles you can light that will actually turn your dining room table into a restaurant…you're still gonna be stuck at home, folks. This is where you have to tap into your imagination and just decide that you're on a date. (I'm telling you, this makes all the difference! It's why I'm listing it first.) Think back to your favorite dates from the past (where were you? What were you celebrating? How did you feel?!) and then focus on that feeling. If this seems a bit woo-woo, that's because it is. But it also works. Get your emotions in "I-am-going-to-a-new-epic-restaurant-with-my-one-true-love-and-it-will-be-awesome" state, and the date night will be so much more exciting.
2. Switch up the booze. If you're anything like me, you're enjoying a daily glass of wine or beer because, well….#quarantinelife. So opening a bottle of wine at your date night won't feel very special. For your date night, try to switch up the booze. If you have typically drink the exact same wine from Trader Joe's, have some different bottles delivered from a local winery (this Hill Country winery delivers straight to your door, and this Austin wine shop offers online ordering) and sample a different varietal than you typically drink. Or shake up some pre-dinner cocktails at home, which also turns into a date night activity. We purchased the Death & Co: Modern Classic Cocktails book after visiting the iconic cocktail bar in NYC (on this trip!) and I can say that it's a good one to have in your library.
3. Put on real clothes. This is the hardest step for me, because when it's Friday and I've been at home all week and I kinda feel gross, wearing sweat pants and eating dinner on the couch (again…) is tempting. Don't give in to the temptation! Put on real clothes. This is where I have to go back to step #1 (Mindset Is Everything) and imagine that I'm getting dressed to go to Emmer & Rye or Jeffrey's. If I can keep myself in that mindset, it's way easier and funner to fix my hair and put on real clothes…even though I'm just going to walk 8 steps from my bedroom to the kitchen.
4. The food is not all that important. You don't have to splurge on an expensive Austin meal (although, it is fun every now and then!) Whether you're getting the Date Night meal from Hestia, or you're getting some kimchi fries from Chi'Lantro, it's how you treat the food that makes a difference. Plate it (not just for Date Night's sake, but also for food safety), enjoy it in courses, and savor each bite, just like you would at a restaurant. Decant your wine, sip it slowly, and enjoy the conversation. (Try to talk about something other than the news.)
---
Who are we becoming through all of this? I keep asking myself that question. We've been staying at home for weeks now, and the end isn't in sight. Something as simple as creating a date night suddenly takes so much more creativity, imagination, and willpower. I want to put the energy into these date nights, because the alternative is that we might start to robotically live our lives together, two humans trapped in 1900 square feet without ever feeling totally connected to each other. That's not a life I want to live, so I'm going to be intentional about these date nights at home as long as we're in this situation.
Stay well, friends! If you want to chime in with any small things you do to create a date night environment in your home, please do that!