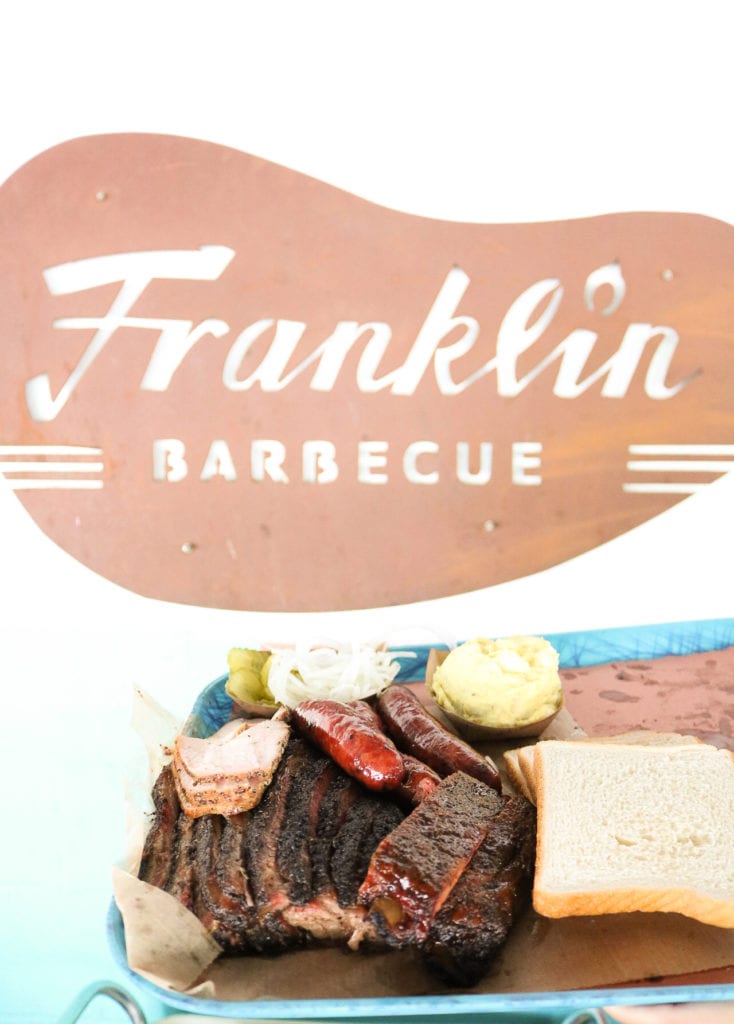 How long is the line at Franklin BBQ? I went over there yesterday with my friend Grace, and I documented the whole thing so I could share it with you!
---
Psst: visiting Austin soon? Click here to grab my FREE 3-day guide to ATX!
---
And just in case you live under a rock, here's the deal about Franklin BBQ: it's the most famous BBQ joint in Austin, and it has won just about every major BBQ and foodie award, including a James Beard Foundation Award (Aaron Franklin, best chef: southwest 2015), Texas Monthly's Best Barbecue Joint in Texas, and Bon Appetit's Best Barbecue Joint in America.
It's some really good meat.
---
How Long Is The Line At Franklin BBQ?

There are obviously lots of factors that affect the wait time for Franklin bbq, like day of the week, how early you're willing to wake up, and good ol' luck. For me, it ended up being about 4 hours.
And there are several options for people who just really don't want to have to wait at all. Here's an hour-by-hour recap of our wait time:
---
HOUR-BY-HOUR RECAP OF WAITING IN LINE AT FRANKLIN BARBECUE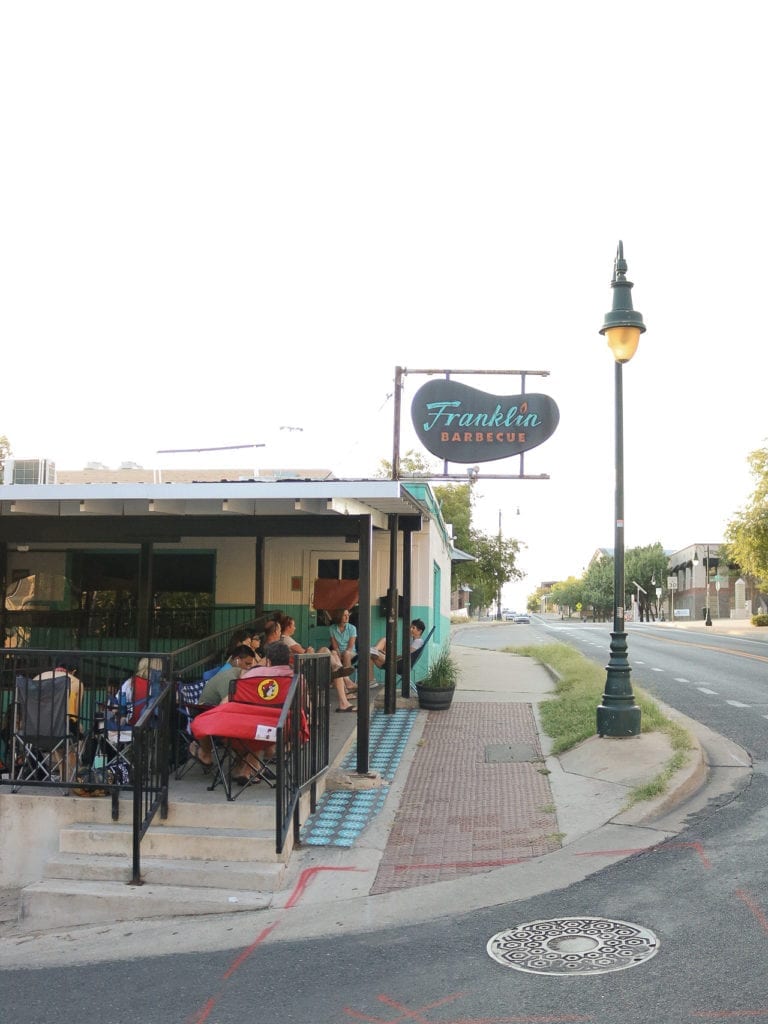 5:30 am: I woke up to do a workout. This is by no means necessary, but I always enjoy a big, indulgent meal if I've done a little workout before! I took a 6 am barre class before heading to Franklin BBQ to meet my friend Grace. 
7:15 am: Got in line! We were numbers 10 and 11. The wait is much shorter on Tue-Thur than it is on Fri-Sun. On the weekends, folks start lining up several hours earlier. But 7:15 am was early enough to be near the front on a Tuesday.
Honestly, there aren't even all that many people there by 8:00 am. I think we could've shown up at 8:00 on this day and still have been in the top 25 people in line. But, I really don't mind waking up early, drinking coffee, and hanging out with a friend, so I'm not mad we got there so early.
9:00 am: The line really started to grow. There were a few people trickling in from 7-9, but 9:00 is when the line really started to get long.
Also, I got so hungry at this point I decided to eat a mini blueberry muffin. My growling stomach just wasn't going to wait until barbecue at 11:00.
10:00 am: Line is still growing! This is, I think, the worst time to get in line. It's super long, there's still an hour to go until the place opens, and the back half of the line has no shade or fans so it's hot. See the back of the line in the parking lot? It's stretching around those car back there, and it's about 95 degrees at this point!
I had brought an umbrella (just in case I was in the sun), but the building shades the line until about 12:30 pm in August. For anyone near the building, It was really nice and cool for the entire wait.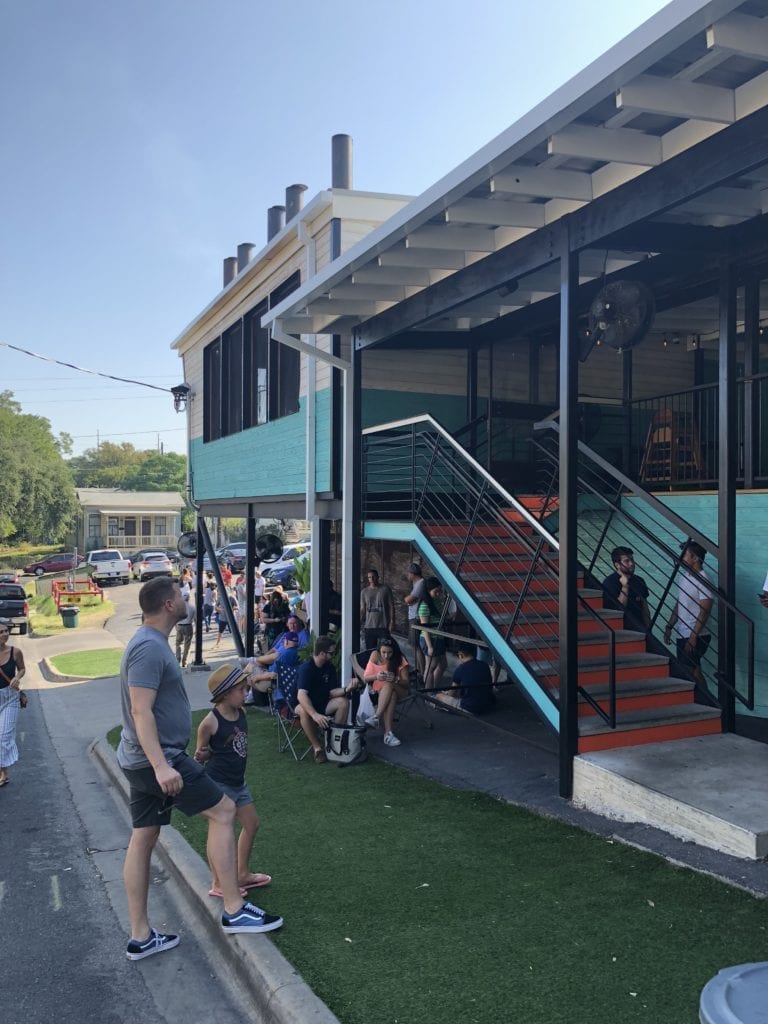 11:00 am: 4 hours later, it's time to eat! I waited in line for 4 hours to get my BBQ, and after a morning workout and nothing but a tiny little blueberry muffin, I'm starving. I'm extra thankful for that little sample of brisket they pass out when I walk up to the register.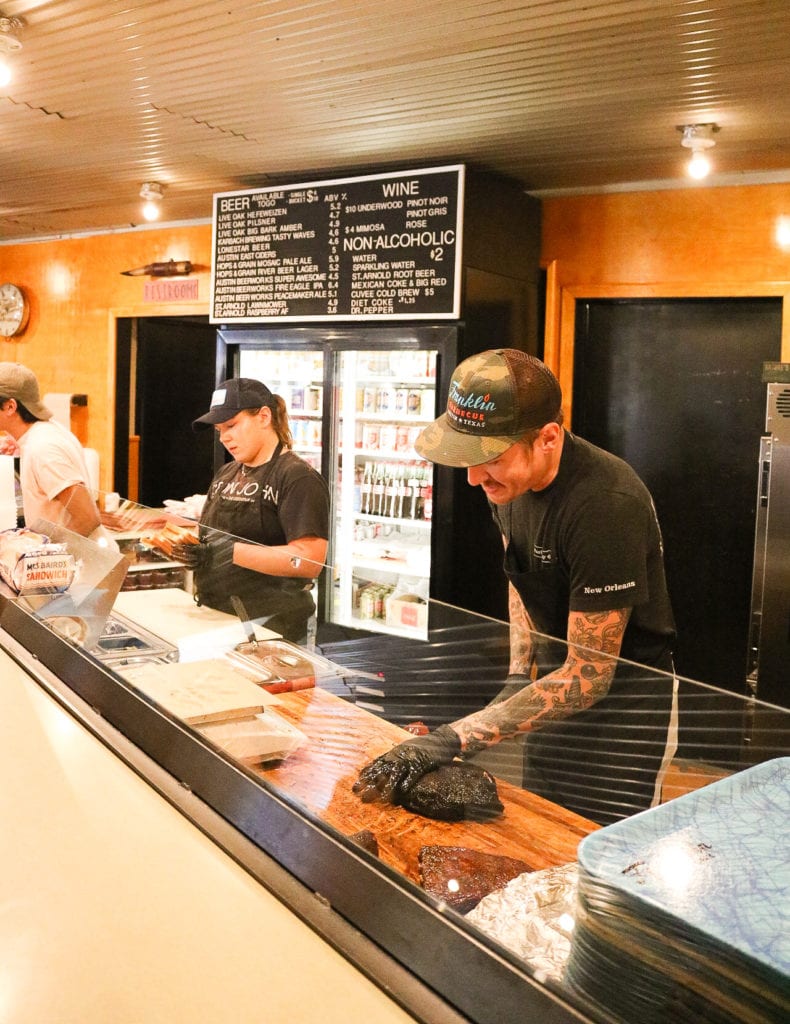 Aaron Franklin opened the door to a crowd of cheering customers (seriously, does he have the best way to start his day or what?!) and he hung out for a few minutes to autograph books and t-shirts.
I ordered several pounds of brisket, ribs, turkey, and sausage, as well as some sides of slaw and potato salad and two types of pie.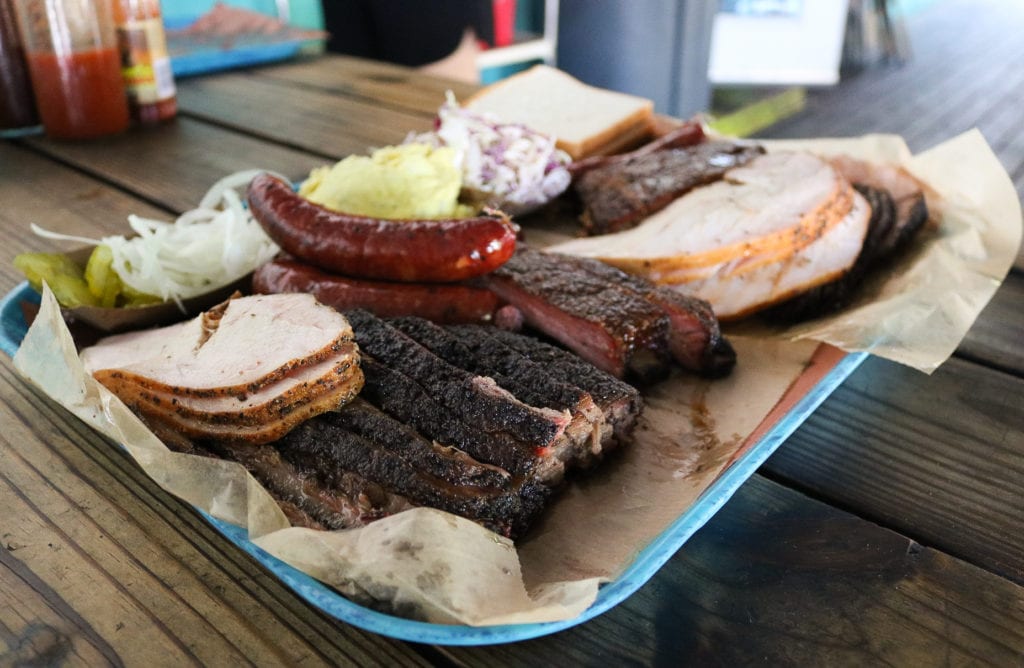 Be still my soul. It's just so darn good.
Brisket it the star of the show at Franklin Barbecue, but I also really love pork ribs and turkey.
---
If you don't want to wait in line:
1. Order ahead!
You can preorder on the Franklin Barbecue website and just pick it up. No waiting required. There is a $75 deposit that you won't get back if you don't show up for your order, so make sure you really want the bbq before you order it.
2. Show up around 12:30 pm. 
By the time I finished eating around 12:15, the line had cleared considerably. A couple folks at the back of the line had only been there since 12:15, and they were told there was still plenty of brisket and sausage (although the turkey was going to be gone by the time they got to the front.)
3. Get the extras right before they close.
You can try stopping by around 2:30/3:00 pm to see if they have anything left. It will probably be little odds and ends, but odds and ends of Franklin BBQ is still better than most bbq in town!
---
What to bring to wait in line at Franklin BBQ

A chair. They provide some, but bring your own in case they run out. You don't want to have to sit on the concrete for hours!
Coffee. No explanation necessary.
A cooler of beer….for when the coffee is gone.
Bug spray. Texas summers are humid and sticky, and the mosquitos were swarming at 7 am. I'm so glad I had bug spray with me.
A book/phone/friend. Bring something to stay entertained…it's a long wait!
---
So, how long is the line at Franklin bbq?

About 3-4 hours if you try to get at the front of the line on a weekday. A little longer than that if you show up on a weekend or holiday.
About 1 hour if you show up after they've opened, but there's a good chance they'll be out of some of the meats.
No line if you preorder online. Honestly? I think the long wait is part of what makes the brisket taste so good. 😉
---
FRANKLIN BBQ
900 E 11th St | WEBSITE
Open Tue-Sun at 11 am
Closed Monday