A "best cookies in Austin" guide is a long time coming. I'm just a wee bit of a Cookie Monster, and I've been eating cookies around Austin for years, taking mental notes, taking photos, and trying to decide what I would include in a round up of the best cookies in Austin.
I'm hoping that after I have this blog post written I'll finally switch to healthier afternoon snacks… I should probably start thinking about better 3 pm snack habits. But in reality, I'm most likely just adding fuel to the fire by writing this because looking at these pics makes me want another cookie!
Either way, enjoy this round up of some of the greatest cookies in the city of Austin!
Ultimate Guide to the Best Cookies in Austin
---
1. The Super Baked Cookie at Soup Peddler
Seriously….is anyone surprised at all that this is number 1 on my list? I've been singing praises of the Super Baked for about 5 years! It's still my favorite cookie in Austin. I'm officially recognized as the girl who shows up at the juice bar and orders nothing but a giant cookie…
The Super Baked is make with real butter, sugar, brown rice flour, pecans, coconuts, chocolate and butterscotch chips, and a sprinkle of sea salt on top. It's sweet, salty, and seriously just THE BEST COOKIE EVER.
(And it's never ever on my instagram feed because it doesn't photograph very well!)
WEBISTE | multiple locations
---
---
2. The Monster Cookie at Henbit
All hail Levain Bakery in NYC for popularizing this delicious cookie style! I'm glad that lots of other places around the country are making their own version of this cookie. Henbit, located at Fareground food hall downtown, copied the thick, gooey, cookie doughy style, but put their own Texas twist on it by using pecans instead of walnuts.
I do not know how to eat at Fareground and not order one of these cookies…
WEBSITE | 111 Congress Ave Suit P300
---
3. Chocolate Chip Cookie at Tiny Boxwood's
If you're looking for the perfect chocolate chip cookie, head to Tiny Boxwood's, a restaurant from Houston. This is a CLASSIC chocolate chip cookie style: a little crunchy around the edges, soft and chewy on the inside, loaded with high quality chocolate chips, and always served warm from the oven.
There's nothing exceptionally unique about this one (it is just a chocolate chip cookie, after all…), but it's very well done and many call it their favorite chocolate chip cookie in the city of Austin.
WEBSITE | 1503 W 35th St
---
4. Big-As-Your-Face Cookie at Pieous
Do it for the 'gram, right? That's what I thought when I ordered this monster at Pieous in Dripping Springs, and then I bit into it and realized this cookie is actually fantastic! It's chewy all the way through, and I'm not ashamed to admit that I ate the whole thing in one day.
WEBSITE | 166 Hargraves Dr Bldg H
---
5. Macarons at La Patisserie
There are several places where you can enjoy expertly crafted French macarons in Austin, but La Patisserie is my favorite. They are truly exceptional every time: light, delicate, a firm outer shell and a chewy interior, with fluffy frosting sandwiched between the two shells. I love buying little boxes of these for out of town guests!
WEBSITE | 602 W Annie St, or 7301 Burnet Road Ste 102
---
6. Chewy Chocolate Cookie at Little Deli
Have y'all been to Little Deli? It's a true neighborhood gem, tucked right into the middle of the Crestview neighborhood. They serve amazing New Jersey style pizza and great deli sandwiches, but one of my favorite things about this place is their giant chewy chocolate cookie.
It's homemade at the deli every day, and it's DELICIOUS. It's more of a brownie consistently – thick, rich, and chewy, with walnuts scattered throughout. Love this cookie.
WEBSITE | 7101-A Woodrow Ave
---
7. Anything from Tiff's Treats
Basic, I know, but Tiffs Treats are still some of my favorite cookies in Austin! In case you live under a rock: Tiff's Treats is a cookie delivery service. It's great for sending birthday, anniversary, sympathy, or congratulatory packages to someone's work or home. A surprise delivery of warm cookies from Tiff's Treats totally brightens my day.
I love 'em all, but I'm especially keen to those snickerdoodles! Psst: these freeze really well! I learned that after I was given 3 dozen of them on one day.
---
---
8. Banana Nutella Stuffed Cookies at Thoroughbread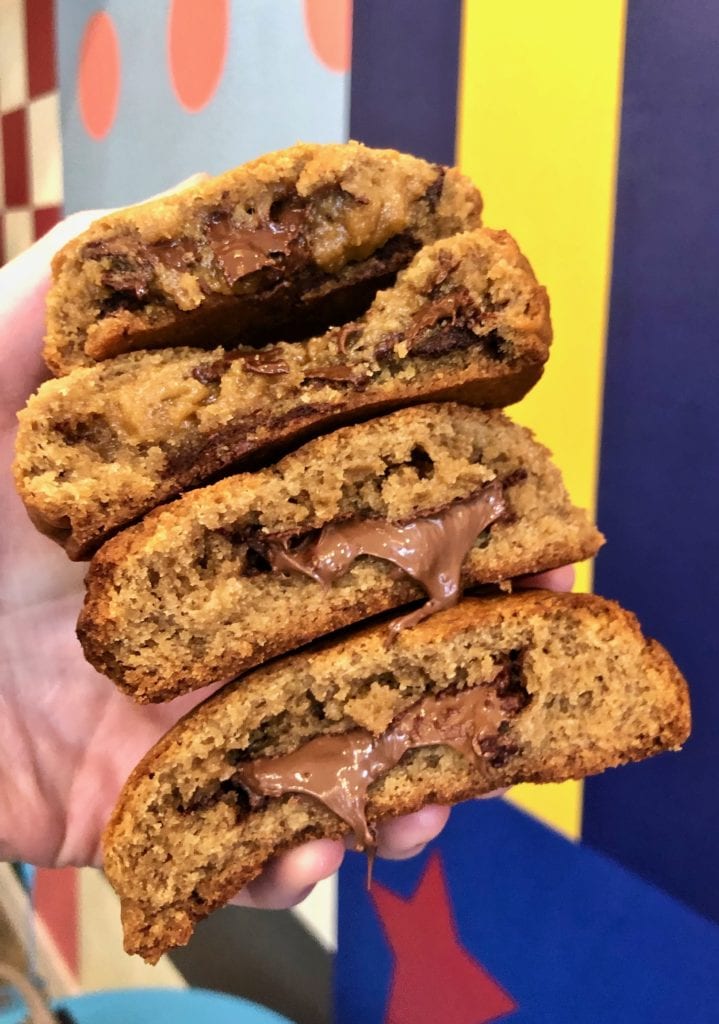 These are the new guys on the block, but their cookies are quickly taking instagram by storm. The stuffed cookies (banana stuffed with Nutella, or peanut butter stuffed with jam) make the perfect IG shot, and they taste even better than they look.
The other two cookie varieties (chocolate chip and chocolate chip pecan) aren't getting quite as much attention on the 'gram, but they're similar to the monster cookie at Henbit. And if you happen to be able to buy one right after it came out of the oven? Your day will be made, my friend..
WEBSITE | 1709 Bluebonnet Ln
---
9. Vegan Oatmeal Cream Pie at Bouldin Creek Cafe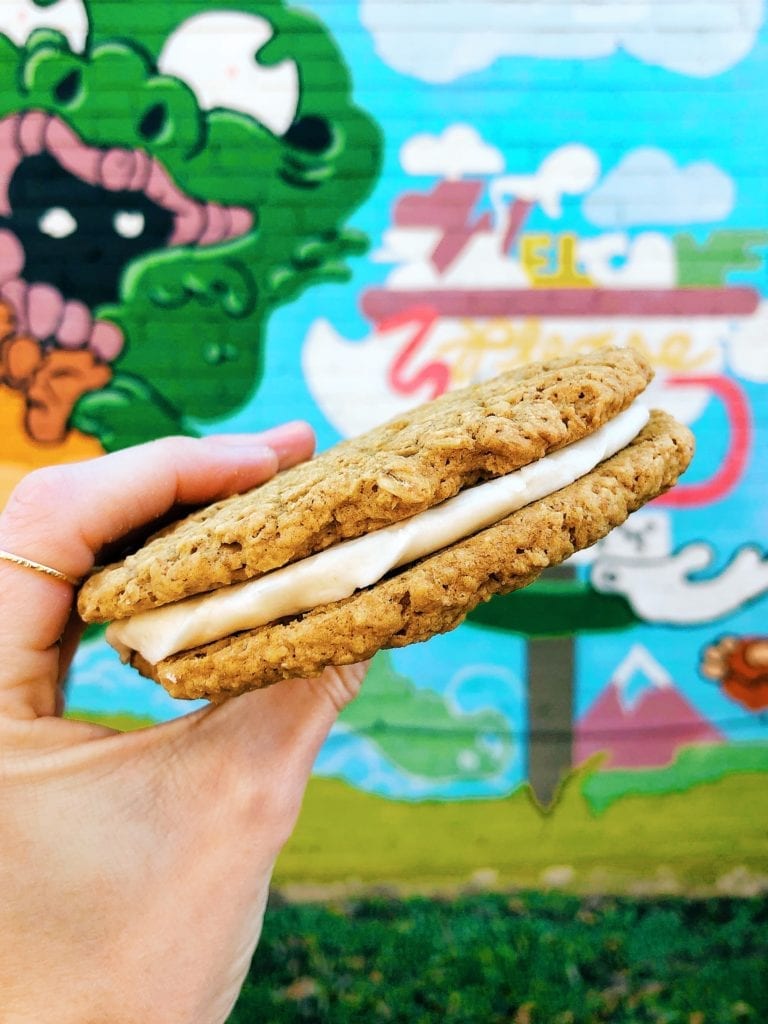 I'm not vegan, so I don't usually seek out vegan cookies. But when a (non-vegan) friend told me how much she loves the "OCP at BCC," I knew I had to try it out.
First off, they're massive. These cookies are easily big enough to share! The thick, sugary icing is sandwiched between two chewy oatmeal cookies, and I just can't get enough.
WEBSITE | 1900 S 1st St
---
10. Chocolate Chunk Cookie at Hot L Coffee
I stopped by Hot L Coffee for an afternoon cappuccino, and I saw this cookie and HAD TO HAVE IT. There are massive amount of chocolate chunks in this baby, and I always appreciate it when bakers sprinkle a subtle hint of salt on top of their chocolate chip cookies. I think it brings out the chocolate flavor so nicely.
WEBSITE | 400 Josephine St
---
---
11. Gluten Free Everything Cookie at Sugar Mama's Bakeshop
This cookie has a little bit of everything in it: peanut butter, oatmeal, chocolate chips, and m&m's. It reminds me of a cookie my mom used to make every time we went camping (she called it a monster cookie). I think that peanut butter + oatmeal is one of the greatest cookie combos.
BONUS: It's gluten free for all of my GF boos out there! I'm not gluten free, but that doesn't stop me from calling this one of my very favorite cookies in this entire glorious city.
WEBSITE | 1905 S 1st St or 2406 Manor Rd Suite B
---
12. Salty Oat Cookie at Walton's Fancy & Staple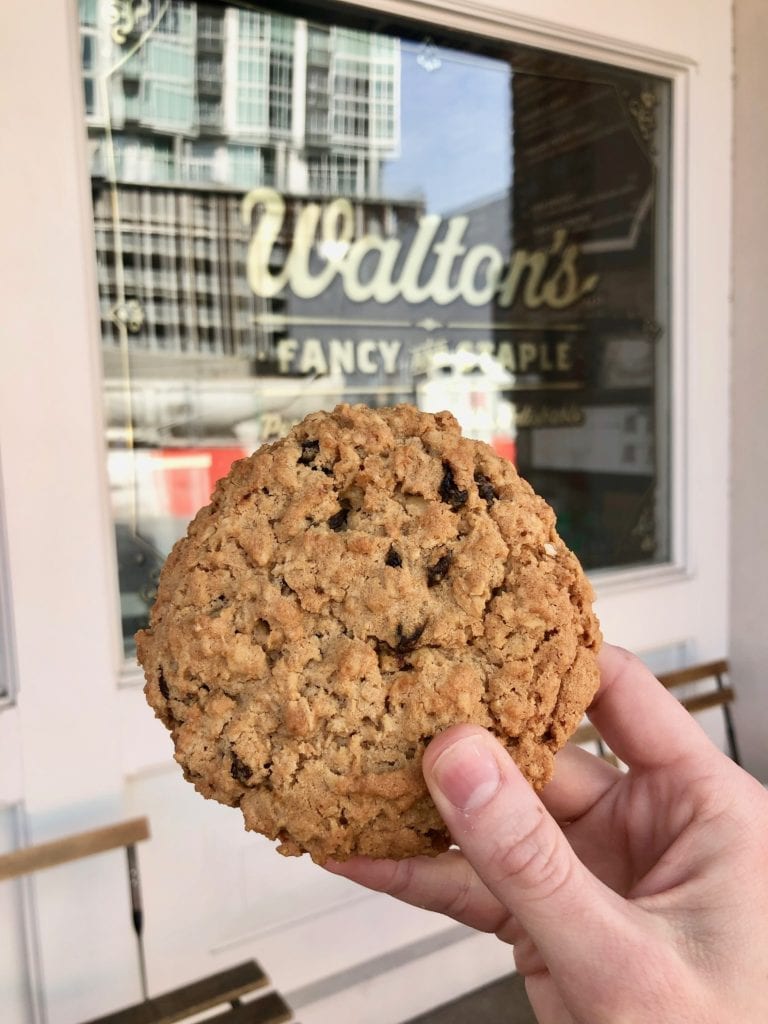 I'm adding this to make a very small number of you happy…. I'm not actually all that big of a fan of oatmeal raisin cookies (because why eat those when you could have oatmeal chocolate chip??), but I know there are a few weirdos reading this who love oatmeal raisin, and this is the best one I've had. Walton's makes their cookies really thick, but they're still soft and chewy.
Honestly? I love the snickerdoodles at Walton's the most! But the Salty Oat is a solid option for those of you who love raisins.
---
---
13. Lemon Meltaway at Paper Route Bakery
If lemon desserts are your thing, you must try this sweet, soft lemon cookie from teeny-tiny East Austin Paper Route Bakery. (The bakery is a 500 square foot kitchen located on the side of Cenote coffee shop on Cesar Chavez.)
It's the perfect size for snacking, and the zingy lemon zest really pops! I had full intents of saving half of this cookie for my husband, and before I knew it….I had finished the whole thing. #oops.
(Psst: their chocolate chip cookies are definitely worth trying too..but the lemon is what really stood out to me!)
WEBSITE | 1010 E Cesar Chavez, Suite D, Austin
---
Loved this post? Pin it!