Weekend brunching is practically a professional sport here in Austin…but don't forget about the often overlooked weekday breakfast! There are plenty of good reasons to indulge in something delicious on a random Wednesday morning.
The next time you have a birthday to celebrate, a morning meeting, or a vacation day to use, keep these places in mind.
I've rounded up the 22 best weekday breakfast spots in Austin to provide a little extra motivation to get out of bed on Monday morning:
---
22 Best Weekday Breakfast Spots In Austin
1. Bird Bird Biscuit
I'm listing this place first on the list because it's the ultimate Austin breakfast stop: INSANELY delicious breakfast sandwiches, a totally bright and adorable Instagrammable shop, and early breakfast hours every day of the week! Bird Bird Biscuit is a cute little biscuit shop with crazy good biscuit sandwiches, biscuits and gravy, and simple biscuits with jam.
WEBSITE | 2701 Manor Rd
---
2. Nervous Charlie's Bagels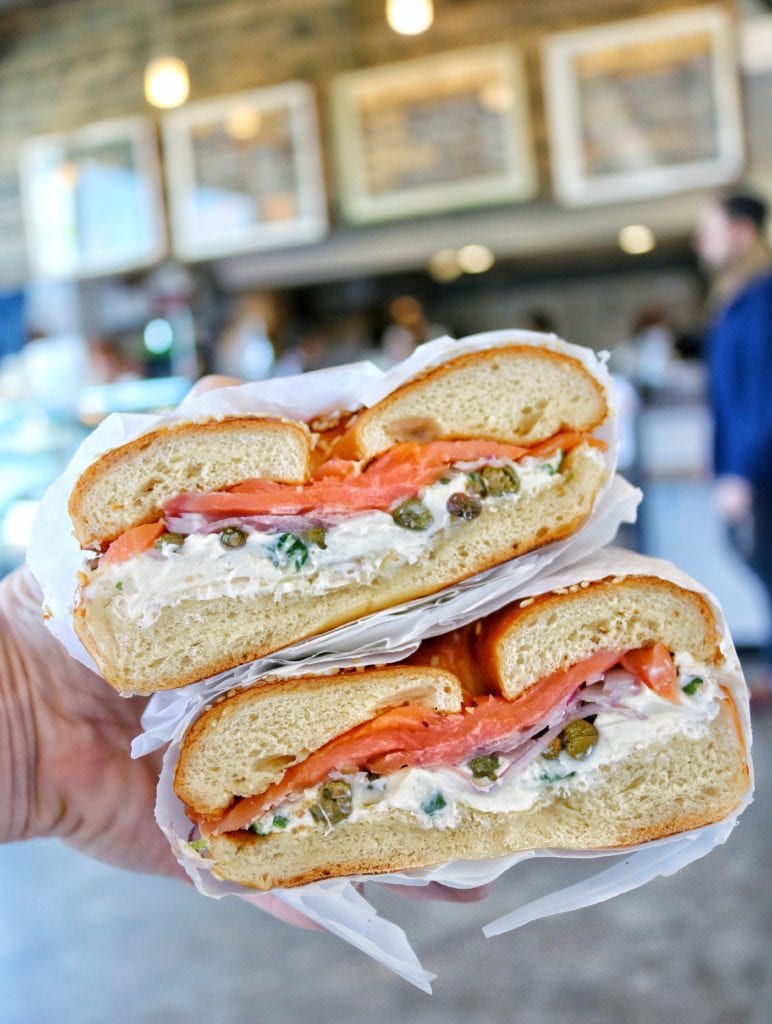 Homemade bagels and a thick spread of schmear…nothin' better! Stop by Nervous Charlie's for something as simple as grabbing a dozen bagels for your office, or a fancy bagel breakfast sandwich to indulge your wildest weekday breakfast cravings.
WEBSITE | 5501 N Lamar Blvd
---
---
3. Tacodeli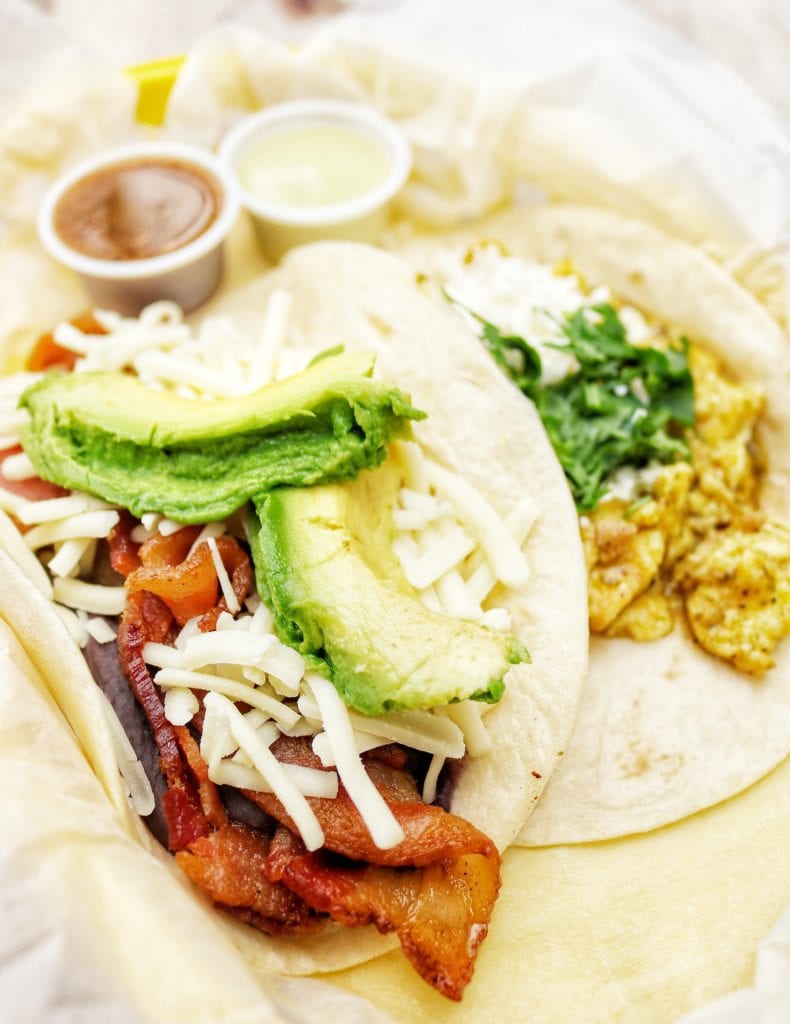 I really never get tired of these breakfast tacos! Tacodeli has been around since the 90s, and they're totally an Austin staple. Try the Sirloin, Egg, and Cheese, and the Jess Special (it's a migas taco with a big hunk of avocado on top.)
The Doña salsa has a cult following…it's seriously SO creamy and delicious! It's their next-to-hottest homemade salsa (habañero is the hottest), and it's made with jalapenos and has mellow green color and a delicious taste
WEBSITE | Multiple Locations
---
4. Josephine House
So charming! Josephine House is an American restaurant inside a little renovated cottage. It's a lovely little place to start your morning.
This is a good option or a special breakfast date, as it's a bit pricier: around $16/entree, and every dish is beautifully prepared.
Josephine House is the sister restaurant to Austin's original fine dining establishment, Jeffrey's. It has the same upscale feel in a slightly brighter, more modern setting. (Bring a camera – everything here looks so darn good on instagram with the pretty white tables and natural light.)
WEBSITE | 1601 Waterson Ave
---
5. Cisco's Restaurant
Cisco's is an Austin institution! They've been around since the mid 1900s, and they're still an Austin favorite for their giant breakfast tacos, migas plates, and homemade biscuits.
WEBSITE | 1511 E 11th St
---
---
6. South Congress Cafe

This is one of the most iconic weekend brunch spots in Austin, but they're also open for weekday breakfast. Huffington Post said they have one of the Top 10 Bloody Marys in America, and you've gotta try that carrot cake french toast.
---
7. Phoebe's Diner
This little 1950s-style diner is owned by the Winebelly group, so you know it's good! Phoebe's Diner has big portions, low prices, and friendly, relaxed service.
Their breakfast items include classics like buttermilk flapjacks and bacon and eggs, as well as fancier items like a coffee smoked brisket burrito, served with a side of hash browns. This is one of my personal favorite breakfast places in town!
WEBSITE | 533 W Oltorf St
---
8. Kerbey Lane Cafe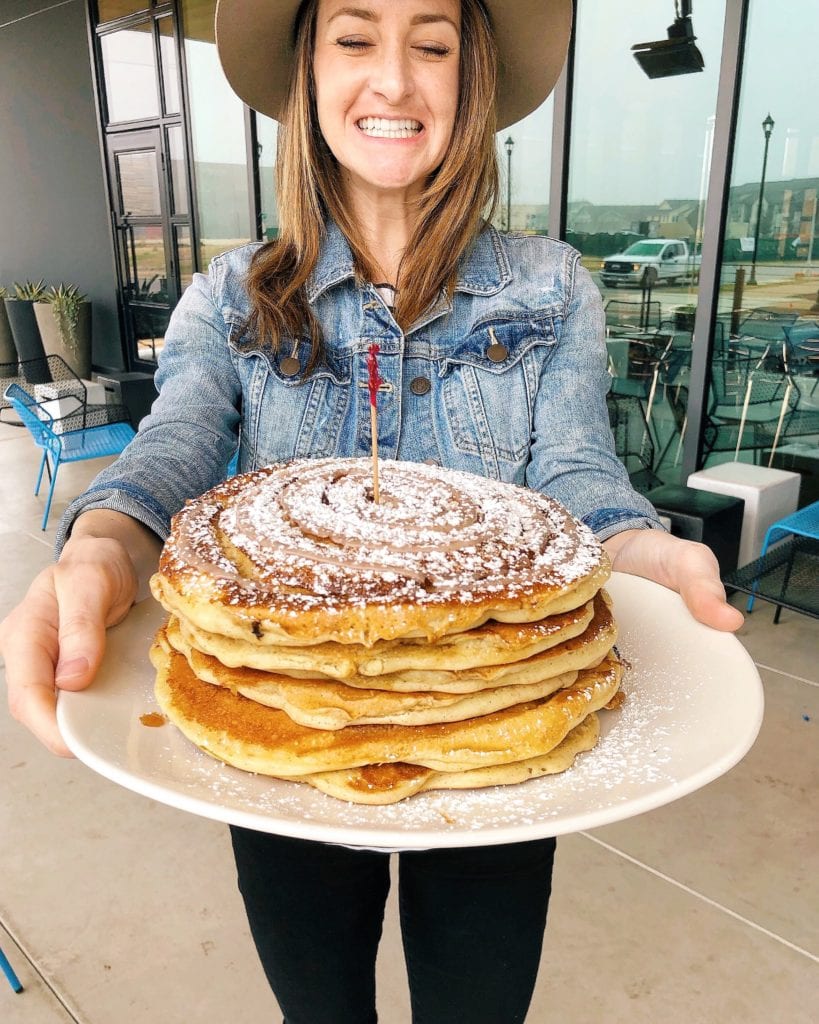 Hello, Austin classic! You have to try Kerbey Lane at least once…but if you have little ones in your family, odds are you've been here many, many times.
They have all the breakfast classics you crave: big stacks of pancakes, breakfast tacos, French toast, Benedicts, omelets, biscuits, chilaquiles, and pretty much any other breakfast plate you can think of.
WEBSITE | multiple locations
---
9. Patika
Patika is technically a coffee shop, but they have an AMAZING breakfast program with their food trailer that's permanently parked in the back patio.
The weekday breakfast is slightly different than the weekend brunch, but there are still lots of goodies offered like avocado toast, several breakfast sandwiches, and a daily waffle.
This has been one of the most unexpected, pleasant surprises I've found in the Austin breakfast scene!
WEBSITE | 2159 S Lamar Blvd
---
10. 24 Diner
Don't let the greasy spoon name fool you: 24 Diner uses fresh, local produce from nearby farms to whip up some of the most delectable breakfast plates in the city.
You can get all of the classics, like French toast, waffles, and omelets, but 24 Diner also offers healthier options, like a delicious veggie frittata.
WEBSITE | 600 N Lamar Blvd
---
11. Blue Dahlia Bistro (Westlake)
Photo via Tide and Bloom
This sweet little French cafes in Westlake (and a second location in San Marcos), and it's one of my favorite places to meet a friend for a breakfast date. Breakfast is served all day, so sometimes I'll get a frittata for lunch!
WEBSITE | 3663 Bee Caves Rd
---
12. Counter Cafe (east austin)
Holy moly….they have one of the best burgers in the state of Texas! But their breakfast isn't too shabby either. Expect big, filling portions of comfort diner food, like a fried chicken biscuit or hotcakes.
WEBSITE | 1914 E 6th St
---
13. Forthright Cafe (downtown)
This beautiful downtown cafe is one of my favorite spots for both weekday breakfast AND weekend brunch. I love their beautiful Benedicts, breakfast sandwiches, chicken and waffles, pork belly hash, and breakfast pastries. Oh, and they have an excellent coffee program!
WEBSITE | 35 Brazos St
---
14. Café no Se (south congress)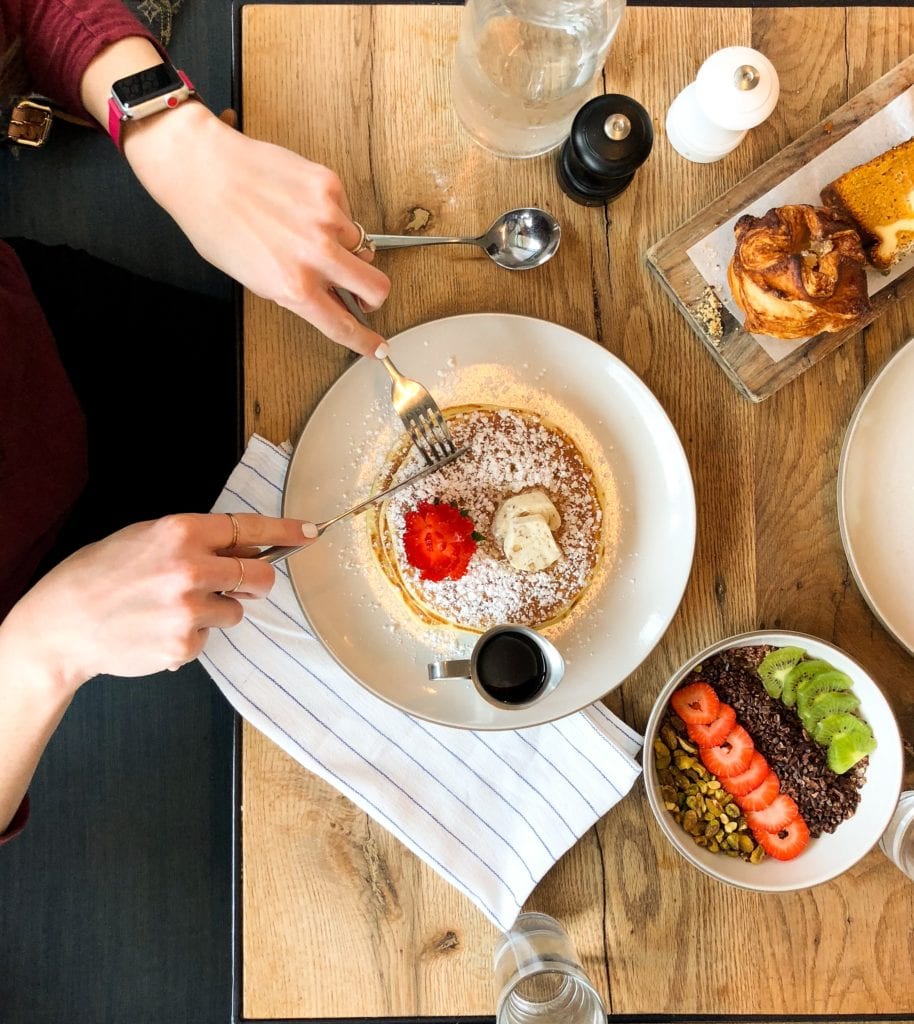 Anything connected to the South Congress Hotel is going to be gorgeous….Café No Sé is no exception. It's a typical modern cafe with all your favorites, but dishes are amped up with something special: ricotta pancakes with bananas and pecan butter, avocado toast topped with a soft boiled egg, créme fraîche, and aleppo carrots, and the oh-so-instagramable No Sé burger served on a buttermilk bun are just a few of their weekday items.
WEBSITE | 1603 S Congress Ave
---
15. Two Hands
Two Hands is an Australian cafe that started in New York City…so while it's not exactly a local Austin spot, it's a lovely weekday breakfast cafe. They have some nice healthy options like an acai bowl, avocado toast, and a seasonal scramble.
WEBSITE | 1011 S Congress Ave
---
16. Texas French Bread
This classic Austin restaurant has all the breakfast classic you're looking for: a French omelette, pancakes, a delicious breakfast sandwich, French toast, and more!
WEBSITE | 2900 Rio Grande St
---
17. Teal House Coffee and Bakery
If you want to get your sugar fix, go for a weekday breakfast in Austin at Teal House bakery. Their cinnamon rolls are THE BEST! They also have a great coffee program, so you can grab a cappuccino to accompany your sweets and enjoy sitting inside or outside at their South Congress location.
WEBSITE | 12304 S Congress Ave
---
18. Bouldin Creek Cafe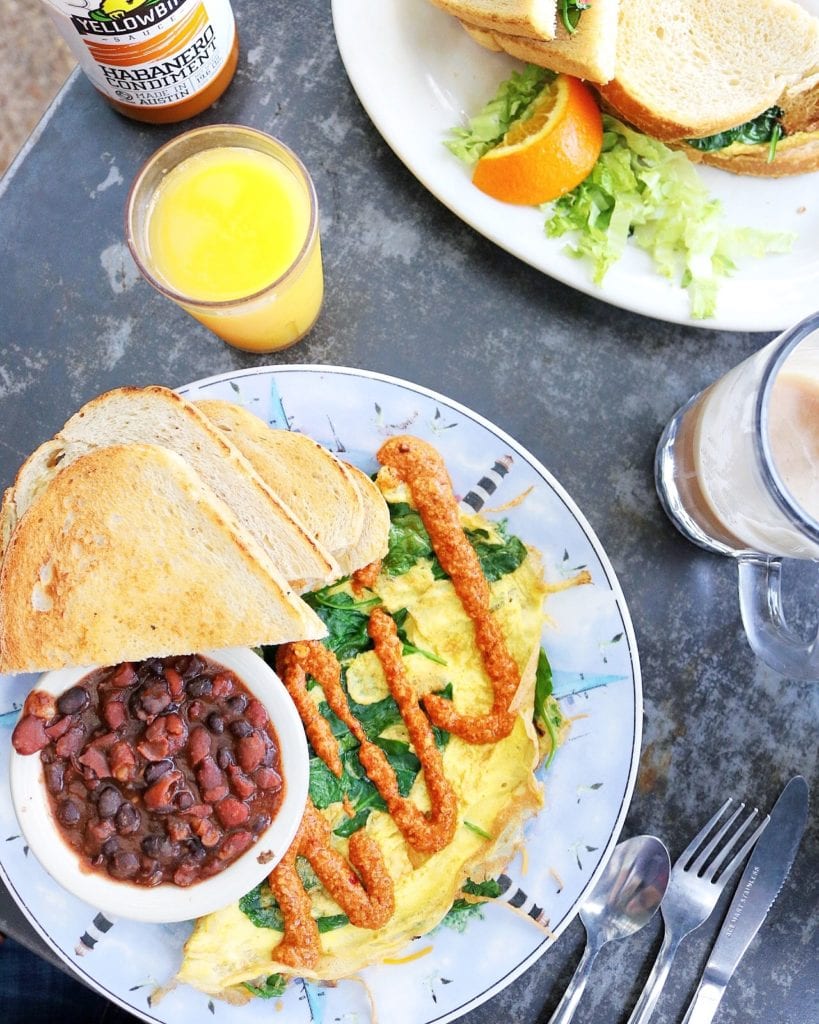 It's a vegetarian restaurant, but you won't really be able to tell when you're indulging in all the hearty, filling, super tasty breakfast items at Bouldin Creek Cafe. This place has been around forever and is a South Austin classic.
WEBSITE | 1900 S 1st St
---
19. Paperboy
Photo via Paperboy
Dine at this food truck in east Austin for yummy breakfast sandwiches and plates with ingredients sourced from local farms and bakeries and serves coffee made by Tweed roasters.
WEBSITE | 1203 E 11th St
---
20. Cenote
Cenote's original location on Cesar Chavez is in a renovated historic house that has a cozy vibe for working, and a big outdoor space for hanging out with friends. The full menu of breakfast items includes breakfast tacos, burritos, and breakfast sandwiches served on their yummy ciabatta bread.
WEBSITE | 2 locations
---
21. Better Half Coffee & Cocktails
SO much more than a coffee shop, Better Half has one of the best weekday breakfasts in the Austin! They have a delicious breakfast sanwich on an English muffin, a yummy granola bowl, and of course amazing housemdade pastries to go with your coffee.
WEBSITE | 406 Walsh St
---
22. Sa-Ten Coffee and Eats
The most surprising thing, to me, about this Japanese coffee house is the depth and complexity of their food program! Their toast is the best I've ever had in Austin. It's made on Japanese milk bread, which is imported from a bakery in Chicago, loaded with intriguing toppings, and served warm and fluffy. You can also order Rosen's Bagels here (best bagels in town!), yogurt, oatmeal, and assorted pastries.
WEBSITE | 2 locations
---
SaveSaveSaveSaveSaveSaveSaveSaveSaveSave
SaveSaveSaveSaveSaveSaveSaveSaveSaveSaveSaveSaveSaveSave
SaveSave
SaveSaveSaveSave
SaveSave