---
Another Friday, another coffee shop!
(Good thing there's no shortage in Austin…)
Stouthaus has been in Austin for 3 years (I'm writing this in October, 2017). But when I spoke to owner Sandy Hughes, I found out that it took a while to get to the steady customer base that they now boast.. That's mostly because the location is tucked away in a tiny shopping center (with neighbors with Canne Rosa and Tipping Cow Creamery) on south Lamar, just next to highway 71.
If you're not looking for it, you'll probably drive right past. But when Austinites started discovering it, they kept coming back.
Stouthaus is a south Austin gem. There aren't many of its kind in the area (compared to downtown and east Austin, where coffee shops are a dime a dozen.) It's a specialty coffee shop (they use local roasters Cuvée) and a beer hall.
"My husband was pretty adamant about the beer thing!" Sandy tells me. "If you're gonna be a coffee shop in Austin, you pretty much have to serve beer, too."
Sandy started as a barista at Starbucks….and she actually had some really nice things to tell me about the opportunities that Starbucks is able to give their baristas! After that she moved to JP Java (anyone else remember that old campus coffee shop? Once upon a time, it was the very best coffee shop in Austin! It's now a 7-11, but I used to go to JP Java all the time in 2013 when I was a grad student at UT).
When her husband had a transition happening in work, they realized it was the right time to try to open their own coffee shop. And that's how Austin got Stouthaus Coffee Pub!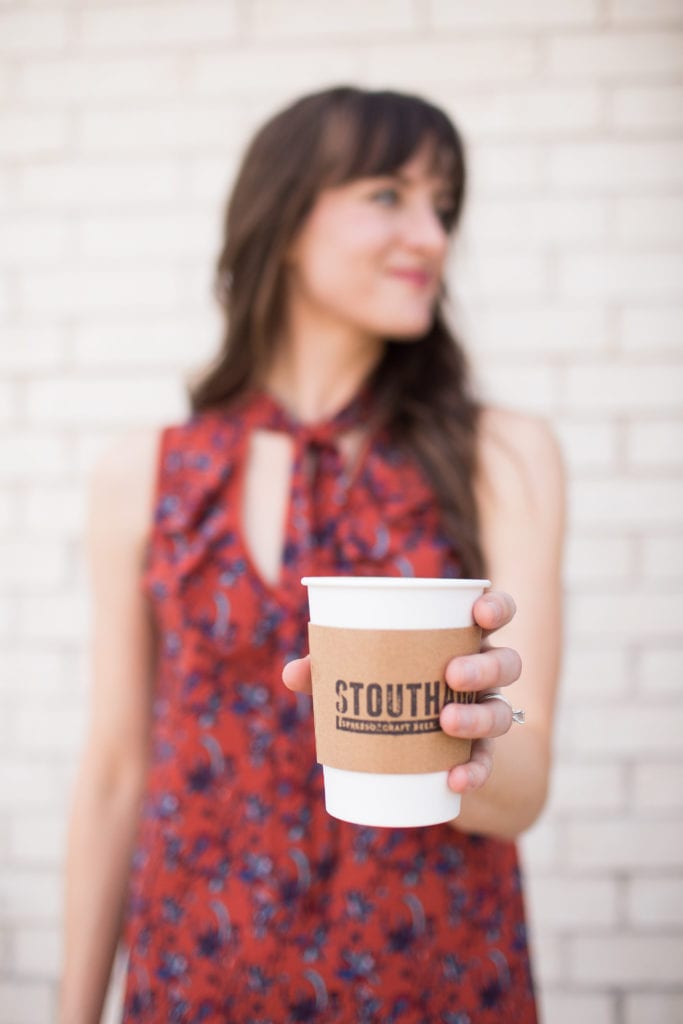 I'm a little bit obsessed with the ambiance of this place… It's always buzzing with caffeinated energy, and it's just quirky enough to suit me. (Love the espresso machine that's dressed up as Darth Vader!)
I've never been when it's not crowded. In fact, if there's one thing driving me away from using this place as a second work location, it's that it's almost too popular! Now that Stouthaus has been found, folks flock to the individual indoor tables and big outdoor picnic tables all day long.
Cappucino in the morning, IPA in the evening! It's a good place to work on the laptop for a few hours or just meet a friend for a coffee date (<- my love language!).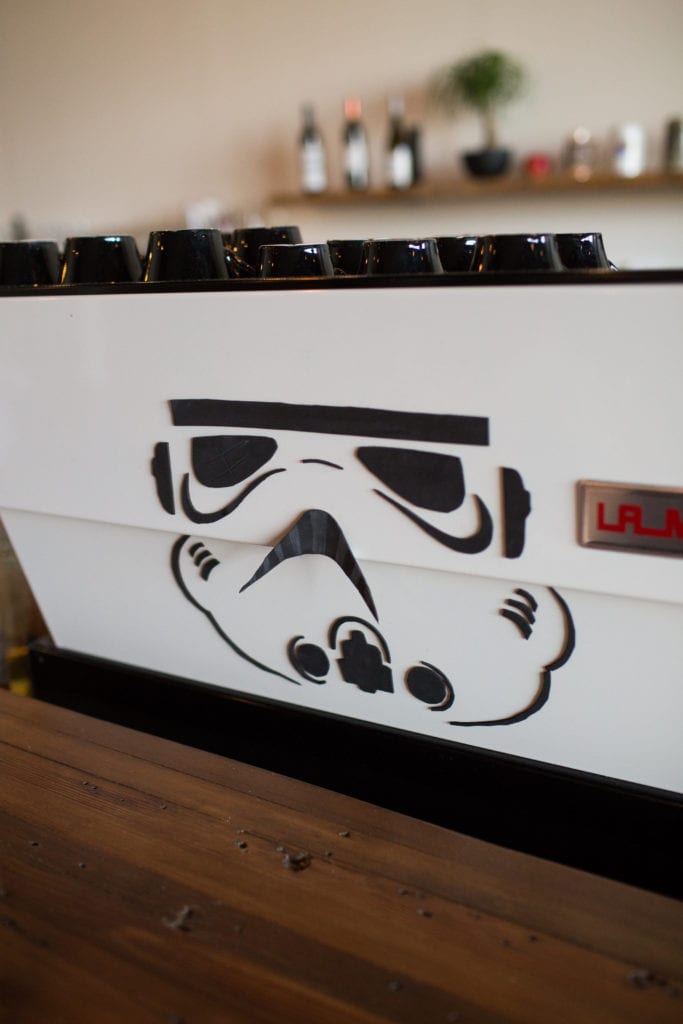 For foodie items, you'll be able to find Tacodeli tacos in the morning, a selection of pastries, and stuffed pretzels available all day, and at a discounted price during their happy hour (the jalapeño cheddar was yummy!)
There are also some refrigerated sandwiches and house made chia pudding available as a grab-and-go snacks. Kosmic Kombucha (an Austin favorite of mine!) is on tap.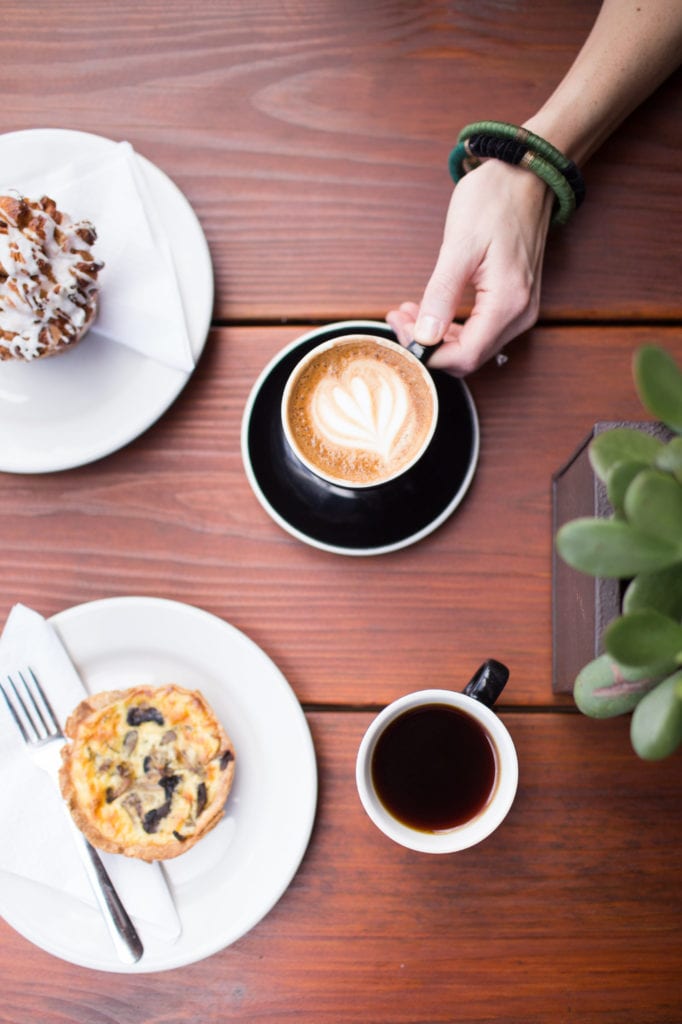 Stouthaus has a selection of 18 taps of beer, making it a great option for an after-work happy hour, or just a place to get things done if you're working late. They're open until 10 pm most nights, which is why I added Stouthaus to my list of places to get beer and wifi in Austin.
On to the butter coffee….because I know you've heard of it by now. Butter coffee has trendy for its ability to boost your metabolism and help with mental focus, due to the collagen (or hemp) protein. I hadn't tried it before I stopped by, but I had been meaning to! Stouthaus sells these Ladybird Butter Coffee Bombs.
Drop one of these coffee bombs in your coffee, blend it up, and sip away! People say it does wonders for their energy…. I've never tried it for a sustained period of time, so I can't speak to that. But I loved getting to taste it!
Butter Coffee definitely tasted more oily and frothy to me. Not in a gross way…it just had a slightly different mouthfeel than your typical cup of black coffee. This particular flavor also had cacao and ceylon cinnamon, so it tasted like autumn was around the corner (although it was 88 degrees while I was drinking it…)
If you're curious about trying butter coffee, stop by Stouthaus and order one to go!
Sandy Hughes is a mother of two, and she decided to follow her dream to open a coffee shop. I love stories about people who just take a leap of faith (and work reallyreallyreally hard) in order to try something they've always wanted.
4715 S. Lamar Blvd #102, Sunset Valley, TX 78745
MON – FRI // 6:30am — 10pm
SATURDAY // 7:30am — 10pm
SUNDAY // 7:30am — 9pm
** Photos by Kiera Jane of France Photographers
---
Thanks for stopping by to read today, friends! I love exploring these cute Austin coffee shops and sharing them with you. 🙂
My in-laws are visiting us, so Nate and I will be hanging out in Austin with them this weekend! Looks like rain on Saturday/Sunday, so I'm scoping out some indoor activities in Austin …any suggestions?
Happy weekend!
Kelsey
SaveSaveSaveSaveSaveSaveSaveSaveSaveSave
SaveSaveSaveSave