I'm always looking for beautiful hotels where I can do a staycation in Austin. I'm an Austin resident and I love living in my beautiful home near downtown and exploring lots of local restaurants. But there's something different about unplugging from regular life, checking into a beautiful boutique hotel, and soaking up sun rays at the hotel pool with a rum-based cocktail. I recently enjoyed a 2-night stay at the Hotel Van Zandt on Rainey Street in Austin, TX with my husband, and it was bliss. (Worth noting: this is a dog-friendly hotel!)
Hotel Van Zandt is a stunning boutique hotel in the heart of Austin, Texas. It emulates the Austin character perfectly: sophisticated and modern style with a laid-back, casual vibe. It's a cozy place with warm wood tones, leather sofas, and a magnificent fireplace. The rooms overlook Lady Bird Lake and the famous Congress bat bridge, the Austin skyline, and the sparkling blue Hotel Van Zandt pool. I couldn't wait to soak in one of the iconic tubs that overlooks downtown Austin, try out the modern American food at Geraldine's while listening to live music, and hang out in a private cabana by the pool. Y'all: this hotel is a good time! 
Here was my staycation agenda:
Naps. Lots and lots of naps. New mama here! My 9-month-old baby boy stayed with his auntie. This was the very first time both Nate and I have been away from him at the same time, and catching up on sleep was our biggest priority. Good thing those Hotel Van Zandt king size beds are soooo comfy. 
Pool day. We rented a private cabana with a tv, fan, and food and beverage service so that we could lounge in a socially-distant way. The Hotel Van Zandt pool is beautiful! We ordered some queso and burgers for lunch, and I sipped on cocktails all afternoon. Try the "Tan Lines" cocktail – it's full of coconut and lime and rum, and it's perfect for a hot summer day.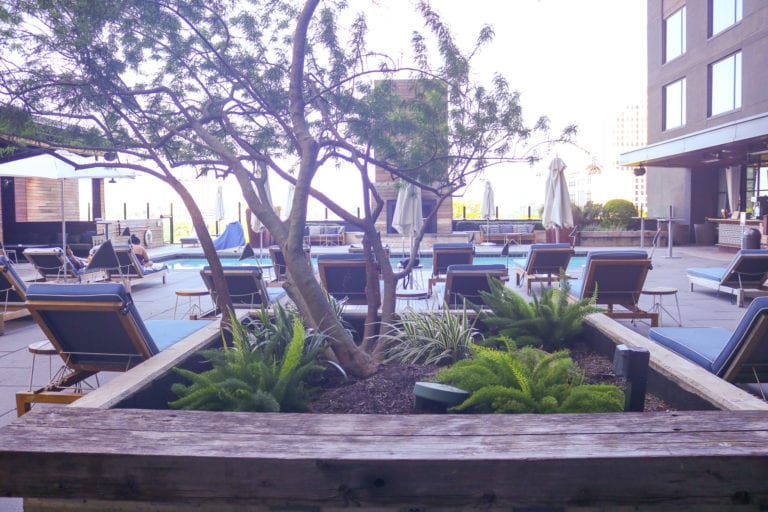 Eat at Geraldine's. Dinner at Geraldine's is a must. As an Austin foodie, I've always loved this restaurant. (It's named after the famous guinea fowl that used to roam Rainey Street.) They offer incredible upscale American food, handcrafted cocktails, and (my favorite part) live music. The kitchen wall is lined with windows so diners can view Executive Chef Chris Schaefer and his culinary team working hard, and the low lighting and gorgeous design make this one of my favorite date spots on Rainey Street.
Pictured below: craft cocktails from Geraldine's, Endive Salad, Roasted Beets with herbed labneh, Gulf Snapper, Steak Special, and the most scrumptious chocolate cake. The salad was one of the best (and most unique) I've ever had: the endive leaves were meant to be picked up and eaten like chips, so this was a fun shareable app for us with the tangy goat cheese and crunchy hazelnuts.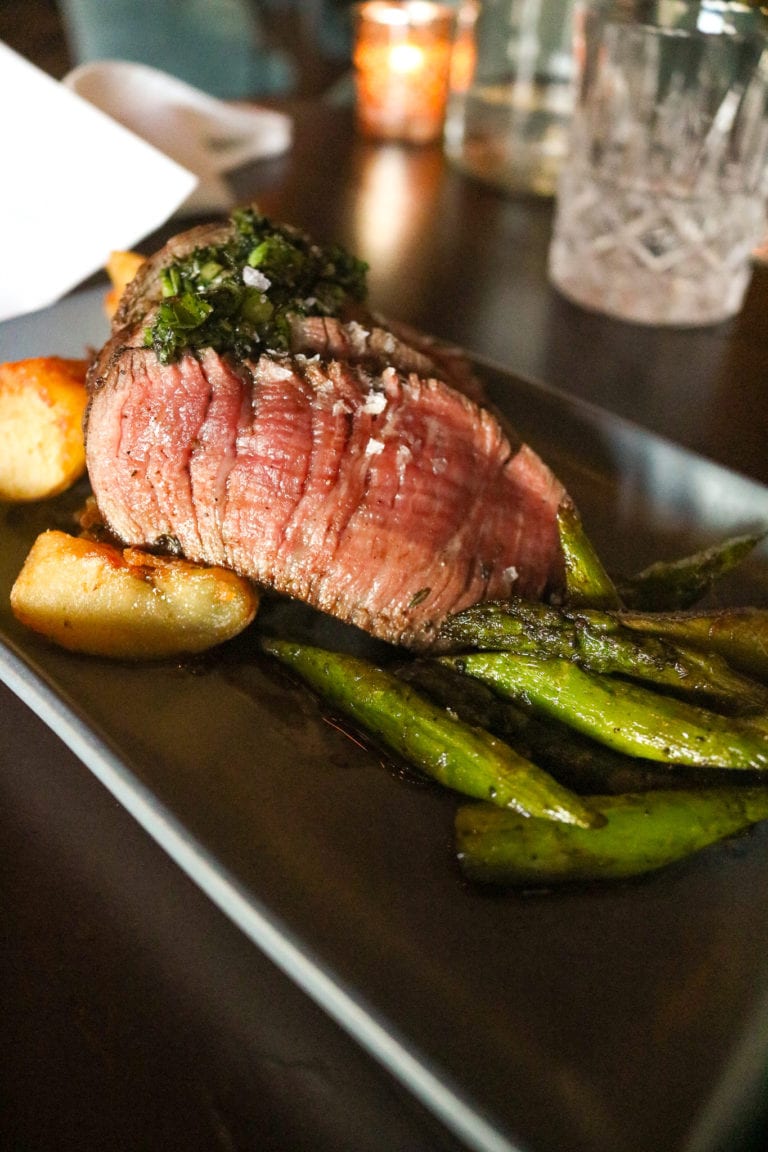 Walk down Rainey Street. In "normal life," Hotel Van Zandt is THE place to be if you want to be able to bar hop on Rainey Street. No Ubers required because you're already there! But COVID-19 has closed down Rainey Street, so I decided to don my mask and wander up and down the street to see what the quiet version looked like. I stopped for a coffee at Little Brother Bar and soaked up the sites.
Happy hour. All Kimpton hotels offer a complimentary happy hour in the hotel lobby.
Dinner on Rainey Street. After our first night at Geraldine's, I picked another restaurant just a block away (Emmer & Rye) for our second night of dining. Since Hotel Van Zandt is in the middle of the city, we were walking distance to literally dozens of incredible restaurants! 
My Austin staycation at Hotel Van Zandt was during the COVID-19 pandemic, so I want to mention how nicely the hotel handled everything. The hotel concierge remained behind a plastic screen, and all hotel staff wore masks and distanced themselves from guests. Guests were required to wear masks as well. The pool required reservations, the restaurant tables were spaced far apart, and everything was constantly being sanitized. There were no crowds. Well done, HVZ! Thank you for working so hard to keep us safe.
Nate and I have always loved Kimpton hotels. (We stayed in a Kimpton hotel in San Francisco the weekend that Nate proposed to me.) I adore their character, the way each one reflects the city's theme. I love that they have a complimentary happy hour in the lobby every day, fast wifi, and really comfy beds. The Hotel Van Zandt is in the heart of the Live Music Capital of the World, and the theme reflects that from the obvious ways (live music at Geraldine's) to the more subtle (light fixtures and original art.) 
Hotel Van Zandt: thanks for inviting me in and offering me this gifted stay! I had an incredible time soaking up the laid-back Texas vibes in a modern and beautiful setting. Can't wait to do another staycation soon!