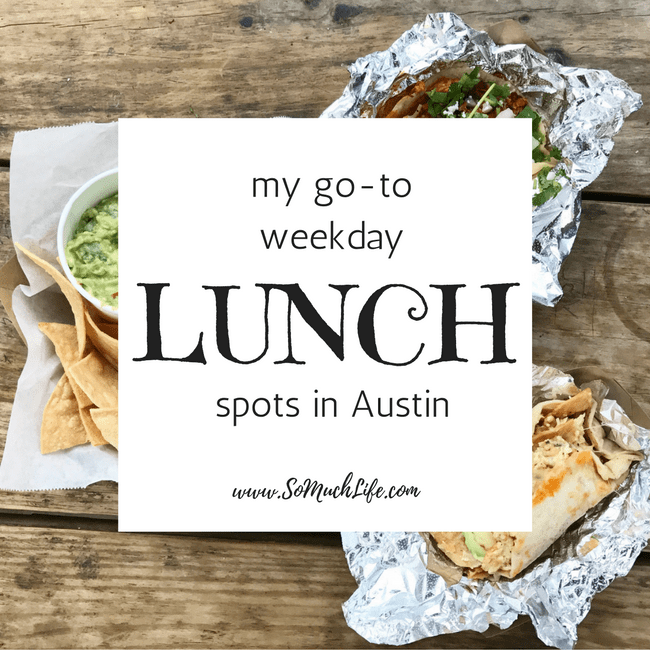 Once upon a time, before we were married, Nate used to work up in Round Rock. (That's the suburb about 20 miles north of Austin.) I was in grad school, he was working crazy hours, and sometimes the only time we could see each other was for lunch. We'd meet at Whole Foods at the Domain, which is roughly between the two cities. Lunch was a salad or soup, and maybe a cookie from the bakery before saying goodbye and driving back our separate ways.
It sounds cute, but in reality it was a frantic lunch, wolfed down in 15 minutes, a quick kiss goodbye, then 30 minutes of fighting traffic to barely make it back to work on time… Not fun! Now we both live and work in Austin, so weekday lunches are much more relaxed!
Here are some of my go-to weekday lunch spot in Austin. Most of these are places where you can grab a quick bite for around $10.
---
The Soup Peddler
The Soup Peddler and Juice Bar is one of my favorite juice bars in Austin, but I also love it for its lunch options! The soup can either be purchased by the serving, or you can grab a 32 oz. bag from the fridge and bring it home. I can usually get 4 meals from one bag, so I'll eat it throughout the week if I'm too busy to cook. I also love their grilled sandwiches!
Poke-Poke
This is a recent favorite of mine, and I can't get enough! Poke-Poke began in Venice Beach, CA, and now has two locations in Austin. It's cheap (under $10) for a bowl of raw cubed ahi, sticky rice, and all sorts of yummy toppings like seaweed, kale, jalapeños, and (my favorite), GINGER!
Two locations: 3100 S Congress Ave, and 2320 Hancock Dr
Pinthouse Pizza
Pinthouse Pizza is for those days when I just want some CARBS! It's not the healthiest of options, but it sure is satisfying. And the lunch special is too good to pass up: a 10″ pizza, side salad, and a drink for $10.50!
Two locations: 4729 Burnet Rd, and 4236 S. Lamar Blvd
Fresa's
Fresa's kills it every time. The charcoal-roasted chicken is perfect, but what I love most about this restaurant are the sides. Those sweet potatoes always have me craving seconds… I love the South First location for its shady outdoor patio.
Dine in: 1703 South First
Carry out only: 915 North Lamar
Elizabeth Street Cafe
Elizabeth Street Cafe is a gorgeous French-Vietnamese restaurant. It's arguably the most instagramable place in Austin. I love taking guests here to get the hearty and delicious Pho. Make sure to buy one (or four…) of the macarons on your way out the door.
1501 S. First Street
El Chilito
El Chilito is a great little tex-mex taco stand. When I was in grad school at UT, I would often stop by for a Gringo breakfast taco. Now I love going for lunch. My favorites are still the breakfast tacos (I'm known to order breakfast tacos for lunch and dinner, too…), but I also love the barbacoa soup.
Four locations: see website
Central Market
I used to only eat lunch at Central Market when I was already doing my grocery shopping. But now I'll drive over just to eat a midday meal! It's an easy choice when Nate and I need to meet up for lunch but aren't on the same page with our cravings. There are SO many options for self-serve or pre-made lunches, so we're both guaranteed to find a healthy option that we want.
Two Austin locations: 4001 N Lamar Blvd and 4521 West Gate Blvd
Easy Tiger
This is another favorite place to take guests. Easy Tiger has some of the best sandwiches in town. It helps that they have a bakery and bake their own bread. I often get random cravings for their pastrami sandwich. They're also open early (at 7 am) if you ever find yourself downtown in the morning and needing a coffee and pastry.
709 E. 6th Street
Ramen Tatsu-ya
I crave Ramen on a rainy day. It's my comfort food. This popular ramen joint is usually packed, even on a weekday. If I'm lunching here, I'll leave a little extra time to stand in line. But it's always worth the wait! The creamy broth is so flavorful. I sometimes add a "spicy bomb" of red pepper paste if I'm feeling adventurous. *wink*
---
What are your favorite lunch places in Austin? Share the love – leave a comment below to let me know!
Also check out 11 Ice Cream Shops in Austin You Should Try This Summer!