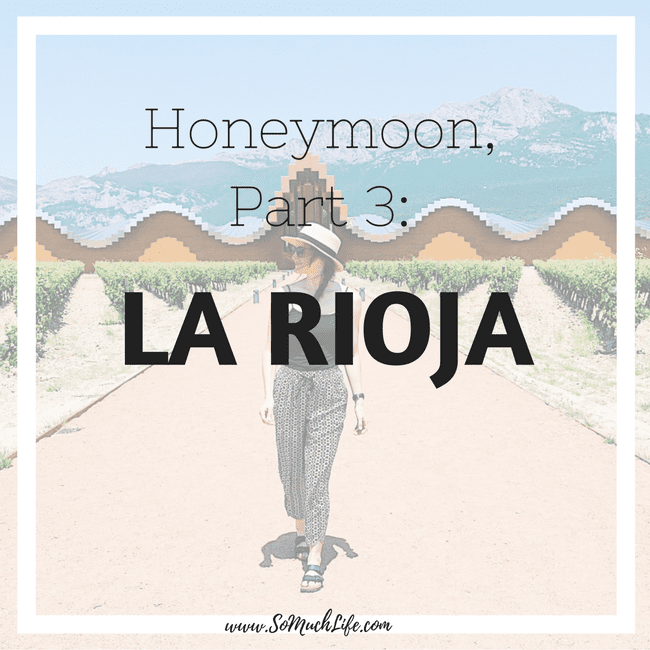 We visited four cities in Spain on our honeymoon, and today I'm sharing the third location: the Rioja wine region. If you missed the first two, you can read my recap of Barcelona here and my post about San Sebastian here. 
After 4 days of gastronomical adventures in San Sebastian, Nate and I rented a a toy-sized standard VW Polo to drive south for about two hours to the town of Alava, Spain in the Rioja wine region. I had fun remembering how to drive a stick shift, and Nate enjoyed pushing the car backward to get out of our parking space when I couldn't figure out how to get it in reverse. (Note the heavy sarcasm…. Nate did not enjoy that at all. But we sure laughed a lot about it afterward!)
Rioja isn't one city. It's a region of Spain made of lots of small, old towns. It's quite rural, so we needed a car to get around instead of relying on public transportation like we had done previously.
La Rioja is mostly known for the tempranillo (red) and the virus (white) grape varietals, although there are many others that grow there. Something I didn't know about this region is that all of their wines are ranked by how long they've been aged in oak barrels and bottles.
Crianza is the youngest, with a minimum of 1 year in oak and a few months in bottles. (This is the one you'll see most often in American supermarkets. It's pretty cheap, at about $10-15/bottle.)
Reserva is aged a minimum of three years. At least one of those years has to be in oak, and the rest can be in bottles.
Gran Reserva is the big daddy of Rioja wines, with a minimum of 2 years in oak, and at least 3 more years in bottles. Only the best vintages of grapes are selected for this, and (as you can probably guess), these are the most expensive Rioja wines.
---
Rioja is known for not just producing outstanding wine, but also doing it in architecturally stunning wineries. Hotel Viura fits right in. It's an asymetrical building that almost looks like certain rooms are about to fall off the hotel. Click on this link to see for yourself!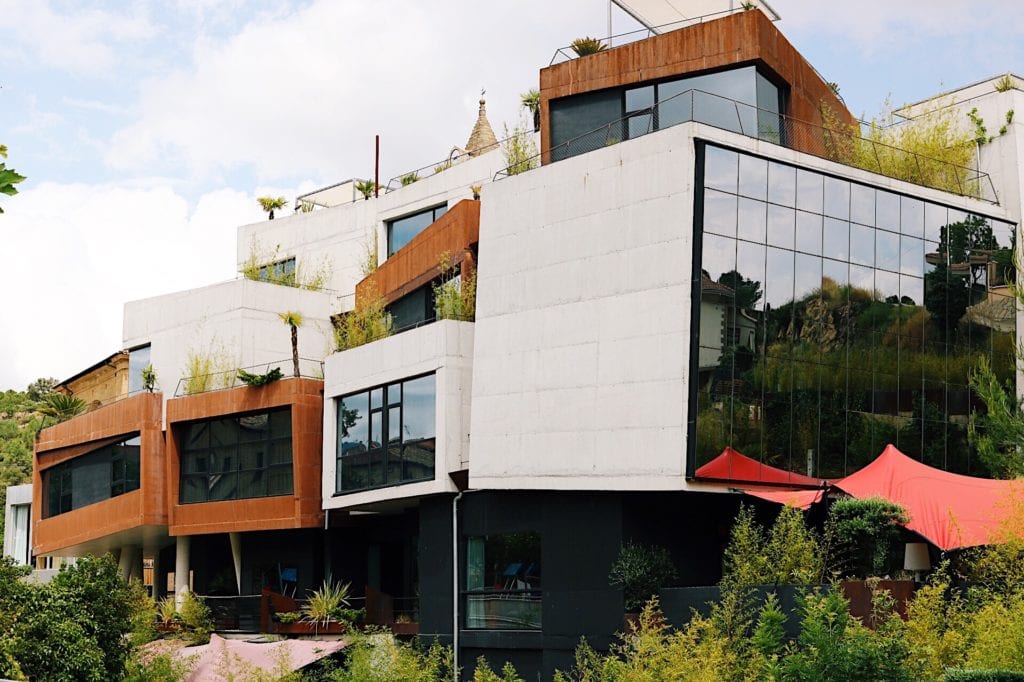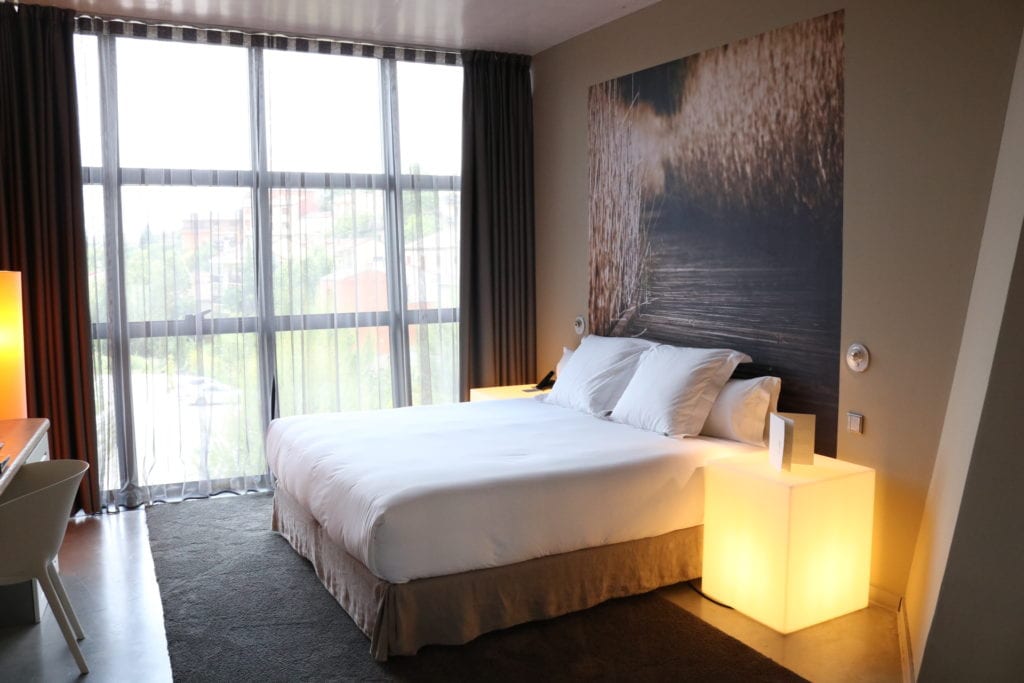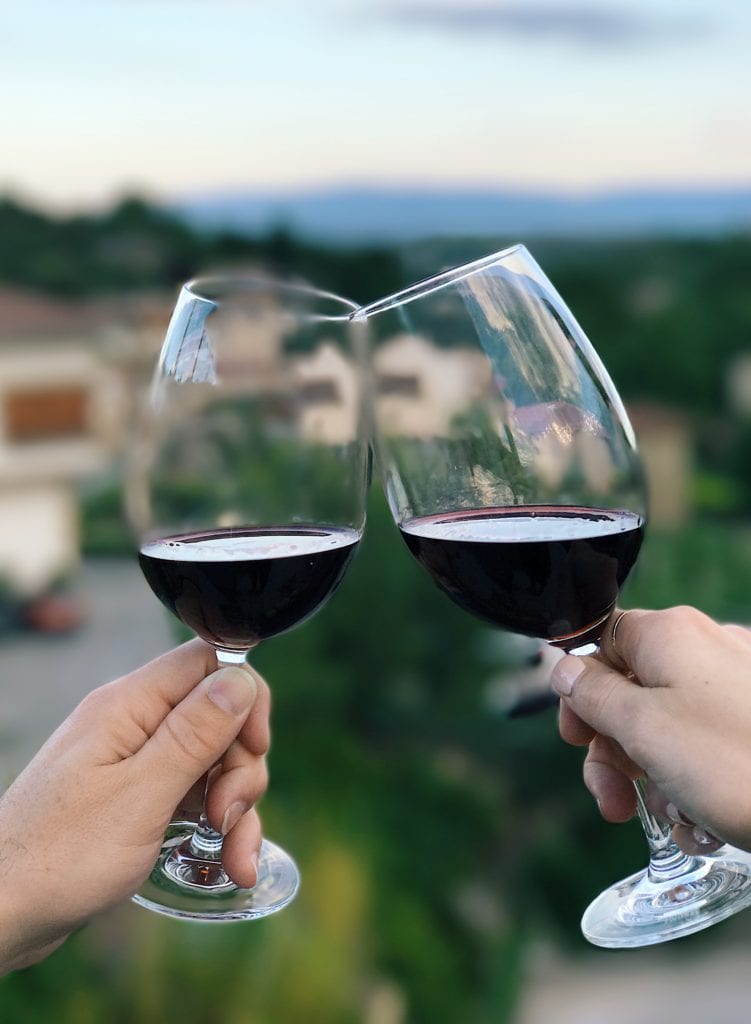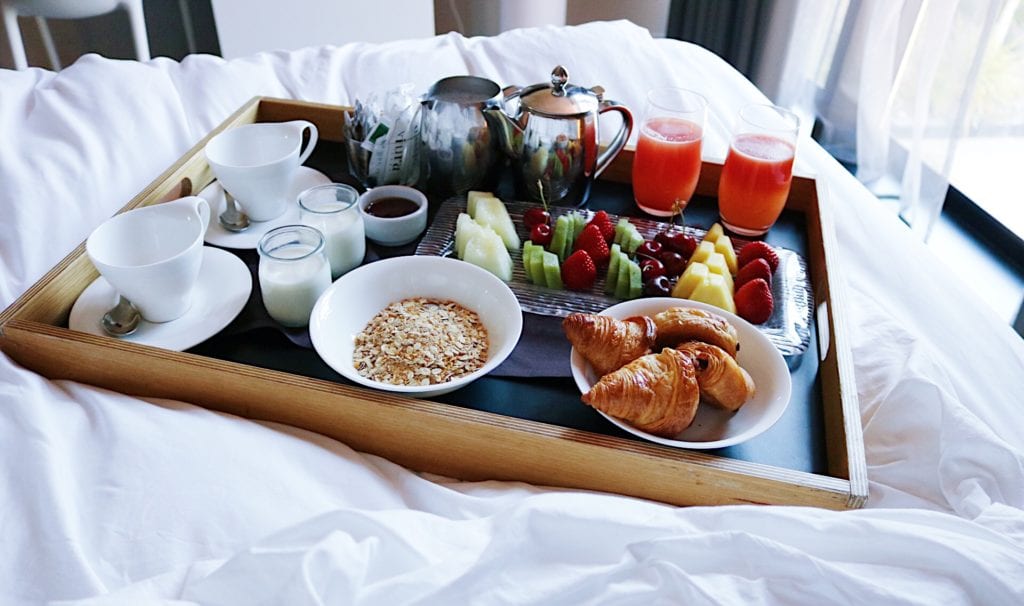 The rooms were very large, and not just by European standards.  A hearty breakfast of Spanish omelets, fruit, coffee, and pastries was brought to us in bed every morning. The service was outstanding, and because it's a small hotel, the employee-to-guest ratio made us feel pampered the whole stay.
On the roof of the hotel was lounge area where we ate dinner one night. It overlooks the mountains for a tranquil view of the sunset.
The only thing that both Nate and I wish they had was a pool on the roof! That would have been perfection.
---
Where we ate/drank
Oh, the choices! There were too many wineries in this region for us to even make a dent, so we picked about 2 a day to visit. Sometimes we would book an online reservation to do a tour, and other times we would just stop in for a flight of wine at the tasting room.
The downside to stopping by is that some of the wineries were randomly closed for group tastings that we didn't know about. But when that happened…it was on to the next one! (Have you caught on that there was no shortage of wine on this trip?)
These are a few of our favorites:
Bodegas Luis Canas: just after dropping off our luggage at the hotel, we walked across the road to Luis Canas for our first sips of Rioja wine. I loved how many wineries were in walking distance from the hotel! This is an established winery with a sizable distribution service, so it can be found in a lot of wine stores in the United States.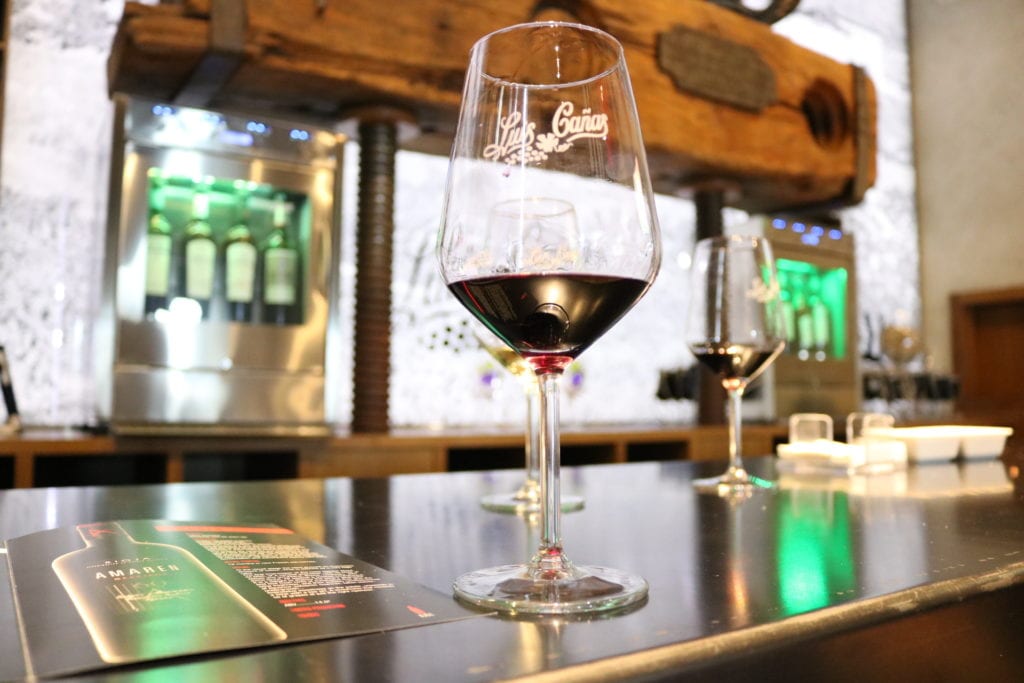 Bodegas Baigori: A 7-story winery that uses gravity to help with the natural wine-making process. They load the grapes on the top floor, then they're gradually lowered down, floor by floor, through the various processes of sorting, fermenting, bottling, and aging. When they end of on the bottom level, they're loaded into trucks to be distributed…so cool! Nate and I did a tour, followed by a 5-course lunch with wine pairings. This was my favorite wine tour of the trip.
Bodegas Ysios: In truth, the main reason for wanting to visit this one was for the architecture. My eyes were darting around, unsure where to focus; both the building and the mountains were startling. When the tasting room ended up being closed, we weren't terribly disappointed… I was just happy to have been able to see it!
Eguren Ugarte: When we found out Ysios was closed, we drove across the street to taste a few wines  at Eguren Ugarte. This one had the loveliest view. We sipped our Tempranillo in the shade of the winery while we stared at the towering mountains across the road. I was in no hurry for that glass of wine to be gone.
CVNE: This was an incredible visit! Nate and I took a tour of the winery, which is one of the oldest in the region. We learned that their barrel room (pictured below) was designed by Gustave Eiffel, of the Eiffel tower. Cool! Their Gran Reserva 2010 vintage was ranked #22 by Wine Spectator's "best 100 wines in the world" list, so we definitely snagged a couple bottles of that to bring home.
Hotel Viura Restaurant:  The first night we arrived, we ate at the the hotel restaurant. Our server brought us a couple "bites" to try before the first ordered dish arrived. One of these was a tiny foie gras cracker, and it was one of my favorite flavors of the whole meal. I also loved the ending: an entire box of chocolates was brought to our table with the instruction to "eat as much as you'd like!" Don't mind if I do…
---
Nate and I like to explore when we travel. We don't tend to sit around very much. We're both researching and walking (a lot!) to cover as much ground as we can while we're abroad. But our time in Rioja was the most relaxed of the whole trip. Most of the wineries were driving distance, so we didn't walk as much as usual. We slept in, didn't check email, tasted a lot of wine, and ate some delectable meals.
For the next few months back at home, we're mostly drinking Rioja wines so we can continue learning to recognize the Tempranillo grape varietal and learn what we like and dislike about those wines. We learned that our local Total Wine store carries a lot of Rioja wines. Cheers to a fun year ahead of continuing to explore Spanish wine!
Talk soon!
Kelsey
If you missed it, check out:
Honeymoon, Part 2: San Sebastian
SaveSave
SaveSaveSaveSave
SaveSaveSaveSave