Good morning, loves! How was your week?
I'm loving this warm spring weather in Texas. We're planning on lots of outdoor time today! Probably some parks and most likely a brewery or two. I mean, what else is new….
Anyway, here are 5 fun little things for your Friday!
(1) I love this show
Are you watching Daisy Jones and the Six on Amazon Prime? This was one of my favorite books of 2019, and I was soooo excited when I hear it was being made into a mini series! And I totally watched the first 4 episodes before I even realized that Daisy is played by Elvis Presley's granddaughter.
What?! So cool.
Nate was like, "do you think that's actually her singing?" and I was all, "oooh, I'm sure it's not. Her voice is way too good." And then I googled the cast and found out that Daisy is played by Riley Keough, Lisa Marie Presley's daughter, and yes that is her actual voice. Anyway, if you need a show to watch, add this one to your queue.
(2) 25 Award-Winning Austin Breweries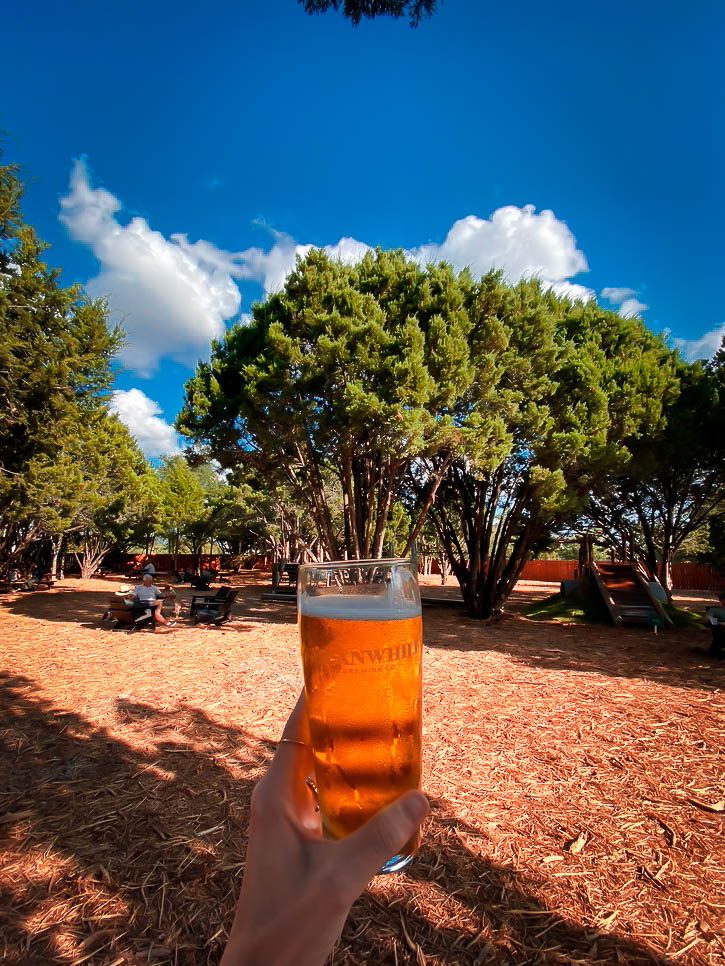 I just published this post on my Austin site, and it's soooo good! There are a ton of breweries in Austin now, so if you're wondering which ones are worth visiting first, check out this guide. It's a roundup of Austin breweries that have won awards at the World Beer Cup, Great American Beer Festival, and Texas Craft Brewers Cup.
Of course, there are a ton of other amazing breweries in Austin, too. But this list is a good place to start.
(3) An Organized Closet
Am I showing you a picture of my husband's office closet? Yes. Yes I am.
Nate and I both have home offices. Mine is an actual office space (like, it was built into the house with the intention of being an office), and his office is technically a "bonus bedroom" on the first floor. So it has a closet in it so it can count as a bedroom on real estate listings.
It's a really small closet that's super narrow and tall, and it just had one shelf and a hanging rod when we moved in. So he had an Elfa shelf specialist come out to the house and design a functional closet space for him, and it looks awesome! It really utilizes every single nook and cranny of that tiny closet.
And in typical Nate fashion, it's full of all of his specialty cooking items, spices, oils, special rice and legumes that he's mail ordered to the house, an extra espresso grinder he likes to use for his morning cappuccinos… Nate is who he is. I can't explain it.
I mean, I will say that his closet smells very fragrant and delicious! Haha.
It looks SOO clean and organized in there. They installed those shelves all the way up to the ceiling, so he actually fit a lot of stuff in there. It's a huge improvement from what it looked like before, which was basically a bunch of stuff stacked in piles on the floor.
I looooove an organized space, whether it's my own or someone else's! And this closet (even though it's in Nate's office so I never really see it) is so organized and beautiful and it just makes me happy. I'm a weirdo and I'm just going to own it.
(4)
Nate and I went on a weekend date to Proud Mary while the in-laws hung out with the boys. I love this sweet Australian cafe in South Austin! I've been a few times, and every time the experience is phenomenal.
If you need a weekend coffee shop or breakfast spot and you haven't been to Proud Mary yet, it's worth adding to your list. Oh, and get those curried eggs with roti. Insane.
(5) This
Dayton in a robe and slippers, because I feel the this needs a permanent spot on my blog. Shout out to Auntie CC for always getting the cutest things for her nephews!
---
Hope you weekend is full of some joy and light. Xo.