Wondering where you should plan your next date night in Austin? Good news: I'm sharing my favorite date night restaurants with you today! I've been living in Austin for a long time, and Nate and I have gone out on date nights through every stage of our relationship: dating, engaged, married, and now as our (rare) nights out with kids and babysitter at home. I'll share some of my favorite date night spots in Austin for all of those stages!
My husband and I love trying new restaurants for date night whenever a special occasion justifies it! We love going out on date night to to celebrate birthdays, job promotions, anniversaries (it used to be our "dating" anniversary, and now we celebrate our wedding anniversary), guests being in town…or just no reason at all. Austin just has a bunch of great date night restaurants!
---
---
Do you have a favorite date night restaurant in Austin that I didn't include? Let me know in the comments section! There are so many restaurants in Austin worth trying, so be sure to check out this list of the 20 Best Restaurants in Austin. However, if you're specifically looking for special date night spots in Austin, read on.
---
21 BEST DATE NIGHT RESTAURANTS IN AUSTIN
1. Lenoir
South Austin
Lenoir is a tiny, beautiful restaurant in south Austin that only seats about 30 people. The concept of "hot-weather foods" means that the food grows and tastes best in a hot-weather area, like Austin Texas. Pick 3 courses from the menu (Field, Sea, Land, Dream) and order any extra courses for $12.
Be sure to check out the gorgeous wine garden in the backyard!
WEBSITE | 1807 South First Street
---
2. Fonda San Miguel
Central Austin

Experience one of Austin's oldest fine-dining establishments for date night at this beautiful interior Mexican restaurant. The food and drinks here are exceptional. They've mastered the restaurant trifecta (food, service, and decor) as only a decades-old restaurant can.
WEBSITE | 2330 W North Loop
---
3. Emmer & Rye
Rainey Street
Grains are the star of the show at Emmer & Rye's Rainey Street restaurant. I chose to share a photo of my favorite dish (the cache e pepe…be still my soul, it is perfection), but the interior of the restaurant is stunning.
Chef Kevin Fink has developed a program that actually mills heritage grain; while many restaurants can pride themselves on making bread and pasta from scratch, Emmer & Rye goes one step further by milling their own grain. That's why the bread and past are so good here.
The menu follows the seasons, using whatever is local and available. Be sure to order the Cacio e Pepe, which is one of the only menu items that doesn't rotate…it's that good!
WEBSITE | 51 Rainey Street #110
---
4. Launderette
East Austin
Launderette is about as cute and quirky as they come! It's a renovated laundromat in east Austin that's casual enough for a lazy happy hour, and trendy enough for date night! Bonus: this place was a finalist for a James Beard Award for Best New Restaurant in 2016.
WEBSITE | 2115 Holly St
---
5. Aba
South Congress

I'm not kidding when I say that this is THE most beautiful patio I've seen in Austin! Aba went all out with pants, white/beige mixed textiles, and hundreds of twinkle lights swaying underneath the century-old live oak tree that the patio is built around. Aba is a mediterranean restaurant that started in Chicago. Austin freaked out when they announced they were opening a location on South Congress in 2020, and reservations have been hard to get ever since!
I'll say that while the ambiance and cocktail program are absolutely stellar, the food is just "good." (I need to go back and try more dishes, though.) Definitely worth visiting, and a very memorable experience, I just think that the food doesn't quite live up to the hype of the ambiance. But I'm still listing it as one of my favorite date night spots in Austin because it's just so dang beautiful!
WEBSITE | 1011 S Congress Ave
---
6. Dai Due
East Austin

I've yet to find another place like Dai Due Butcher Shop and Supper Club. The concept here is so much fun: it's hyper-local Texas fare, so you'll see game on the menu that you wouldn't typically find at an average farm-to-table restaurant. Expect things like wild hog, rabbit, and quail.
The bakery in the front of the restaurant is bustling with activity, and the smoky smell in the air is from an open-flame grill that's used to heat up the biscuits.
WEBSITE | 2406 Manor Rd
---
7. Odd Duck
South Austin

This popular Austin restaurant started as a food truck and grew into a successful brick-and-mortar on South Lamar. Chef Bryce Gilmore was at the forefront of the farm-to-table movement, and Odd Duck is still one of the best places to experience seasonal food that has been beautifully prepared. It's a great place to bring out-of-town guests!
(PS: brunch here is phenomenal as well. One of my favorite brunch spots in Austin!)
WEBSITE | 1201 S Lamar
---
8. Olamaie
Central Austin

"Elevated southern food" means you'll get to try creative twists on things like boiled peanuts, cornbread, and chicken. But the real star of the show here? Biscuits! Be sure to order this off-menu item. Another reason to visit: Chef Michael Fojtasek snagged a James Beard Award nomination for the Best Chef Southwest category. Congrats, chef!
WEBSITE | 1610 San Antonio St
---
9. Justine's
East Austin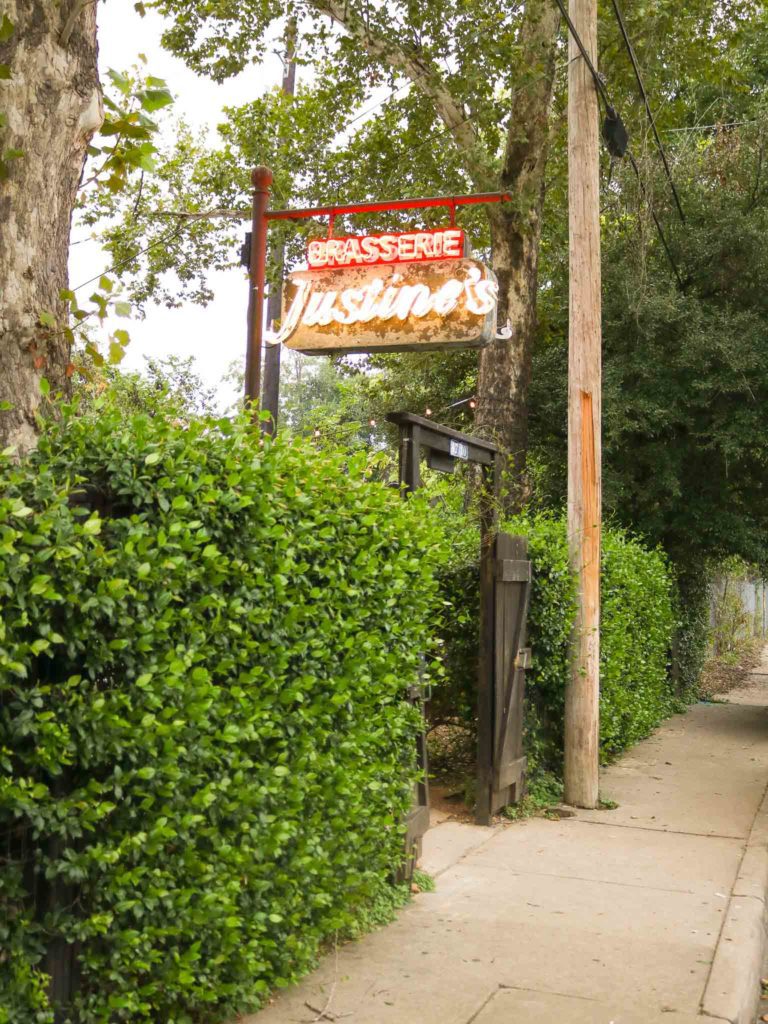 Justines Brasserie is absolutely one of the sexiest date night restaurants in Austin. It's currently my favorite French restaurant! It's a moody, sultry place to order steak frites, mussels in butter sauce, and a bottle of champagne.
This is the perfect spot in Austin to go out on a date with someone you want to impress! I always think of Justine's as the best third date spot, because you've already had the first date introduction, the second date to solidify that you like each other, and now it's the third date and you're ready to pull out all the stops with a beautiful restaurant, great food, and an lovely bottle of champagne.
WEBSITE | 4710 E 5th St
---
10. Suerte
East Austin

One of Bon Appetit's "50 Best New Restuarants In America" of 2018, Suerte is from Odd Duck partner Sam Hellman-Mass and focuses on corn. The masa is ground in-house to make tortillas from scratch, and much of the decor is imported from Mexico. Plates are small and made to be shared.
WEBSITE | 1800 E 6th St
---
11. Perla's
South Austin

This is, by far, my favorite seafood restaurant in Austin for a special occasion. The sprawling patio overlooking SoCo is shaded by massive Live Oak trees, so I love enjoying raw oysters out there when the weather is nice.
WEBSITE |1400 S Congress Ave
---
12. June's
South Austin

June's All Day is cute, friendly, lively, and pink! It's named after June Rodil, head of the wine program for the MMH restaurants (Elizabeth Street, Clark's, June's, Perla's, etc.) and one of the few female master sommoliers in the country. This a wonderful place to enjoy breakfast, lunch, or dinner. It's a small place, so make a reservation or plan to sit at the bar if you don't want to have to wait. PS: the happy hour here is one of the best in the city with 1/2 off all food items!
WEBSITE |1722 South Congress Ave
---
13. Fixe Southern House
Downtown Austin
Fixe is a beautiful southern restaurant with modern takes on old southern classics. Just like with Olamaie, this is another place where you must order the biscuits, no matter what time of day you visit.
This restaurant has a special place in my heart because it's where we were eating when Nate and I found out the the offer we placed on our house had been accepted! Since the restaurant is partway underground, we weren't getting good cell service so we each had to keep leaving the table to go outside and sign forms on our phones. 😉
WEBSITE |500 W 5th St
---
14. Lin Asian Bar + Dim Sum Restaurant
Downtown

Dim Sum is such a fun date night idea because you get to order lots of small plates and share everything! Lin Dim Sum is a beautiful, extremely busy restaurant. While I was eating there, Mayor Adler walked in for a dinner meeting. I mean…if the Mayor is eating there, it must be good, right?!
They specialize in Asian home cooking, and they're striving to offer traditional Asian dishes made with better ingredients. They use local ingredients, and the skilled chefs prepare a lot of the food (like the dumplings!) in the open kitchen. It's a fun place to get a counter seat, and be sure to get an order of the Shanghai Soup Dumplings.
WEBSITE |1203 W 6th St
---
15. Hestia
downtown
Hestia is a live-fire restaurant from the team behind Emmer and Rye. Everything here is cooked with live fire (no gas or electric grills) which absolutely blows my mind. The entrance to the restaurant is Basque-style wine bar Kalimotxo, which is fun to tack on to the beginning of your date night.
WEBSITE |607 W 3rd St
---
16. Comedor
Downtown

Texas Monthly called this modern Mexican restaurant one of the best new restaurants in the country. The architecture of the downtown building is enough to wow you (it's dark on the outside but flooded with light inside…it has a speakeasy feel to it!) but the bone marrow tacos, polished cocktails, and impeccable service will make this one of your favorite restaurants in Austin.
WEBSITE |501 Colorado St
---
17. Uchiko
North Austin

Both Uchi and Uchiko are great date night spots, but I'm including Uchiko because it seems to be just slightly less expensive. It's an iconic Austin restaurant that you must experience at some point, and it's undoubtedly one of the best date night restaurants in Austin.
WEBSITE |4200 N Lamar Blvd
---
18. Wax Myrtles
Downtown

This new downtown rooftop restaurant is SO much fun! Chef Nick Even (Aba, Perla's) has created the most delicious menu of dishes that are upscale yet approachable. There are lot of locally sourced ingredients, and the menu has a mediterranean vibe to it. Wax Myrtles is an indoor/outdoor space, so you can dine pool-side with a view of the Austin skyline, or enjoy the high-ceiling indoor space with giant windows and a central bar. (Two bar stools would make a fun date night if you can't snag a reservation!)
WEBSITE |506 San Jacinto Blvd
---
19. Swift's Attic
Downtown Austin
I've gotta say…small plates at a chic American Restaurant might be my very favorite for date night! Swift's Attic offers fun craft beer and cocktails to accompany the "creative, whimsical, and delicious" ever-changing menu.
It's nestled upstairs on a busy downtown Austin street, so you really feel like you're in a little hideaway attic! The food is farm-to-table and the menu is constantly evolving. They have a good beer list, lots of wine by-the-glass, and excellent cocktails. This is a good spot for dinner before or after seeing a downtown show.
WEBSITE |315 Congress Ave
---
20. ABGB
South Austin

This is for all of you casual Austinintes who are looking for date night restaurants in Austin that allow you to show up in a t-shirt and jeans. (Not gonna lie – sometimes the idea of throwing on a baseball cap instead of fixing my hair sounds like the BEST date night idea, ha!)
Although it's not an upscale restaurant with white tablecloths and servers, ABGB is one of my favorite places to meet Nate for dinner on any night of the week! Their award-winning lagers are light and crisp, and the pizza crust is dense and chewy. It's one of my favorite pies in town.
There's live music on the weekends, and sometimes folks even get up and dance (especially when it's a country band!)
WEBSITE |1305 W Oltorf
---
21. El Naranjo
South Austin

El Naranjo is an interior Mexican restaurant from Iliana and her husband Ernesto, who brought their culinary expertise from Oaxaca. The fresh, bold menu is constantly changing, so there are always plenty of new flavors to taste here.
WEBSITE |2717 S Lamar Blvd STE 1085