Welcome to this epic guide to the best Austin restaurants, 2022 edition. Austin is clearly a foodie's paradise: we have some of the best bbq in the country, incredible taquerias, a wide variety of upscale American dining, and so much more. 
I eat at restaurants like it's my job (because it is…), and I love sharing it all with you. I've written a lot of food guides like the best tacos in Austin, where to eat amazing burgers, and this amazing queso round-up. But sometimes you just want a single guide to answer: what are the best restaurants in Austin? 
About this guide: rounding up the best Austin restaurants has taken years and years of eating in this city! I gathered a wide variety of restaurants (from upscale and modern to inexpensive and old-school) and included them by three factors: quality of food, ambiance, and service. I'm convinced this is the only Austin restaurant guide you need to cover all the bases of GREAT food in ATX. While this list could easily be much longer than 20 restaurants, I've limited it to make it digestible for you. I'll include more options the bottom of the page.
20 Best Austin Restaurants, 2022 Edition
1. Emmer & Rye (Upscale Date Night)
Emmer & Rye is my go-to recommendation when someone asks for the best Austin restaurant for a fancy date night. The attention to detail is beyond phenomenal. I'm always amazed at the creative bites that are placed in front of me (fireworks of texture! flavor! color!) and the gorgeous interior and exceptional service make Emmer & Rye the perfect fine-dining restaurant for your special occasion. 
Chef Kevin Fink's grain-forward farm-to-table restaurant on Rainey Street was on Bon Appetit's 50 Best New Restaurants in America list, and it has continued to rack up international awards. They source locally and work hard to use the entire animal/plant.
One of the fun little perks to this place is the rolling dim sum cart, which was added into the service so Chef Fink could show off the freshest food that might only be available for a couple of days, thus not able to be added to the regular menu. A server will wheel the cart up to your table 3 times during the meal, offering little bites (usually $4, $6, or $8) that you can accept or reject.
Go here for: a splurge-worthy date night, excellent and attentive service, the BEST cacio e pepe in Austin.
51 Rainey St #110, Austin TX 78701
512-366-5530
No doubt you've heard of this popular sushi spot from James Beard Award-winning chef Tyson Cole, and you've possibly heard of its offshoots (Uchiko in North Austin, and Loro, the Asian Smokehouse Cole opened with pit master Aaron Franklin.) But have you splurged on a meal at Uchi yet?
They've been open since 2003, which is quite a feat in a city where restaurant turnover happens at a brisk pace. New sushi restaurants come and go, but Uchi remains a staple by providing guests with a non-traditional approach to Japanese dining and the freshest sushi around. Each dish is a work of art, and this is one of the few places I've dined that forces me to slow down to appreciate every bite.
Go here for: a celebratory meal that you've made reservations for well in advance…and be prepared to put down some $. (It's completely worth it, though.) Looking to save? Stop by the Sake Social Hour from 5-6:30 every day for specials on food and drink.
801 S Lamar Blvd, Austin TX 78704
512-916-4808
3. Fonda San Miguel (for Mexican food)
Fonda San Miguel was one of the first interior Mexican cuisine restaurants in the United States. It opened in 1973 at a time when big Tex-Mex chains were taking over America and the line between Tex-Mex and Mexican food was getting blurry.
Please arrive at this stunning north Austin restaurant very, very hungry. Their fresh ceviche, tacos al pastor in homemade tortillas, cochinita pibil, mole, and fun cocktails will have you coming back again and again.
Go here for: margaritas and the best Mexican food in Austin in an upscale setting. Note: this is NOT a Tex-Mex restaurant. If you're looking for that, go to number 8 on this list.
2330 W North Loop Blvd, Austin TX 78756
512-459-4121
4. Home Slice Pizza (Kid-friendly)
I've heard from many New York residents that the large, foldable pizza slices at Home Slice Pizza mimic authentic NYC-style perfectly. There are two locations: the north location is great for kids, where they can run around, and the South Congress location is the original location (more tourists). There's also a "More Home Slice" walk-up counter where you can get a slice to go.
Go here for: casual NYC-style pizzas, meatball sandwiches, and cold subs. Psst: this place is super Instagrammable!
501 E 53rd St, Austin TX 78751
512-707-7437
5. Ramen Tatsu-ya (best Austin restaurant for lunch)
You can find ramen at dozens of places in Austin, but Ramen Tatsu-ya is still the best. They brought the good stuff, the type of ramen that you could previously only find in Japan and LA and New York, right here to Austin, Texas.
This thick, creamy soup of pork bone broth, noodles, chasu, ajitama, and add-your-own toppings is the labor of dozens of hours of love. Slurp your noddles loudly and enjoy the rich, decadent flavors at Austin's most successful ramen shop .
Go here for: a quick lunch of ramen with friends. If it's your first time, start with the Tonkotsu Original before branching out to try other menu items.
1600 E 6th St, Austin TX 78702
512-893-5561
6. Franklin Barbecue (Best barbecue)
Yes, the lines are crazy long… (Just how long? Click here to read my story of when I waited in line at Franklin BBQ.) But Franklin Barbecue is, by far, the most iconic Austin bbq spot, and waiting in line makes a great story.
So, is it worth it? That depends on how much you enjoy the touristy experience of waiting in line. The barbecue is, in fact, really reeeeaaally good. (Aaron Franklin did win a James Beard Award for best chef, after all!) Here are 5 other great bbq spots in Austin, but if you have the time in your schedule, try to squeeze in a visit to Franklin.
Go here for: a big lunch (they close when they run out of meat, which is usually just after lunch time.) Plan for a nap afterward.
900 E 11th St, Austin TX 78702
512-653-1187
7. Odd Duck (Brunch, Farm-to-table dinner)
There are several great farm-to-table restaurants in Austin that I could recommend to you, but Odd Duck was at the forefront of the movement, operating out of a little food truck in 2009 that only served food made from ingredients from local farmers.
The gorgeous brick-and-mortar rendition of Odd Duck opened with a bang in 2013, and it's still one of Austin's favorite places to enjoy small plates of locally sourced ingredients. They serve the food on mismatched vintage flatware, and this is one of my favorite dinner and brunch restaurants in the whole city.
Go here for: casual happy hour bites, a big fancy dinner, or a scrumptious Sunday morning brunch.
1201 S Lamar Blvd, Austin TX 78704
512-433-6521
8. Valentina's (best Tex-Mex)
Valentina's took two of the greatest food groups in Texas (melt-in-your-mouth smoked barbecue and rich, salty Tex-Mex food) and somehow managed to be the best at both of them, combining them into one awesome food trailer.
Take one of those thick, flour-dusted, scratch-made tortillas and fill it up with brisket or pulled pork, charro beans, and tomato-serrano salsa; alternate bites of that with scoops of corn tortilla chips dunked in brisket quest. Your taste buds will thank you.
Go here for: breakfast tacos (some of the best in the city, and they start serving them at 7:30 am) or a big ol' lunch of Tex-Mex BBQ.
11500 Menchaca Rd, Austin TX 78748
512-221-4248
9. Lenoir (wine garden + dinner)
Lenoir is a small restaurant that offers "hot weather food," which is food that is made to be grown, prepared, and eaten in Texas climates. You'll find a lot of local meat and produce, natural wines, and Mediterranean influences.
The interior of this restaurant only seats about 25 people, so make reservations in advance. Or, head to the backyard wine garden (one of the most magical little gardens in thh city) to enjoy the full menu and bottles of wine under the twinkly lights.)
Go here for: pre-dinner drinks in the backyard wine garden, or a lovely special-occasion date night meal.
1807 S First St, Austin TX 78704
512-215-9778
10. Dai Due (Locally sourced texas meat)
Dai Due started as a supper club, and they eventually opened this beautiful brick-and-mortar in east Austin. Everything at the restaurants (including wine and beer) comes from Texas. Owner Jesse Griffiths is a true man of the land; he even leads his own hunting trips so folks can learn how to kill, clean, and cook their own Texas game. 
The wagyu burger is phenomenal, but the menu is constantly changing based on what's seasonal, so come hungry and ready for the best and freshest meat and veggies that Texas has to offer! 
Go here for: steak, fish, wild boar, and other local Texas fare. 
2406 Manor Rd, Austin TX 78722
512-524-0688
11. Fresa's Chicken (healthy lunch/dinner)
This restaurant is one of the true gems of Austin! Fresa's has a giant outdoor creekside patio, shaded dining, bright prickly pear margaritas, and scrumptious carbon-grilled chicken tacos. The food is fresh and healthy, and Fresa's is always buzzing with activity.
If it's a beautiful day in Austin, snag a seat outdoors and order chips and queso, margaritas, and big plates of grilled chicken, sweet potatoes, and yummy grilled veggies. Or, go to the Lamar location for a drive-thru for a quick and healthy lunch. Also, weird but true: they make their own ice cream and it's some of the best in town.
Go here for: a casual dinner with friends and family.
Fresa's Chicken Al Carbon
1703 S First St, Austin TX 78704
512-992-2946
12. Launderette (American Dining)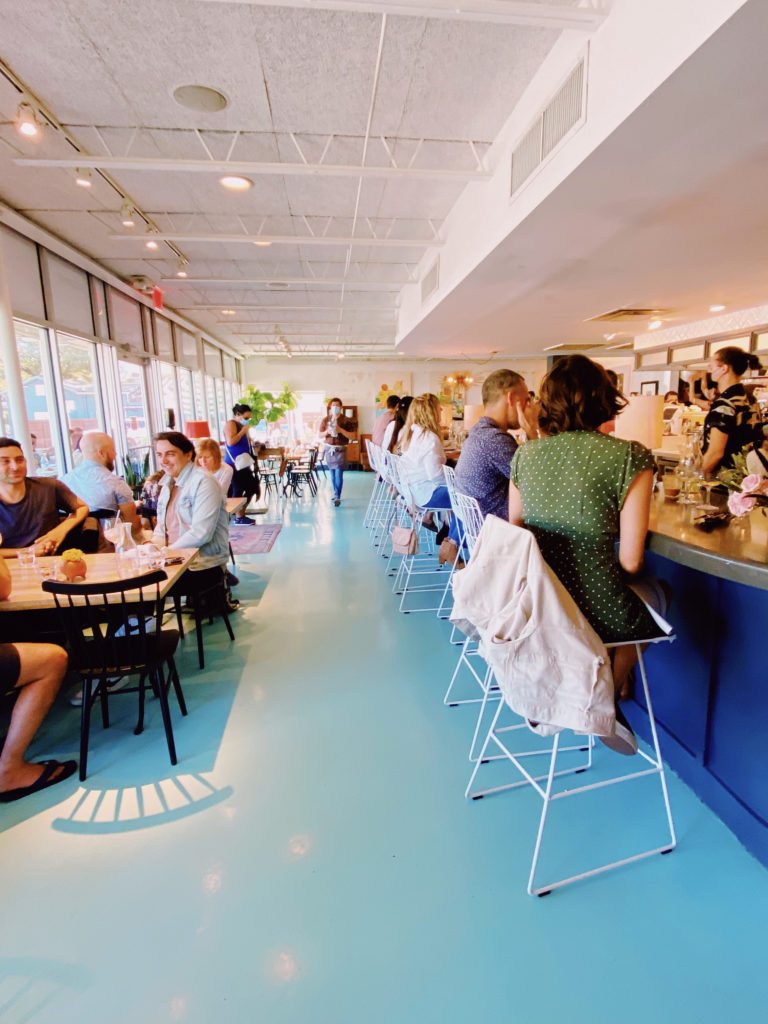 I always have to comment on the location first, because it's so cool: Launderette is in a renovated laundromat/gas station! It doesn't get much quirkier than that. It was one of Food & Wine's 2016 Restaurants of the Year, and it snagged a James Beard Award finalist spot in 2016.
Eat here if you're craving American food: they have one of the best burgers in Austin, a killer brick chicken, raw oysters, and all sorts of lovely snacky bits like beet hummus, fried shrimp, and crab and avocado toast. And DO NOT skip dessert! Chef Laura Sawicki's pastries and beautifully plated desserts (and birthday cake ice cream sandwich) will alter your world.
Go here for: I recommend Launderette for two occasions: a big, leisurely lunch on their outdoor patio, or a nice seated special occasional diner.
2115 Holly St, Austin TX 78702
512-382-1599
13. Via 313 (Late-night pizza)
In addition to Homeslice (number 4), Via 313 is the other pizza place that needs to be at the top of your list This is a completely different type of pizza, though; while Homeslice offers thin-crust, round, New York-style pies, Via 313 makes rectangular deep dish Detroit-style pizzas. Thick crust with a crunchy shell and soft interior, loads of melty cheese, and tomato sauce on top. So addicting and totally instagrammable.
Go here for: a casual lunch or dinner at the brick-and-mortar, or a late night bite at the Via 313 trailer parked on W 6th Street.
3016 Guadalupe St #100, Austin TX 78705
512-358-6193
14. Suerte (Best Austin Restaurant for Modern Mexican)
Sam Hellman-Mass, one of the founders of Odd Duck, created this gorgeous masa-based Mexican restaurant in East Austin and it has taken our city by storm. Eater called it one of the 18 Best New Restaurants in America, and Bon Appetit put it on their list of 50 Best New Restaurants in America
The corn tortillas are made through the process of nixtimillization (where corn is soaked in an alkaline solution and hulled), then ground into masa and made into some of the softest, tastiest tortillas you've ever tried.
Go here for: One of my favorite ways to dine at Suerte is on a double date, because the small plates are good to share. We order a bunch of food for the table and enjoy a memorable dinner of food and drinks. Another fun time to go is for the "Lucky Hour" for some cheap bites before dinner if you'd just like to taste a few items.
1800 E 6th St, Austin TX 78702
512-953-0092
15. Hold Out (Brewery + Great Food)
I'm shocked, quite honestly, every time I go to Hold Out Brewing for a beer and dinner. The food is outstanding and every menu I've tried has been severely underpriced for the value. While Hold Out is technically a brewery, I'm listing it as one of the best Austin restaurants because they have a full menu of delicious lunch and dinner items. 
Take the Hold Out Cobb Salad, for example. As I'm writing this, a half salad will cost you $7 (a full hearty serving is $14). This salad is a colorful bowl of romaine and crunchy iceberg, pickled red onions, ripe avocados and cherry tomatoes, loads of protein from Tasso ham and crispy bacon and a decadent orange softboiled egg, the tastiest miso ranch dressing, and sunflower sprinkles. It's above and beyond what you might typically expect a brewery to produce for their "salad" option on the menu. 
The Hold Out classici burger is one of the best burgers in Austin (and starts at just $7.) A few other menu items worth mentioning are their brined and fried chicken wings, the comeback chicken sandwich served on curry bread, and those absolutely perfect curly fries.
Go here for: an excellent Austin brewery that also has some of the best food in our city.
1208 W 4th St, Austin, TX 78703
512-385-2900
While there are many New American restaurants in Austin, FnD deserves to be called one of the best Austin restaurants for several reasons: first, because of its longevity. Foreign and Domestic opened before Austin became the hyped-up city that it is now, and it's been receiving accolades and winning awards for a decade +. Also because of attention to sourcing. Every menu item you see will feature meat and produce and grains that were found as locally as possible. 
And finally, because apart from the yumminess factor (that's a given..), the ambiance of this place is so great. It's intimate, with just a few tables and a good chunk of the space belonging to the open-air kitchen. It's the type of cozy neighborhood place you could go to elevate a casual Wednesday night with a great glass of wine and a Berkshire pork chop. 
Go here for: a nose-to-tail neighborhood dining experience.
306 E 53rd St, Austin, TX 78751
17. Bird Bird Biscuit (Weekday Breakfast)
Bird Bird Biscuit mastered the art of biscuit sandwiches by making the biscuit just the right texture – soft enough to be fluffy, but firm enough to hold the sandwich together. If you'd like a quick and delicious weekday breakfast, this is the best Austin restaurant for that occasion.
Start with the Queen Beak: a flavorful breaded chicken thigh covered in cayenne black pepper honey and chipotle mayo, nestled in between two biscuits. The Bird Bird Bacon sandwich is my other top recomendation here. It's made of bacon, free-range egg, cheddar, and chipotle bacon-infused mayo. 
Go here for: a quick weekday breakfast or a grab-and-go meal. 
2701 Manor Rd, Austin TX 78722
512-761-4922
18. TacoDeli (breakfast tacos)
They've been around for a long time and now have locations all over Texas, but if you're visiting Austin and want to try some of the tastiest tacos that originated in our town, head to a TacoDeli location.
(Psst: their breakfast tacos are also available in almost any coffee shop in town, but they're pre-made and the tortillas get a little gluey. For the best experience, go to TacoDeli and get a few freshly-made tacos.)
Go here for: breakfast tacos (order the Otto + add egg) or lunch (the tacos and salads are both awesome.) 
WEBSITE | multiple locations
1500 Spyglass Dr Suite B, Austin TX 78746
512-732-0303
19. Elizabeth Street Cafe (gorgeous spot for lunch date)
This is truly one of the most instagrammable spots in Austin; I think it's worth popping into this beautiful French Vietnamese restaurant even if you just want to grab a couple macarons or croissants to go. Of course, if you can stop by for a leisurely breakfast Bahn Mi or a lunchtime bowl of Pho, even better.
Go here for: a breakfast/lunch date with your girlfriend who enjoys beautiful aesthetics. Breakfast is available every day of the week, so it's a great bet if you want a brunch-like experience on a random weekday morning.
1501 S First St, Austin TX 78704
512-291-2881
20. Kemuri Tatsu-ya (unique, upscale)
I don't get tired of recommending this amazing Austin restaurant to my readers because it's always a crowd pleaser! Kemuri Tatsu-ya is an award-winning izakaya (a casual japanese bar) that fuses japanese favorites with Texas bbq influences. So picture a raw bar of sashimi and poke with touches of smoked jalapeno and corn tortilla chips. Or smoked ribs with garlic furikake. They have really fun cocktails (try the Puff Puff Pass – it's meant to be shared with two people) and an excellent sake list. 
Since Kemuri Tatsu-ya is an izakaya, it's noisy and bustling and fun. You'll get great service here (I've always loved the staff at Kemuri) but it also sort of has a celebratory bar-on-a-Friday-night ambiance when it gets later in the evening. Super fun spot! 
Go here for: a really fun night out of cocktails and Texas/Japanese fusion food. 
2713 E 2nd St, Austin, TX 78702
(512) 803-2224
It's impossible to pare this down to 20 restaurants because there are SO many great spots to eat in this ever-evolving city. My hope is that this just gets you started in exploring the many awesome restaurants in Austin. And, just in case you're someone who wants more choices instead of fewer, here are a few more places that could have made the list:
ABGB // pizza + award-winning beer (go for their German-style beer)
Bar Peached // cocktail-focused, Asian comfort food
Bufalina // neapolitan pizza
Clark's Oyster Bar // neighborhood spot with a great happy hour
Easy Tiger // sandwiches, sausages, family-friendly beer garden
El Naranjo // interior Mexican cuisine
Easy Tiger // sandwiches, sausages, family-friendly beer garden
Hestia // Live open-fire cooking, upscale
Hopfields // French gastropub
Intero // family-owned Italian restaurant + homemade chocolate shop
June's All Day // wine bar and American food
Juniper // northern Italian and cocktails
La Condesa // upscale modern Mexican + margaritas
Lucky Robot // Tokyo street food
Olamaie // elevated southern food (temporarily closed)
Patrizi's // family-owned Italian food truck with handmade pasta
Perla's // upscale coastal seafood
Pinthouse Pizza // pizza + award-winning beer (go for their IPAs)
T22 // Nashville hot chicken
Torchy's // Austin-based taco chain, but go for the queso