When I took Milo's maternity photos back in 2019, I was 37 weeks pregnant. I swore that if I ever had another pregnancy, I would get my act together and schedule a maternity photo shoot for the 30-32 week window, before all of the extreme puffiness and discomfort happened. I loooove having photos from this first Austin maternity photo shoot, but I scheduled it so late that I was pretty pregnant and uncomfortable. I'll be more on top of my game for round two, right?
I did this photo shoot at 36 weeks pregnant.
All the best intentions, but life with a toddler + a very rainy June + not actually caring all that much about the puffiness (after all, it's a part of pregnancy and so it's worth photographing and remembering) meant this shoot happened late in pregnancy. Slight improvement: my wedding ring still fit for this 2021 shoot, and it definitely didn't fit onto my finger for the 2019 shoot.
About My Maternity Photo Shoot Location in Austin
For both of my maternity photo shoots, I wanted an iconic Austin location that was easy to access. (The Austin 360 bridge is SO cool, but a little harder to climb there at 36 weeks pregnant in a maternity dress.) My personal preference was an urban/city vibe for my photo shoot, rather than flowers and fields.
I picked the Pfluger Pedestrian Bridge. It has a beautiful view of downtown Austin in the background and a perfect shot of the graffiti on the train bridge. (So cool!) There are a few free parking lots on Riverside Drive just to the east of the pedestrian bridge, so I was able to park and walk to the bridge easily. I loaded Milo into the stroller, along with his milk cup and some snacks (and extra volumizer for my hair – the humidity makes it deflate so quickly) and met my photographer at 7:30 am on a weekday.
Milo was in a mood on this particular morning. I don't blame him – he had recently recovered from Hand Foot & Mouth Disease (you can see a lot of little red scars on his hands in these photos) and was extra clingy and snuggly. He had zero interest in putting shoes on, allowing a camera to be pointed at his face, or letting anyone hold him except mommy.
It's funny to witness a toddler at a photo shoot, because they are unapologetically in tune with their emotions. If I show up to a photo shoot and I'm in a bad mood, I'll ignore those emotions for the short term and just smile and laugh for the camera anyway. After all, I cleared my schedule, paid a photographer, curled my hair, and I know this is my one shot at getting these photos. But Milo had no reason to "fake it," so he just acted on the emotions he was feeling. Similar to my puffy pregnancy face, I'm totally ok with this. The camera captured the reality of our morning, including my handsome and clingy toddler.
My friend Kiera shot these photos for me! She has moved on from shooting as a professional wedding photographer, but after many years of working together she still shoots some of my family photos. I love her and I love her work! I wore this maternity dress in royal blue.
Here are my maternity photos, if you'd like to see: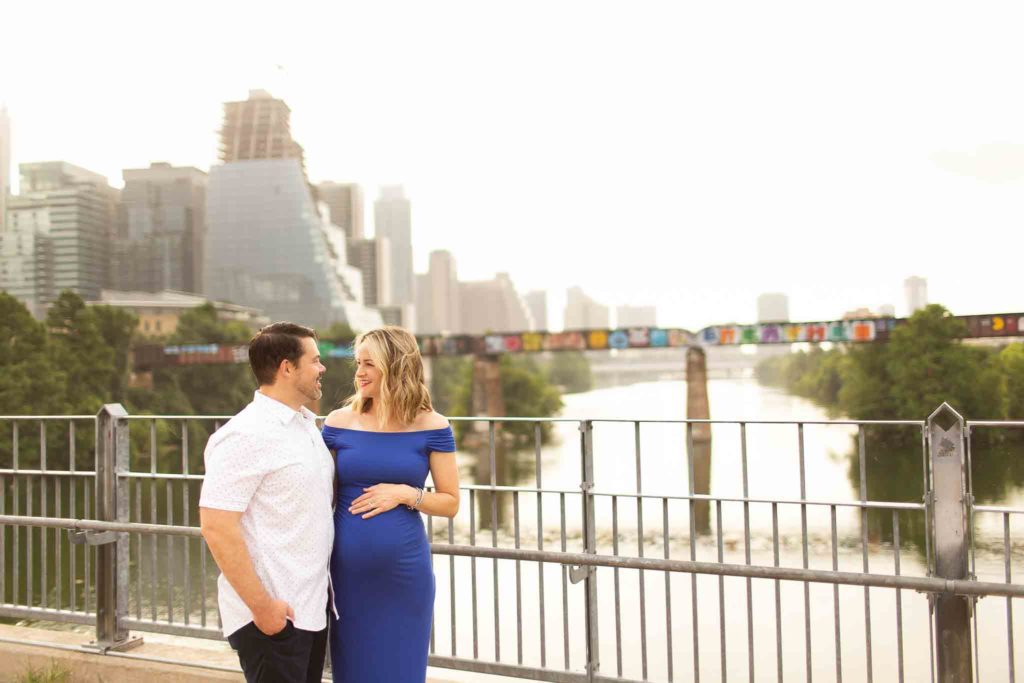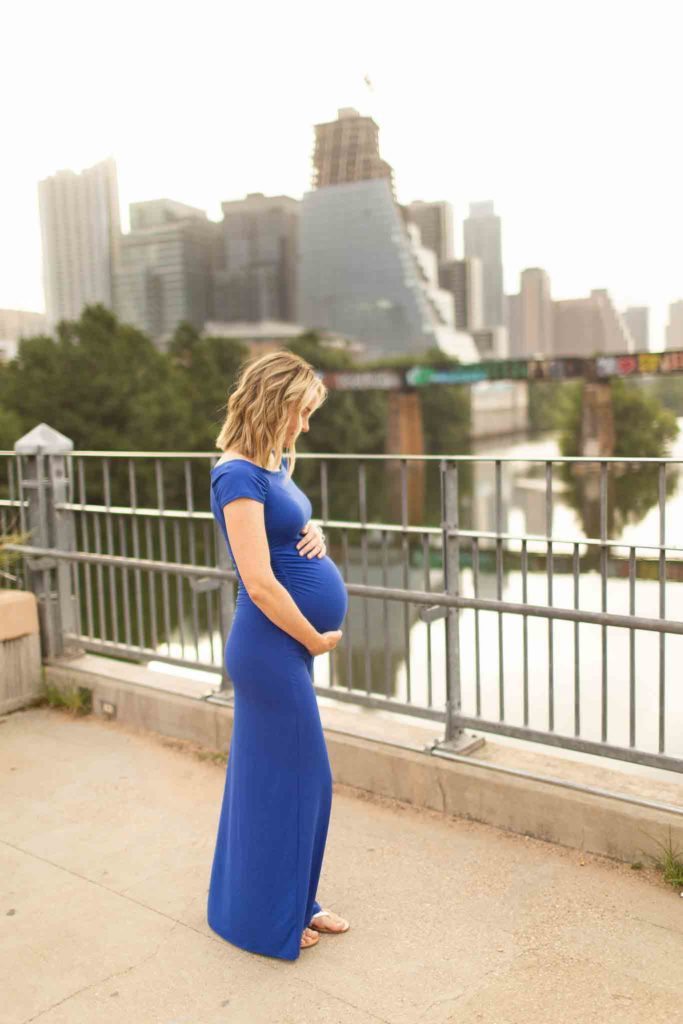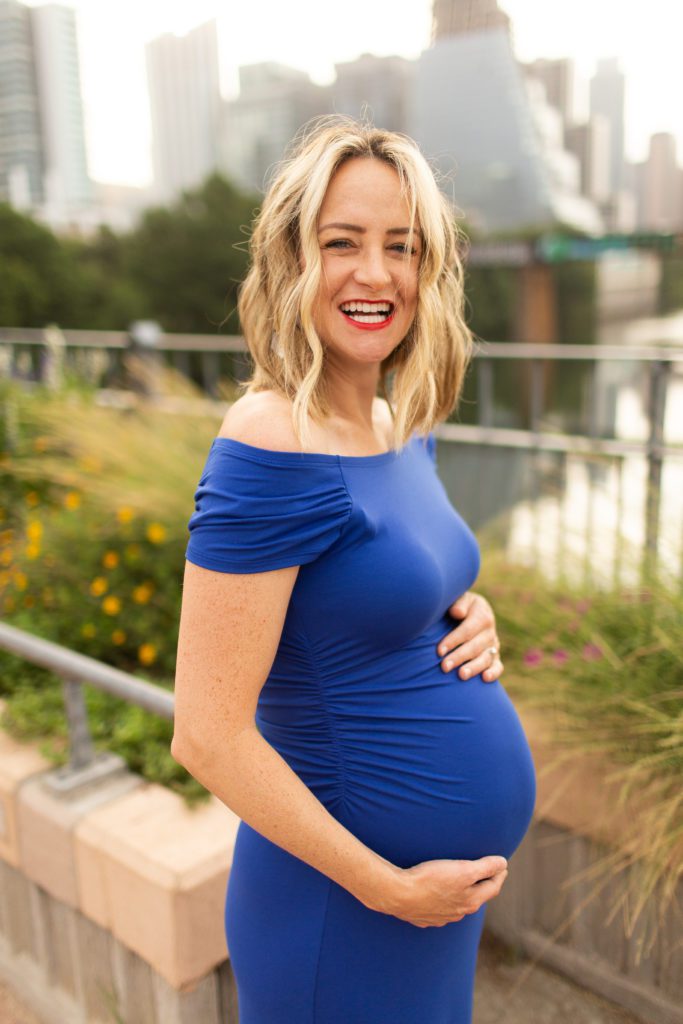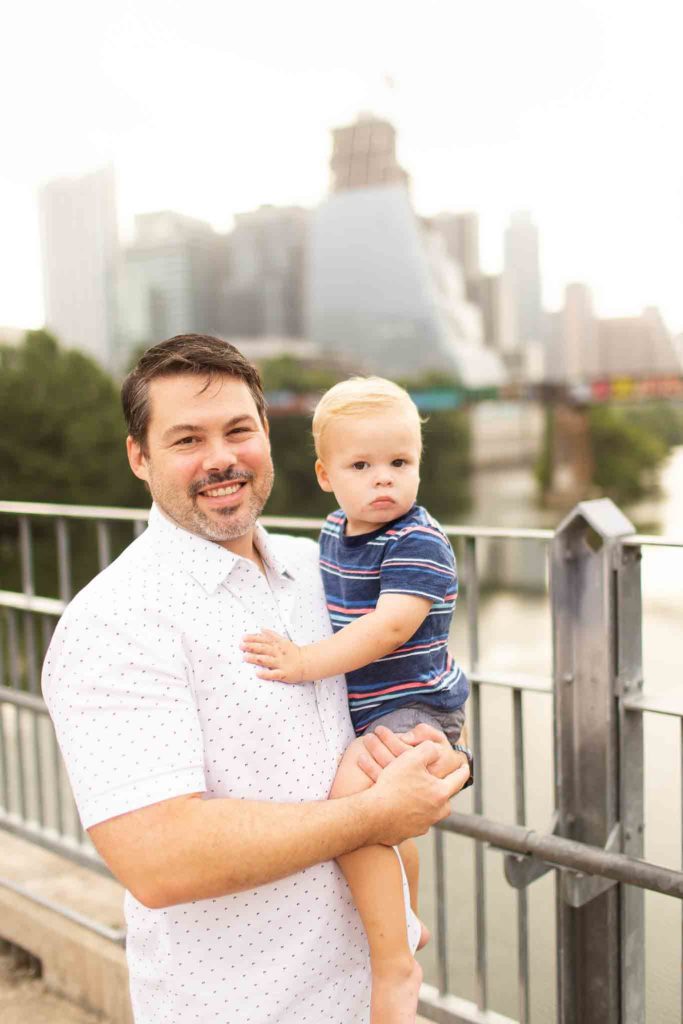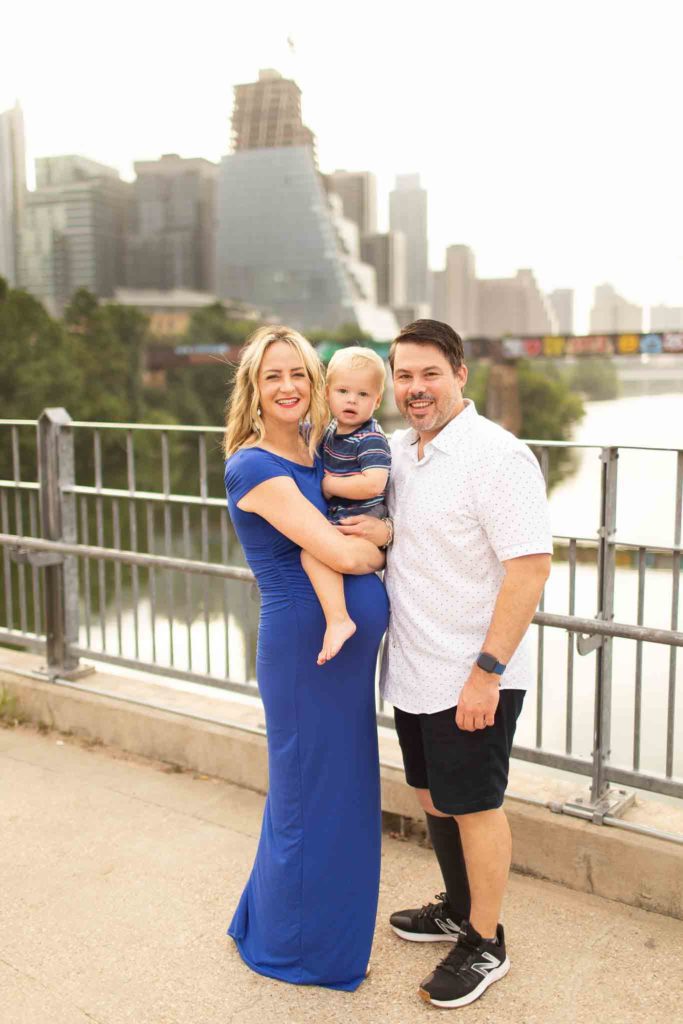 PS: here's Milo's birth story, and my first trimester and second trimester recaps from this 2021 pregnancy.