I'm here to help you find the best lunch in Austin Texas! "Best" is different for all of us…and if you're anything like me, it changes from day to day. The healthy downtown Austin lunch you're craving on Monday might not suffice on a Friday afternoon when you really need a big, delicious burger. I'm covering ALL the Austin lunch options, from healthy eats to splurge-worthy treats!
Lunch is the, sadly, most under-represented meal in Austin. We all know that brunch is the glory meal, and gorgeous weekend dinner restaurants get lots of attention, but lunch gets overlooked. But we have tons of great downtown lunch spots in Austin, as well as terrific lunch spots around the entire city.
[vessel-campaign id="123″]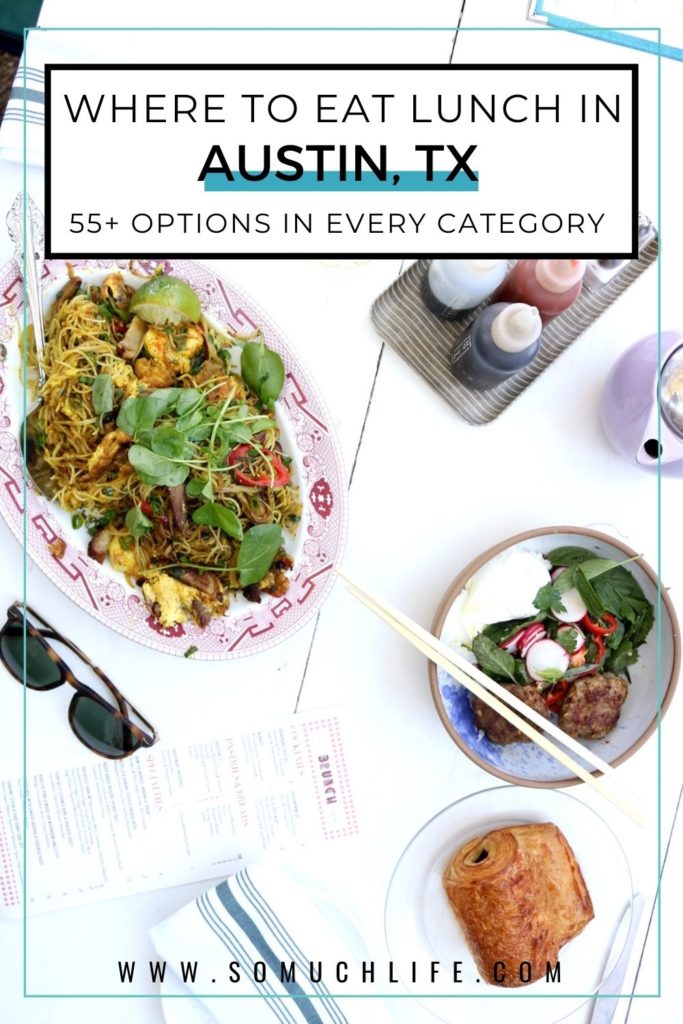 ---
---
The blog post is categorized into 6 groups; feel free to scroll around to find what you need:
Where To Eat The Best Lunch In Austin Texas:
HEALTHY
UPSCALE/FORMAL
QUICK BITES
BURGERS + BBQ
OUTDOOR DINING
#FOODPORN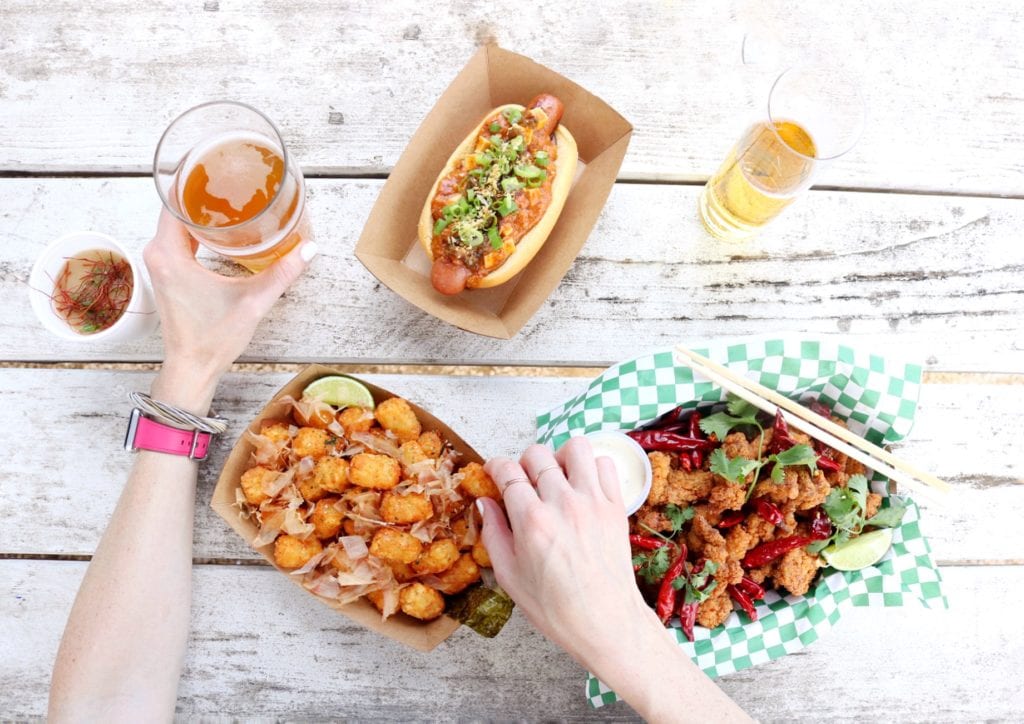 ---
Healthy Lunch Restaurants in Austin:
Walton's Fancy & Staple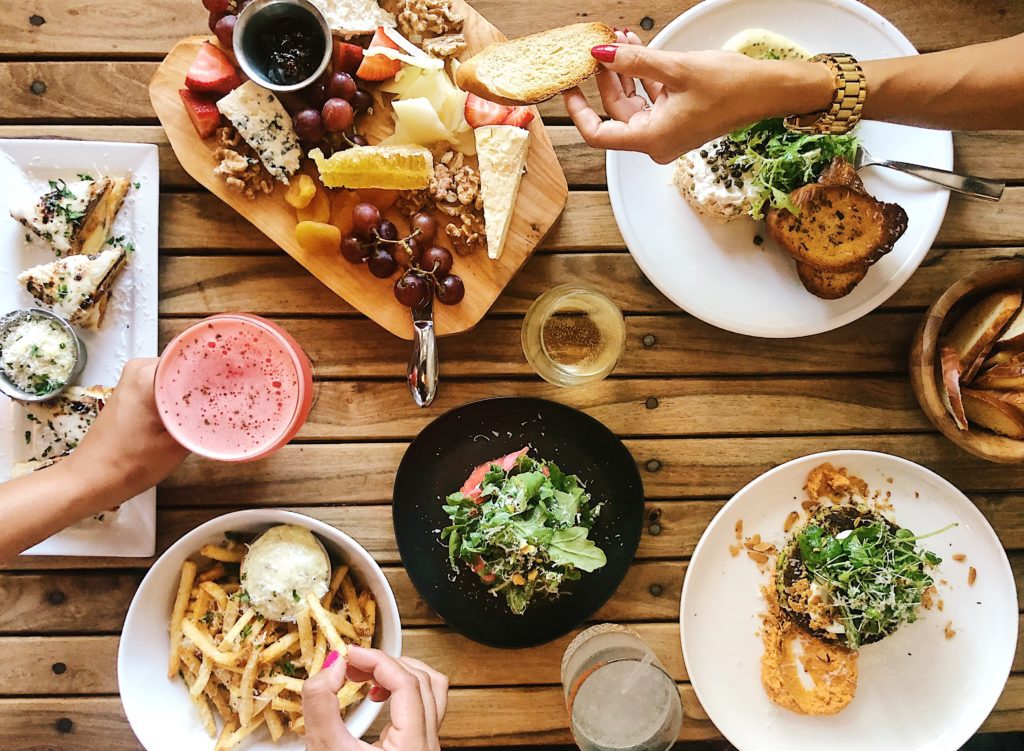 A brick-walled bakery and deli with the most delicious soups, sandwiches, salads, and (my favorite) cookies! It's a stunning little space and perfect for a weekday girlfriend meet up.
WEBSITE | 609 W 6th St
Komé Sushi Kitchen
If a healthy sushi lunch would hit the spot, consider Komé: it's a North Austin sushi kitchen that serves homestyle Japanese bites in a trendy setting. The prices are super competitive compared to the other trendy sushi spots in Austin; I love that I can order a huge sushi lunch for under $20.
WEBSITE |  5301 Airport Blvd #100
Cookbook Bar & Cafe
Cookbook is inside the massive downtown Austin Public Library…super rad! Enjoy bites like cauliflower soup, chicken pot pie, and shrimp and chorizo lettuce wraps.
WEBSITE | Austin Central Library
Forthright
Forthright could also be listed under "outdoor dining" because this lovely downtown cafe has a great big outdoor patio where they offer their made-from-scratch New American plates, like the pick 2: soup du jour, salad, or sandwich with gluten free bread.
WEBSITE | 35 Brazos St
Bouldin Creek Cafe
BCC is a vegetarian favorite in Austin. The entire menu is meatless, so you know you'll be enjoying all of the sandwiches, tacos, salads, and other delicious bites in a cruelty-free setting. (Psst: grab an oatmeal cream pie. It's listed on my guide to the Best Cookies in Austin Texas!)
WEBSITE | 1900 S 1st St
---
---
Sweetgreen
This popular DC salad chain now has two locations in Austin: South Congress, and The Drag. You can preorder through their app and pick up their delicious salads and bowls, or dine in at the bright and airy restaurant space.
WEBSITE | 11007 S Congress Ave
---
---
Buenos Aires Cafe
This darling Argentinian restaurant serves lots of grilled meat, flavorful Chimichurri sauce, and homemade empanadas. I'm listing this under "healthy" options because it certainly could be…. But you could also order the melty, gooey charred provolone cheese with oregano or the special homemade lemon pie if you want to splurge a little.
WEBSITE | 1201 E 6th St
Blenders & Bowls
Acai bowl, anyone? Blenders and Bowls is theee place to go for fruity, refreshing, healthy smoothies and smoothie bowls on those hot, hot days of summer.
WEBSITE | multiple locations
---
Flower Child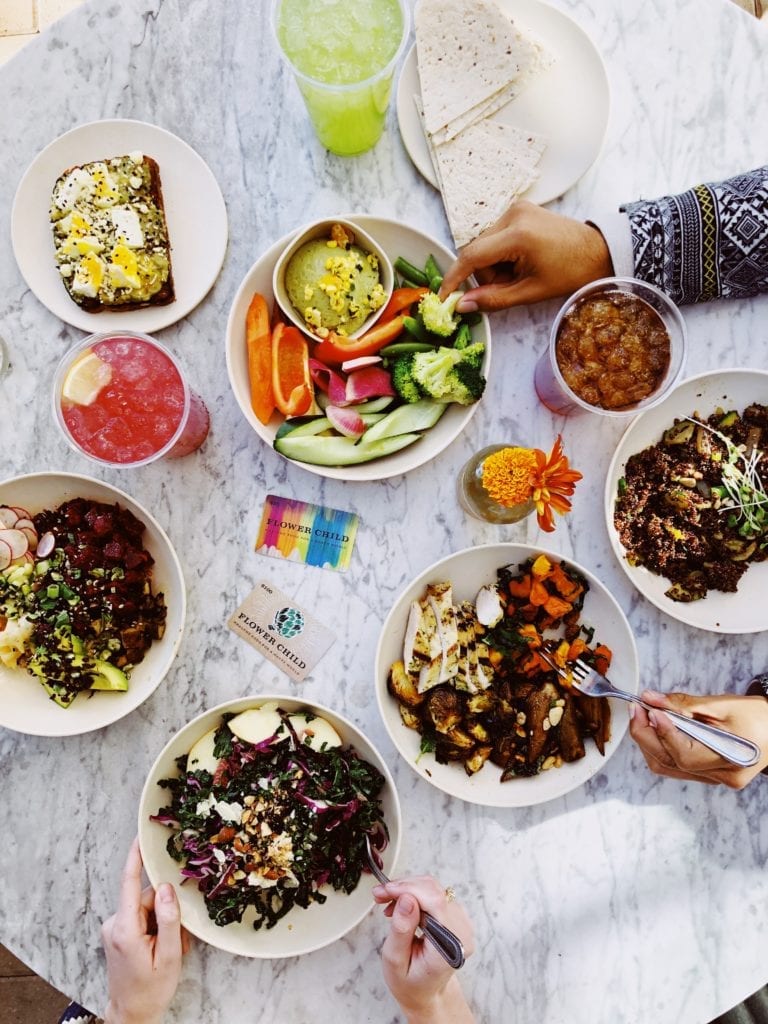 Apart from being absolutely gorgeous (white marble tables, light flooding in from every direction, food that is begging to be instagrammed…), Flower Child has won over Austin with their healthy eats that can cater to almost any dietary restriction. This is a great place for a group!
WEBSITE | 500 W 2nd St #133
True Food Kitchen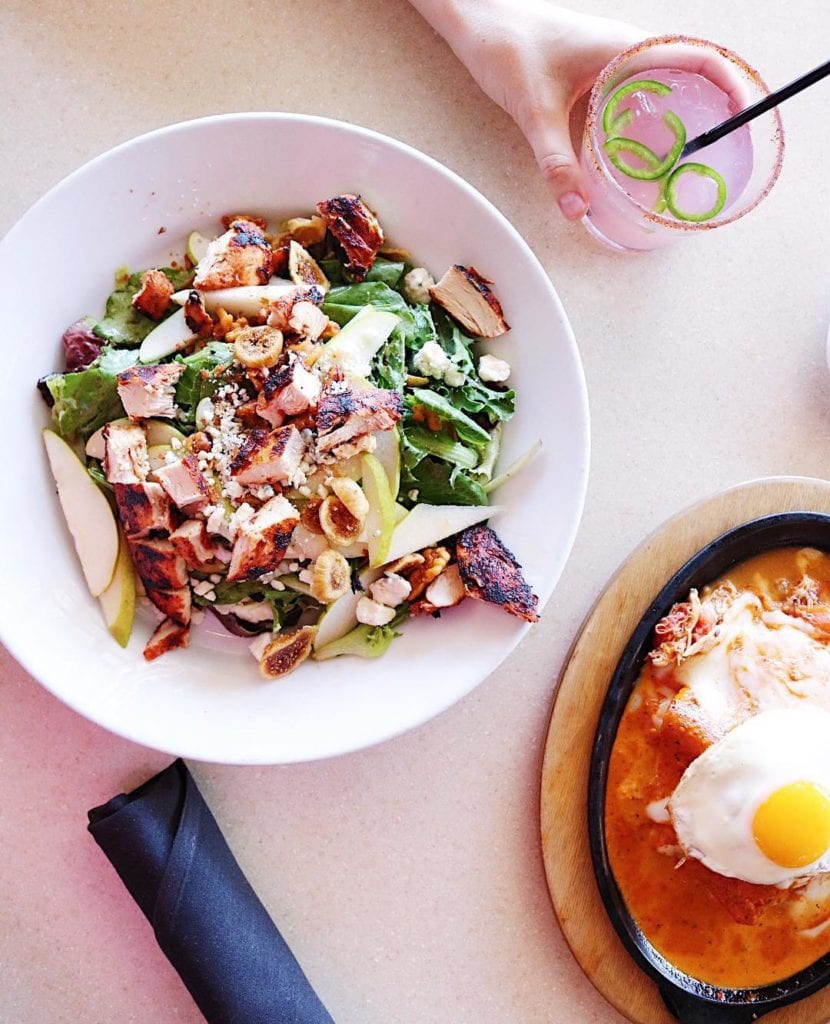 TFK could also be listed under "upscale" eateries because it's a great place for a formal office/meeting lunch, but they also cater to healthy lifestyle and specific diets. I love their salads, poke, and Ancient Grains  bowl.
WEBSITE | 222 West Ave Ste HR100
Malibu Poke
Malibu Poke offers the freshest sashimi-grade fish you can find in Austin! They have a create-your-own bowl where you order on a touch screen (or ahead online) with 63,000 possible combinations….
WEBSITE | 211 Walter Seaholm Dr LR 115
---
Outdoor Lunch Restaurants in Austin:
Irene's
They've got American comfort food served with a vintage flair. It's a fun spot for lunch, happy hour, or late night hangs!
WEBSITE | 506 West Ave
---
---
Easy Tiger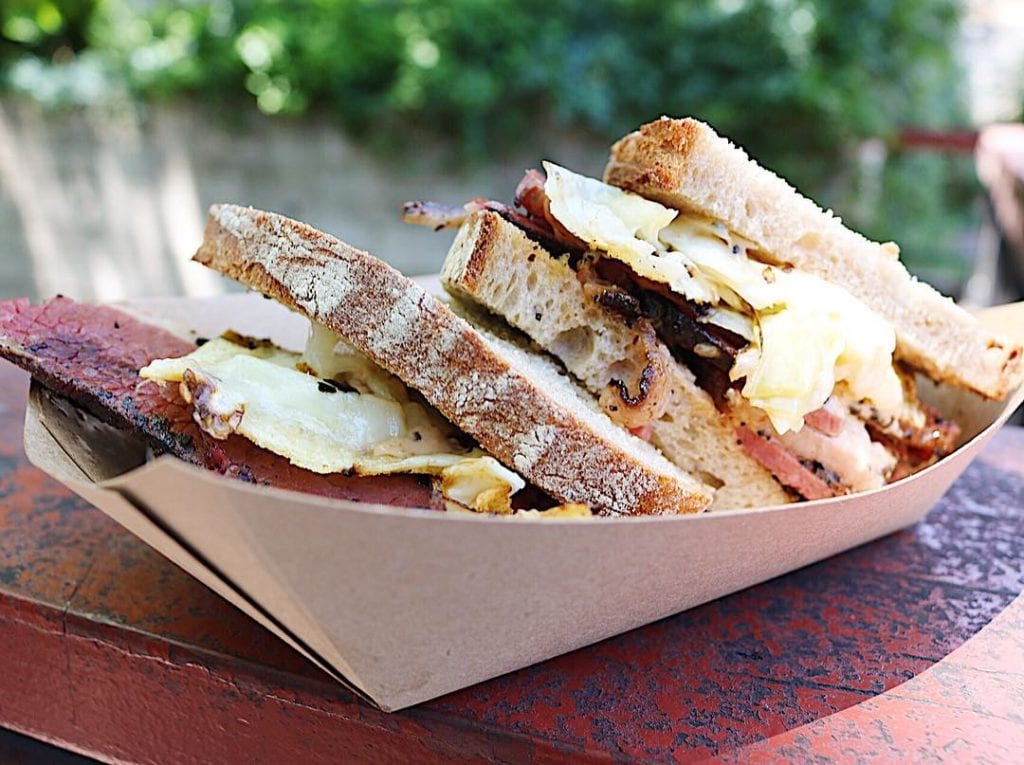 Easy Tiger is easily one of the coolest east Austin lunch spots with its homemade sausages, delicious sandwiches, and great tap wall of craft beer. And now they have a both a South Austin and a North Austin location with great big outdoor patios, too!
WEBSITE | multiple locations
Fresa's Chicken
I'm going to mention Fresa's Chicken as a quick lunch option in Austin in just a moment, but that's the downtown location. For now, consider the much larger South First Street location, which features a huge outdoor patio under a massive live oak tree. They have tasty wood-grilled chicken, tacos, and healthy bowls that you can pair with fresh guac, salsa, and queso.
WEBSITE | 1703 S First St
Perlas
Perla's is a laid-back seafood restaurant with a relaxing, luxurious outdoor patio overlooking South Congress. Dine of fresh fish, oysters, and surf 'n turf under the big Austin sky.
WEBSITE | 1400 S Congress Ave
Better Half Coffee & Cocktails
Don't be fooled by the name… Better Half serves much more than coffee and cocktails. Enjoy options like a chopped salad, cheeseburger, or pastrami sandwich in the big, shaded backyard. Bonus: this is one of the few downtown spots that has a free parking lot.
WEBSITE | 406 Walsh St
Sour Duck Market
This darling little East Austin market is an off-shoot of the popular South Austin restaurant Odd Duck. They have lots of the same farm-to-table options for lunch, but you can enjoy them in a more casual, outdoor setting.
WEBSITE | 1814 East MLK Jr Blv
Loro Asian Smokehouse
Masterminds Tyson Cole (Uchi) and Aaron Franklin (Franklin BBQ) came together to create an Asian-BBQ fusion restaurant where folks can enjoy the best of both worlds, like smoked beef brisket with Thai herbs, char siu pork belly, and candied kettle corn with brisket burnt ends and togorashi.
WEBSITE | 2115 S Lamar Blvd
---
Quick Lunch Options in Austin: 
Fresa's Chicken
Fresa's served wood-grilled chicken at both of their locations, but the downtown drive-thru spot is your best bet for a quick, healthy lunch where you don't even have to get out of the car.
WEBSITE | 915 N Lamar
Soup Peddler and Juice Bar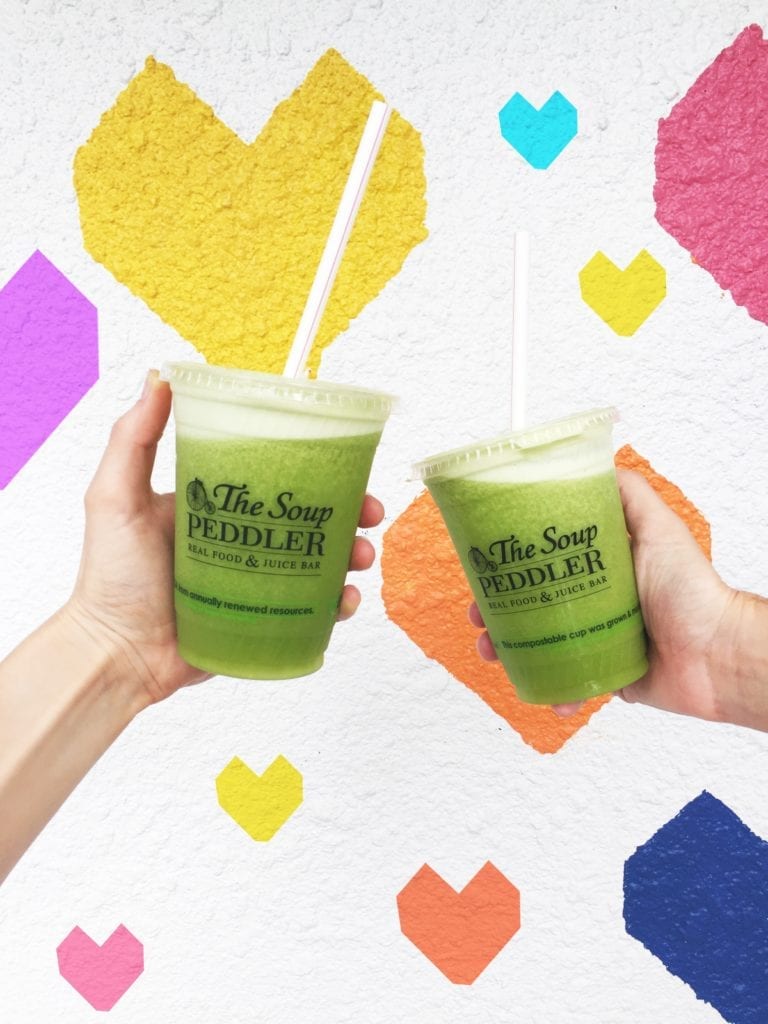 Soup Peddler offers about 8 made-from-scratch soup options every day that are already hot and ready to be served to you right when you order. If you have a couple extra minutes to wait, you can order a hot and melty grilled cheese sandwich to enjoy with that hot cup of soup.
WEBSITE | multiple locations
Torchy's
Torchy's has crazy, inventive tacos and some of the best queso in Austin, and you can order ahead so all you have to do is walk in and pick it up!
WEBSITE | multiple locations
---
---
El Tacorido
Everyone needs a good drive thru taco spot from time to time, and El Tacorrido's South First location is the perfect place for a quick order of pastor tacos, chips and queso, and a Mexican coke.
WEBSITE | 2316 S 1st St
Whole Foods Market
The flagship location of "America's Healthiest Grocery Store" is smack in the middle of Downtown Austin, and it's the perfect spot to enjoy everything from the serve-yourself salad bar and hot food bar to the elevated take on veggie burgers at the Next Level burger stand.
WEBSITE | 525 N Lamar Blvd
---
The Best BURGERS + BBQ + DINERS For Lunch In Austin
---
---
40 North

40 North has this crazy decadent burger that is worth every single calorie! This is a little wood-fired pizza restaurant, but lots of folks come in just for the burger. (Try the pizza, too! It's one of my favorites in Austin.)
WEBSITE | 900 W 10th St
---
---
Jewboy Burgers
JewBoy Burgers new brick and mortar on Airport Blvd is one of my favorite places to send people for lunch in Austin. Their big, juicy burgers are made to order and served on Martins potato rolls. The menu includes lots of other delicious options, like cheese coney dogs, fried latke, and barbacoa burritos.
WEBSITE | 5111 Airport Blvd
Turf n Surf Po'Boys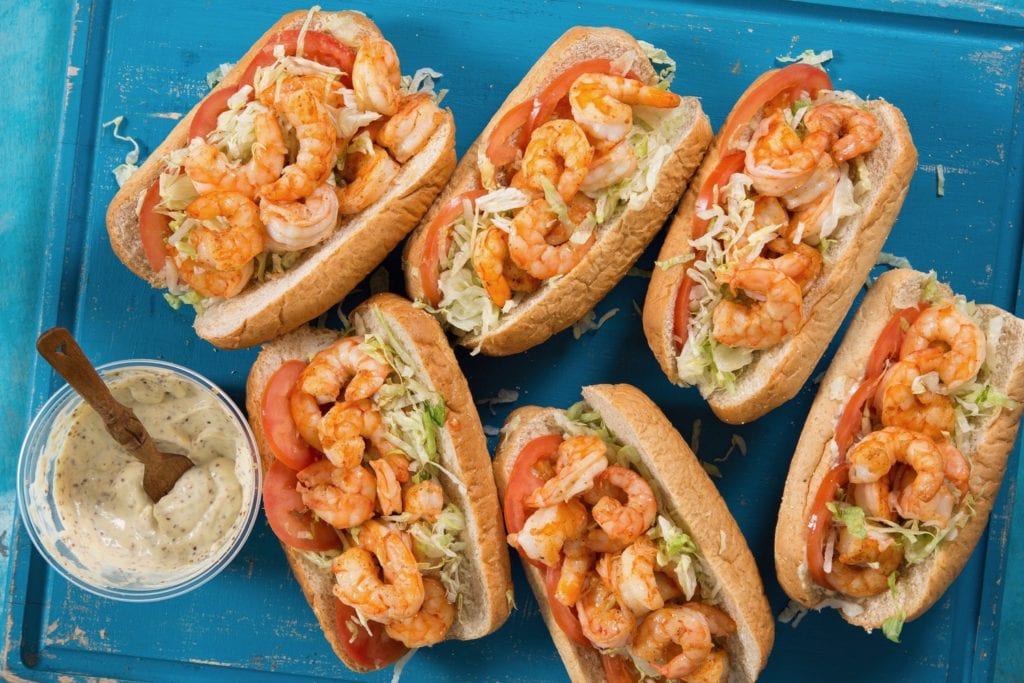 Fried shrimp Po'boys and tacos at a relaxed, Cajun restaurant. Yes please!
WEBSITE | 407 Lavaca St
Micklethwaite Craft Meats
The line can get pretty long during lunch time at this craft meat smokehouse/trailer, so try to arrive around 11 to get your food a bit faster. But even if you have to wait? WORTH IT for those smoked sausages and brisket!
WEBSITE | 1309 Rosewood Ave
Terry Black's BBQ
Terry Black's is another fantastic option for getting some of the best BBQ in Austin. They have a large indoor restaurant, but the line will still wrap around the building on the weekends!
WEBSITE | 1003 Barton Springs Rd
P. Terry's Burger Stand
P Terry's burger stand could also be listed under "quick bites" because all of their locations have drive-thru options. This is one of Austin's biggest (and best) burger chains for burgers, fries, chicken sandwiches, and root beer milkshakes!
WEBSITE | multiple locations
Counter Cafe
This east Austin cafe serves delicious, locally sourced breakfast and lunch fare (and one of the best burgers in Austin.)
WEBSITE | 1914 E 6th St
Otherside Deli
Scrumptious sandwiches (try the Rowdy Roddy, pictured above) both hot and cold. It's a small, hole-in-the-wall restaurant that started as a food truck before opening their brick-and-mortar. SO GOOD!
WEBSITE | 1104 W 34th St
24 Diner
24 Diner wins for offering comfort food sourced from nearby farms. It's local, delicious, and (potentially) healthy, with lots of gluten-free options. Or you can just order the chili cheese fries and forget all attempts at health.
WEBSITE | 600 N Lamar Blvd
---
---
Phoebe's Diner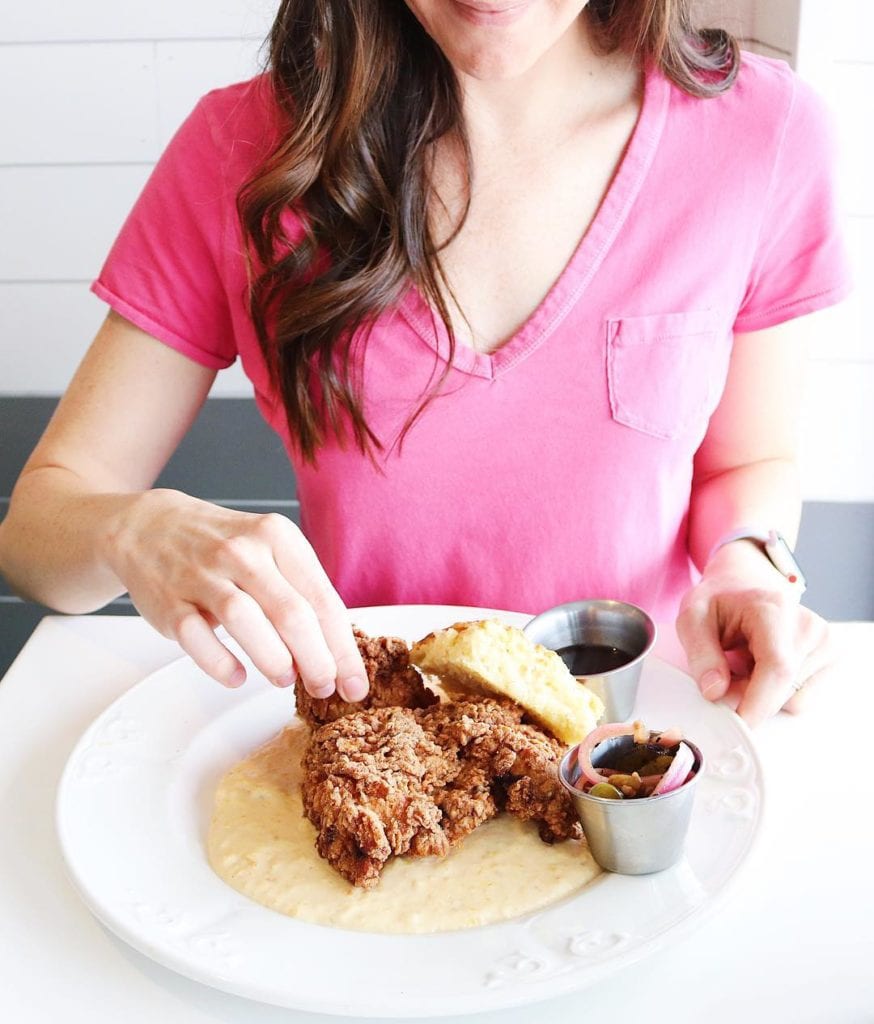 Phoebe's Diner is a throw-back to the 1950s diner era with its mint green checkered floor, vinyl booths, and long counter for single diners. It's quaint and cozy and offers all the classics like burgers, pancakes, and pie.
WEBSITE | 533 W Oltorf St
Hopfields
Hopfields is a gastropub with craft beer and French-inspired food in an adorable, rustic setting. Their Pascal burger is, I believe, one of the very best burgers in Austin.
WEBSITE | 3110 Guadalupe St Suite #400
---
---
Biderman's Deli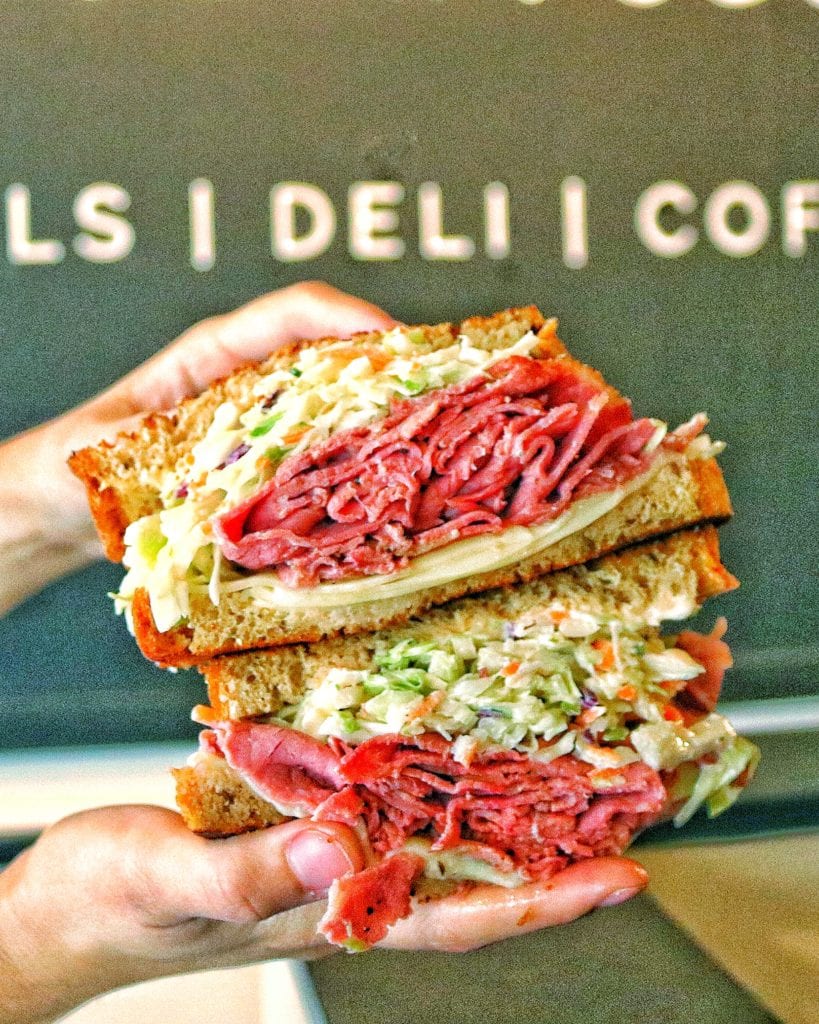 This Jewish Deli is a great little spot to pop in for a delicious sandwich, bagel, or salad. They have a few locations around Austin, and they're all good spots to grab a meal to go, dine solo, or meet up with a friend for a lunch date.
WEBSITE | 3742 Far West Blvd
Uncle Nicky's Italian Cafe
Uncle Nicky's is an all-day eatery inspired by Northern Italian cafes. Pop in for a quick sandwiches, pane tostato, and homemade gelato.
WEBSITE | 4222 Duval St
---
Upscale and Formal Lunch Restaurants in Austin
Wu Chow
This is an absolutely stunning modern Sichuan restaurant that sources their ingredients from nearby local farms.
WEBSITE | IBC Bank Plaza, 500 W 5th St #168
Qi Austin
Qi Austin is a Modern Asian Kitchen (the chef worked at Wu Chow!) in downtown Austin. Their lunch specials are perfect for someone who's looking for a speedy lunch in a slightly more upscale environment. Be sure to order some of the soup dumplings!
WEBSITE | 835 W 6th St
Swift's Attic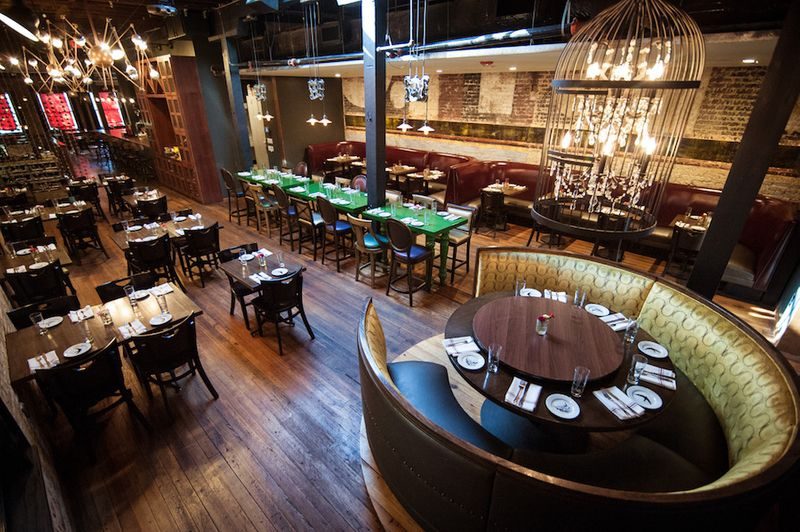 Swift's Attic is a stylish New American restaurant in a second story downtown historic building. They offer a nice lunch menu of starters (bacon wrapped dates, squid fries) and sandwiches (pork belly Bahn mi, seared cauliflower on a sesame seed bun, and the most delicious burger.)
WEBSITE | 315 Congress Ave
---
La Condesa
I'm constantly swooning over this interior Mexican restaurant's gorgeous design, and the food is just as exceptional as the decor. 😉 Enjoy fresh guacamole and ceviche, tortas and tacos, and some of their famous margaritas if it's just that sort of a day…
WEBSITE | 400 W 2nd St A
Second Bar + Kitchen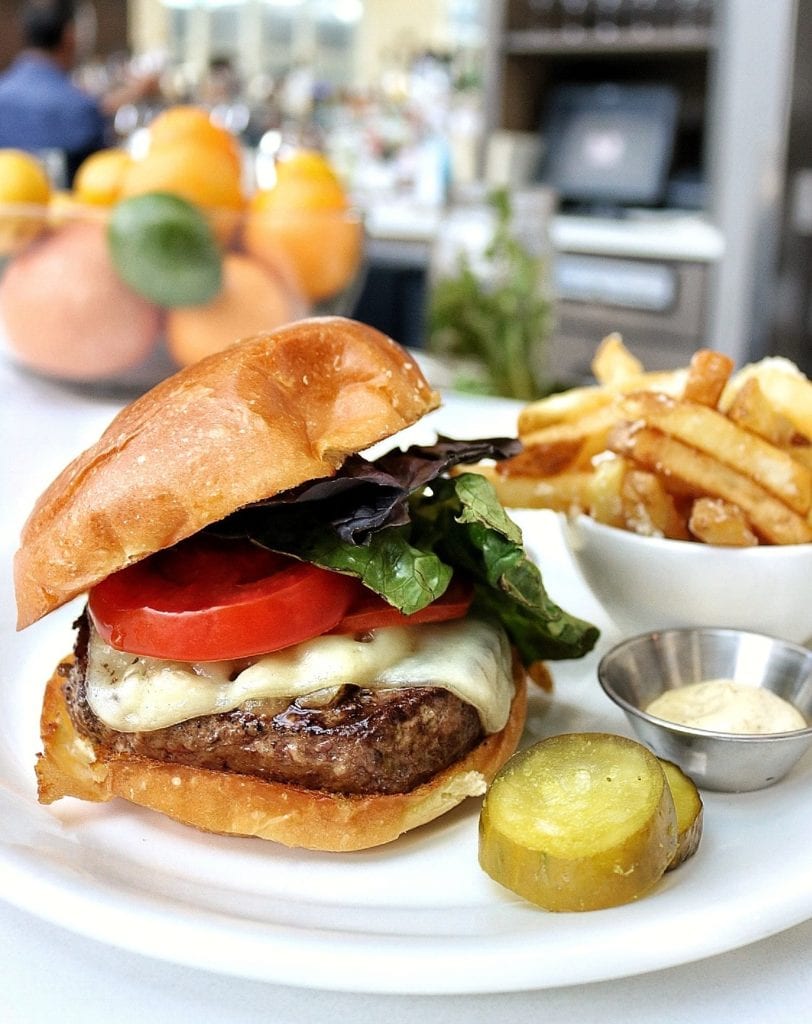 Second Bar + Kitchen uses seasonal ingredients to create delicious salads, pizzas, entrees, and desserts. (Psst: their congress burger with black truffle pommes frites is one of my very favorite splurge lunches in Austin.)
WEBSITE | 3121 Palm Way
Josephine House
Josephine is the most darling little bungalow in Clarksville that serves breakfast, lunch, happy hour, and dinner. It's the perfect upscale spot to meet a girlfriend for a chopped salad, house burger, or chicken tortilla soup.
WEBSITE | 1601 Waterson Ave
Launderette
Launderette is probably one of Austin's quirkiest farm-to-table restaurants because it's inside a renovated laundromat/gas station! They serve gourmet New American fare like fried shrimp, deviled eggs, fried chicken sammie, and PEI mussels.
WEBSITE | 21115 Holly St
Odd Duck
Odd Duck is waaayyy high up on my list of top recommendations for Austin visitors…it's one of the original farm-to-table restaurants in our city! The rustic space is absolutely stunning and the food menu is constantly changing based on what's available and in season.
WEBSITE | 1201 S Lamar Blvd
---
FOODPORN
Gordough's Public House
Donut sandwich, anyone? Gourdough's Public House isn't for the faint of heart (or stomach!) Try a burger served on a donut bun, a donut Po'boy, or a salad that's served with…yep. Fried garlic donuts.
WEBSITE | 2700 S Lamar Blvd
Old Thousand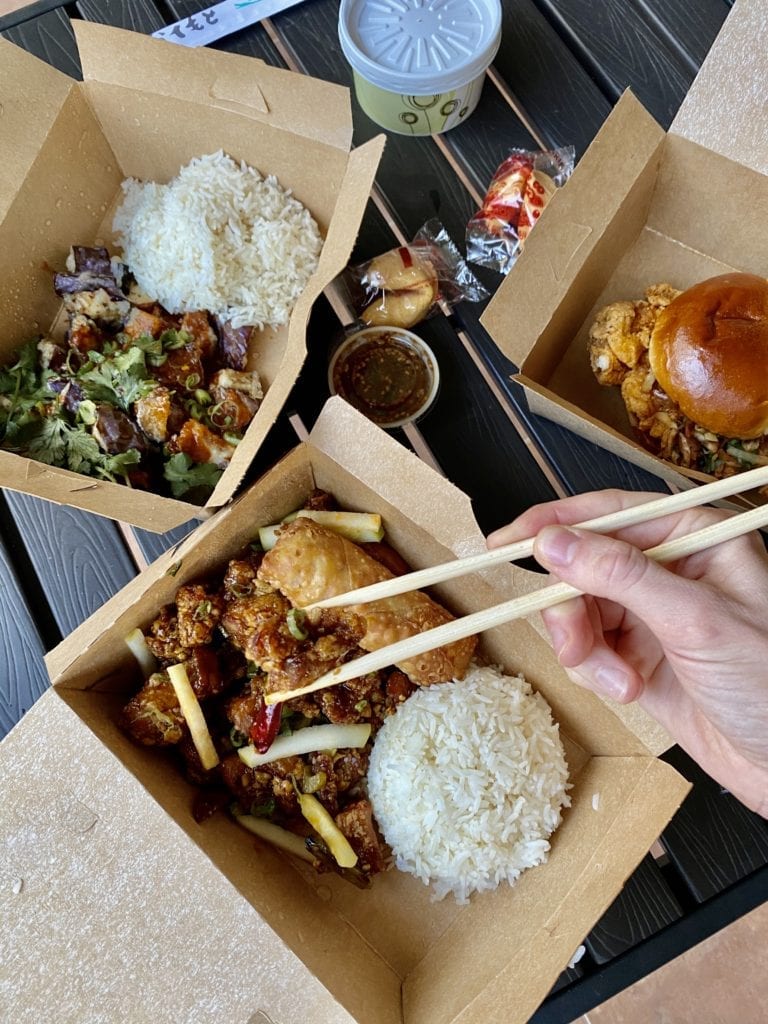 Their slogan is "Dope Chinese," and that's exactly what you'll get here. Try the Salt and Pepper Tofu, General Tso's Chicken, and the 5 Spice Chinese Churro for dessert.
WEBSITE | Two Locations 
Chi'Lantro
Kimchi fries with soy-glazed chicken, chi'jeu queso and chips, and all sorts of yummy fusion bowls and salads. Chi'Lantro started as a food truck but now they have locations all over Austin with their crazy addicting fusion fare.
WEBSITE | multiple locations
Bird Bird Biscuit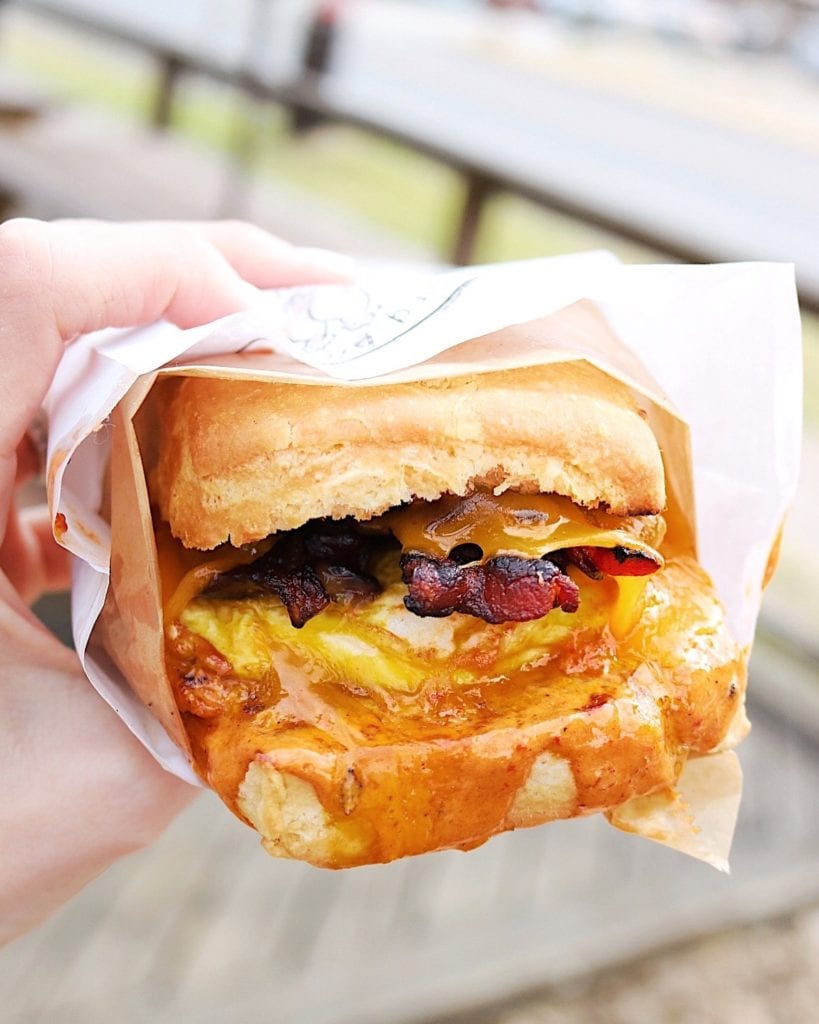 Bird Bird Biscuit has the CRAZIEST/most delicious giant biscuit sandwiches for breakfast and lunch. Try the "Queen Beak" with spiced and breaded chicken thigh, cayenne black pepper honey, and bacon infused chipotle mayo. Oh my soul….
WEBSITE | 2701 Manor Rd
Franklin BBQ
This is the BBQ place that needs to introduction. With COVID measure in place, you can order online and pick up your brisket and sausage through their easy curbside system. Getting your world famous bbq fix has never been easier.
WEBSITE | 900 E 11th St
---
---
Homeslice Pizza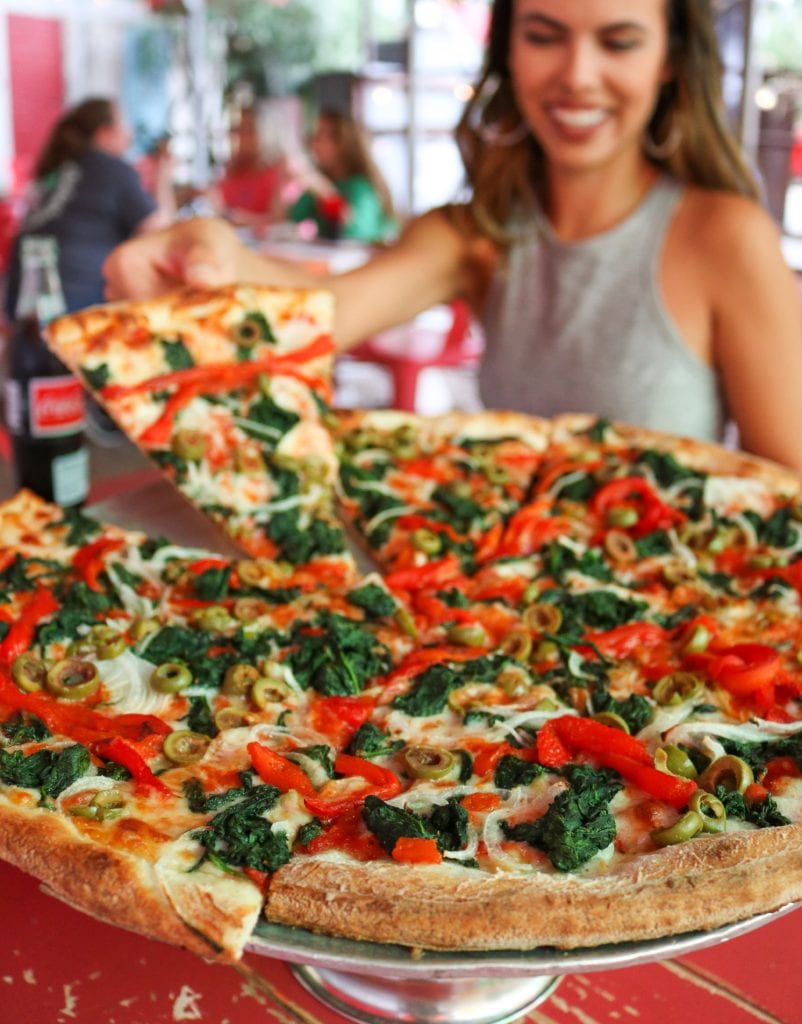 Homeslice Pizza has won the hearts of Austinites with its catchy name, friendly service, and authentic slices of New York pizza. They have two locations (north and South Austin) which both feature dine-in and walk-up window options.
WEBSITE | two locations 
Spicy Boys
Seriously some of the most amazing fried chicken sandwiches and wings that you'll find in Austin! I'm a sucker for their OG Sandwich with thai basil ranch and papaya relish, paired with a side of roti and panang curry. Two locations, and each one is parked at an Austin craft brewery: Zilker Brewing on the east side, and St Elmo Brewery in south Austin. WEBSITE | 440 E St Elmo Rd g2 or 1701 E 6th St
Ramen Tatsu-ya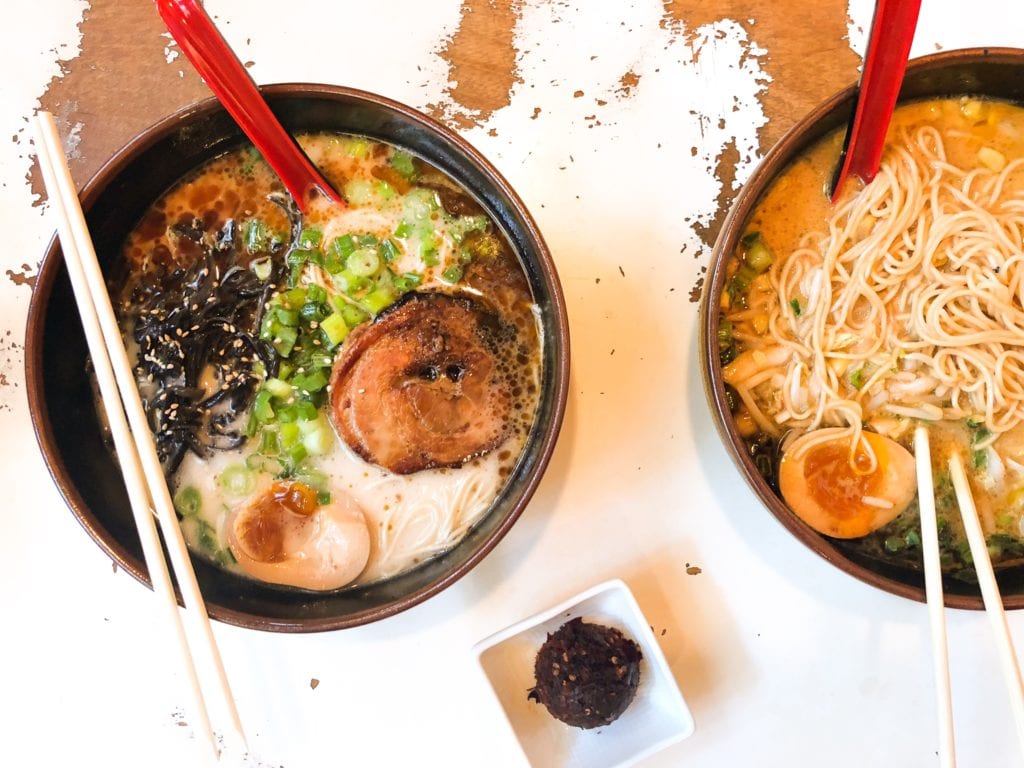 The line out the door at any one of their locations indicates Austin's obsessions with this hearty Japanese comfort food. Ramen Tatsu-ya is the KING of ramen in Austin. If you're new to ramen and don't know where to start on the menu, the tonkotsu original (#1 on the menu) is their specialty. Start from there and then branch out to try other soups.
WEBSITE | multiple locations
Via 313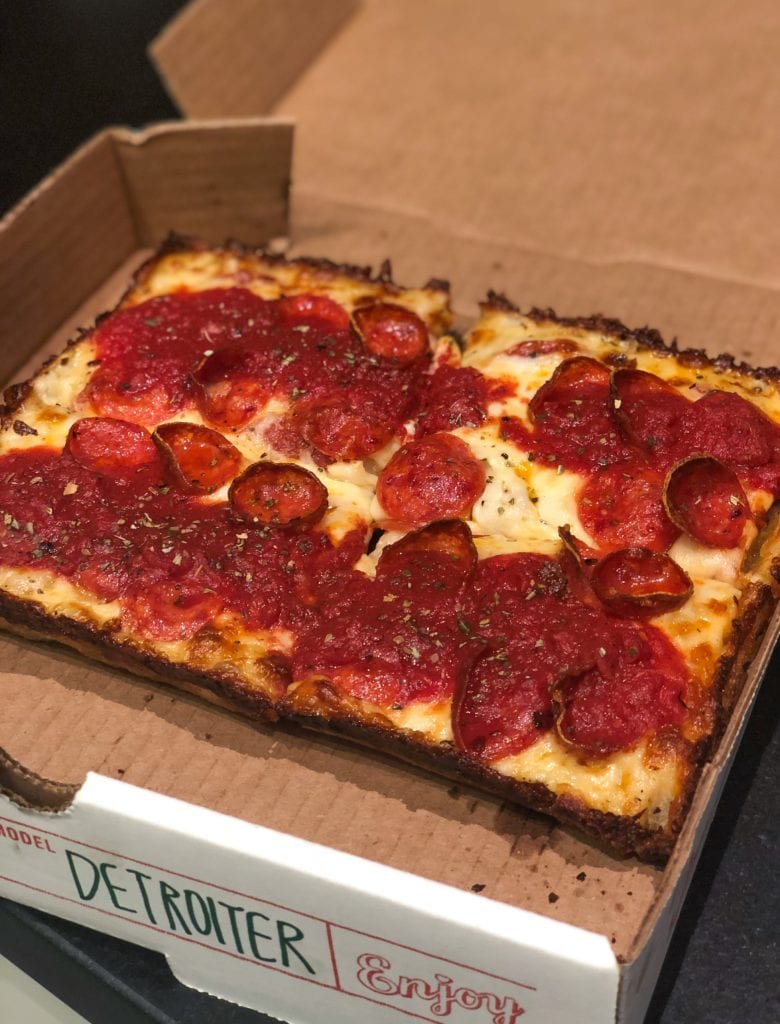 I called it my favorite pizza in Austin after trying nearly every pizza in the city, and that's because Via 313's Detroit-style deep dish rectangular pies are so unique (and addicting!) The crust is crunchy on the outside soft and fluffy on the inside, and covered with cheese, toppings, and then sauce on top.
WEBSITE | multiple locations
---
---
Artipasta
I wrote all about this food truck here. It's phenomenal handmade pasta that is totally worth the carb intake. Artipasta is located inside The Thicket food truck park, which has lots of shade, picnic tables, and even a playscape for the kiddos!
WEBSITE | 7800 S 1st St
Haymaker
Haymaker has regionally inspired comfort sandwiches, beer, and poutine in a fun indoor/outdoor East Austin hangout spot. Oh, and there are lots of TVs in case there's a lunchtime sporting event you're trying to catch.
WEBSITE | 2310 Manor Rd
Banger's Sausage House & Beer Garden
The tap list at this place is pretty darn impressive, but even if you're not drinking during lunch, Banger's is an awesome place to stop by and grab one of their many sausage options. Choose from the basic (andouille or bratwurst) to the exotic (rabbit and mushroom or smoked wild boar.)
WEBSITE | 79 Rainey St
---
This post is part of the Austin Food Bloggers Alliance City Guide! To see more guides to the ATX food scene, click here.