Lucky us! New Years Day 2017 falls on a Sunday, which is also the day of Austin's favorite meal of the week.
Sundays are made for indulging in fresh-squeezed mimosas, runny egg yolks, and crispy bacon. I LOVE LOVE LOVE brunch in Austin! There are a trillion great options and it's a little overwhelming to decide, so I've narrowed it down to some of my favorites in case you're in the same boat as me: struggling to choose just one brunch spot for New Years Day!
FOR THE NYE OVER-IMBIBER
Some of us might have discovered eggnog a little later in life than others, and now we can't. get. enough. In case you need a little help soaking up that good time you had on NYE, Banger's Big Band Brunch is your place. Banger's is a classic Austin hot-spot for brunch on Rainey Street, so plan on getting there early or having a bit of a wait time. But no worries! While you're waiting for a table, you can start off with The Manmosa (1 liter of champagne and orange juice…) and then move on to one of their calorie-dense (and happiness-dense) brunch entrees. Note: if you're starting a new diet on New Years Day, this place is probably not for you…
Brunch Hours: Sunday 8AM-4PM
Reservations NOT Available
Banger's Sausage House and Beer Garden, 79 & 81 Rainey Street, Austin TX 78701
_________________________
FOR THE HIPSTER WANNABE
One of my all-time favorite Austin restaurants, Odd Duck, is nearly into its fourth year on the S. Lamar location. (….I just went there a few weeks ago and the food is out-of-this-world delicious and oh so photogenic! The brain child of Bryce Gilmore, Odd Duck is the sister restaurant to Gilmore's first restaurant Barley Swine (<-….psst, Barley Swine…I'm still hoping for you to introduce a Sunday brunch soon!)
Odd Ducks' farm-to-table concept means that their food is locally sourced and as fresh as can be! I promise you'll feel about 28% cooler by walking into this adorable, rustic restaurant with mis-matched plates and cutlery and unique lamps hanging from the ceiling. The menu is constantly evolving based on what's in season, but every dish I've tasted has been creative, satisfying, and beautifully instagram-worthy. Because we all know how important that is. *wink*
Brunch Hours: Sunday 10:30AM-2:30PM
Reservations Available
Odd Duck, 1201 S. Lamar Blvd, Austin TX 78704
____________________________________
FOR THE BRUNCH DATE
If you plan on a New Years Day brunch date, Épicerie, a north Austin French-American restaurant and grocery store, is your place! It's small and intimate, perfect for just two or three people to gather for a croque madam or eggs benedict. Be sure to peruse the shelves to look at their adorable gourmet grocery items.
Brunch Hours: Sunday 10:30AM-3PM
Reservations NOT Available
Épicerie Cafe and Grocery, 2307 Hancock Drive, Austin TX 78756
______________________________________________
FOR THE MEAT-LESS BRUNCHER
This adorable vegetarian cafe on S. First Street is a popular spot for meat lovers and vegetarians alike. The menu items are stated simply: Predictable Breakfast. The Basic Taco. But everything is well-prepared, satisfying, and fairly health-conscious if you'd like to kick off the new year with a healthy start!
Brunch Hours: Sunday, 8AM-Midnight
Reservations NOT Available
Bouldin Creek Cafe, 1900 S First Street, Austin TX 78704
_______________________________________
FOR THE BOTTOMLESS PIT
If you consider yourself a brunch pro and think you can handle an all-you-can-eat buffet, make reservations at Jack Allens Kitchen for New Years Day brunch! This brunch is not for the faint of heart; here's a list of some of the items you'll find in the buffet line. Basically, think all things Texas: chicken fried steak, migas, mama's sunday chicken, and jalepeno sausage. I love this place, and as someone who is constantly guilty of my eyes being bigger than my stomach, I always fill my plate with more than I can finish…
Brunch Hours (buffet only): Sunday, 10AM-2PM
Reservations Available
Three locations: see JackAllensKitchen.com/locations
_____________________________________
FOR THE FOOD TRUCK LOVER
This little food truck serves, well… biscuits and gravy (duh). But these aren't your typical biscuits and gravy! With names like The Aretha Franklin, The M.C. Hammer, and The Johnny Hash, just looking at the menu is a good time. (But you should eat the food, too…). Food is made to order, so there's sometimes a (worthwhile!) wait on the weekends.
Brunch Hours: Sunday 8:30AM-2PM
Food Truck; No Reservations
Two Locations at Hyde Park and Barton Springs: see iwantbiscuits.com/location
_________________________________
IF YOU'RE CRAVING ITALIAN
This new Italian hot-spot off of Airport Blvd boasts an impressive menu of pastries, snacks, and large plates, as well as some lovely breakfast cocktails (spiced cider mimosa? yummm!!). Find a friend who will go halvsies so you can try more plates, because everything looks delicious! (I'm looking' at you, French Toast Sticks with Dulce de Leche and Lemon Curd). Chef Tedesco's previous experience includes Roberta's, Bufalina, and Franklin's BBQ (<- ever heard of it?!). Reservations are pretty tight here, squeeze something in ASAP if this is your brunch spot!
Brunch Hours: 10AM-2PM
Reservations Available
L'Oca d'Oro, 1900 Sigmond Ave, Austin TX 78723
_________________________________
FOR A BRIGHT AND AIRY DOWNTOWN CAFE
This pretty little downtown cafe on San Jac would be a lovely place to brunch on the first day of the year! Their current coffee roaster is Sightglass Coffee Roasters from San Francisco, and their menu is full of lots of classic and well-made staples like Avocado Toast, Pork Belly Hash, and Eggs Benedict. When I'm describing Forthwright to someone, I say that it's "good, typical, well-prepared brunch food." There's nothing extraordinary or flashy about it; it's just quality, comfortable, and, although it's new right now, it has the potential to be a timeless Austin brunch spot.
Brunch Hours: 9AM-3PM
Reservations Available
Forthwright Cafe, 98 San Jacinto Blvd, Austin TX 78701
______________________________________
IF YOU WANT MY VERY FAVORITE AUSTIN BRUNCH SPOT…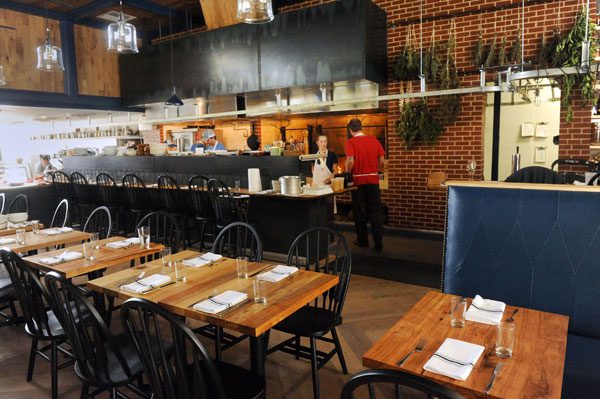 I love love love Dai Due! They're also a butcher shop, so if you're a meat eater, go to town on the venison breakfast sausage! This is another rotating menu, due to what's available, but there are a couple classics that are always around. The biscuits, which are warmed over an open flame, have a hearty, smoky flavor. They're so good with Dai Due's homemade jam!
In case the New Years Day reservation list is full before you have a chance to book, you're in luck! Dai Due offers breakfast every day of the week (holla!) from 10AM-3PM
Brunch Hours: Sunday 10AM-3PM
Reservations Available
Dai Due, 2406 Manor Rd, Austin TX 78722
________________________________
What do you think? Where are you headed for brunch on the first day of 2017? I'd love to hear of your favorite Austin brunch spots!
Hope your Christmas weekend is all kinds of merry and bright. I'll be spending it with my big ol' family, making cinnamon rolls and eggnog and decorating cookies up in Dallas!
Love,
Kelsey