[vessel-campaign id="136″]

I'm sharing a giant round up of the best happy hours in downtown Austin!
Downtown Austin is expanding at a rapid rate. The skyline is full of cranes and new residential skyscrapers. As the downtown population has been booming, the restaurants scene is growing, too. Instead of just being a fun place to grab drinks before a concert, downtown is now home to thousands of people who want to head out the front door and walk down the street to enjoy an epic happy hour at amazing restaurants.
Looking for more happy hours in Austin? Check these out:
Here are some of my favorite happy hours in downtown Austin!
---
Best Austin Happy Hours: Downtown

North Italia's second Austin location (the first was at The Domain) has prime real estate on 2nd Street downtown. The stunning interior makes this one of my favorite recommendations for folks who want scrumptious Italian food and the prettiest place to eat it!
Happy hour: Mon-Thur, 3-6 pm
-$5 glasses of wine
-$16 bottles/pitchers
-$4 beer
-$8 pizza, $10 chef's board, $3 zucca chips, $5 bruschetta
---
---
Modern Mexican meets Austin, Texas… Michael Hsu (the same architect who designed the stunning South Congress Hotel) is responsible for the gorgeous space here, and no detail went unnoticed. The food is a bit expensive, which is why I love perching at the bar with a girlfriend and enjoying some discounted bites and drinks during their 2 hour happy hour.
Happy hour: 4:30-6:30 pm daily on the patio/bar
-$3 off cocktail, wine, and beer
-$4 off select menu items
---
It's funky and fresh and one of the easiest places to hang out. Irene's offers free popcorn during happy hour, so literally any budget can handle this one!
Happy hour: Mon-Sat, 3-6:30 pm, Sun, 10 am – 2 am
-free popcorn
-$2 off all snacks
-$1 off draft beers
-$4 house spirits
---
---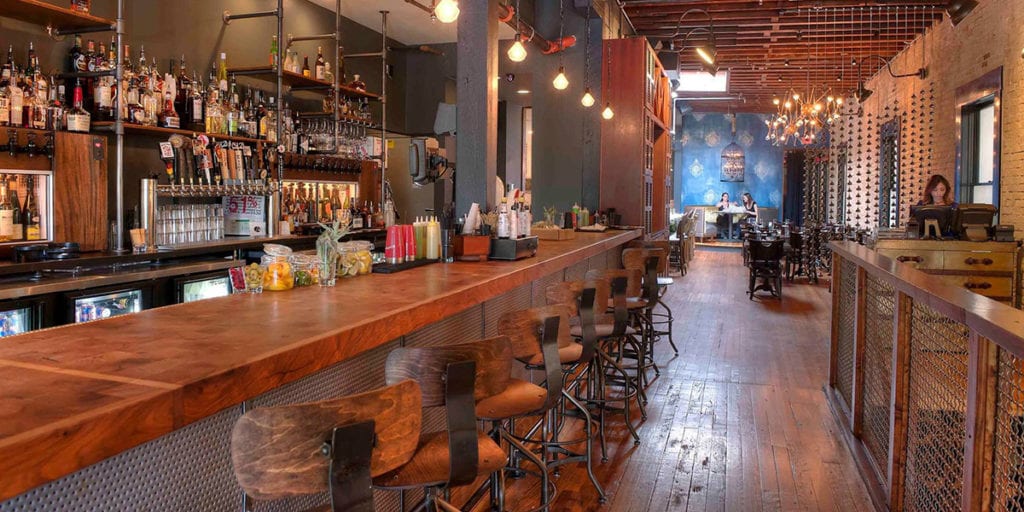 You can load up on treats at Swift's Attic's happy hour and call it a meal! They specialize in farm-to-table, modern American small plates, which just so happen to create the perfect happy hour experience.
Happy hour: mon-fri 2-6:30 in the bar/lounge
-$6-$8 specialty cocktails, $4 cocktail of the day
-$5 select wines
-$2 miller lights and mickey's
-discounted select drafts
-a bunch of snacks for $5-10
---
Red Ash wins for being one of the best "bang for your buck" happy hours downtown. The "small pastas" are actually quite large, so you can call it an early dinner; the only trick is snagging a spot at the bar. Plan on arriving early.
Happy Hour: 4:30-6:30 pm daily at bar only
-$2 off all cocktails, beer, and wine by the glass
-$9 appetizers
-$7 salads
-$8 small pastas
---

Academia's collegiate theme is reflected in their name, decor and drinks…but the cocktails themselves are lots of the classics that you already know and love, like a French 75, Moscow Mule, and Dark & Stormy.
Happy Hour: every day, 5-8 pm
– $6 classic cocktails
– $5 highballs
---
Italic is another option that's GREAT when you're really hungry at happy hour! They offer half price pizzas and half price bottles of wine until 6:30.
Happy Hour: Mon-Fri 2:30-6:30 pm
– $10 pies
– $5 glasses of select wine
– $5 select cocktails
– $5 select beers
---
Parkside is one of the only places I'll go on 6th street, haha! It's a great little restaurant with some amazing food deals. Parkside offers one of the best happy hours downtown, but only for 1 hour! Enjoy half price all of the food on the menu.
Happy hour: every day from 5-6 pm
– half off all cocktails, beer, wine, and bubbles by the glass
– half off full priced food menu items
---
This is hands down my favorite southern food restaurant in Austin! The plates are quite a steal: enjoy Smoked Trout Dip, Deviled Eggs, and even the Fixe Burger for just $8. And if you haven't tried the biscuits at Fixe, it's worth ordering them even thought they're not on happy hour.
Happy Hour: Mon-Sat, 4:30-7 pm, Sunday, 2 pm – close, bar/lounge/patio only
– $7 cocktails
– $8 plates
– $9 reserve wines
– $10 plates
---
Everything is just $3 at Easy Tiger's weekday happy hour. The outdoor patio, which overlooks Waller Creek, is the perfect place to hang out with friends, play ping pong, and enjoy a beer in the late afternoon.
Happy Hour: Mon-Fri, 4:30-6:30 pm
– $3 Any Sausage Link
– $3 Small Pretzel & Beer Cheese
– $3 off Antonelli's Cheese Plate
– $3 Old Fashioned
– $3 Easy 76
– $3 Easy Shandy
– $3 Select Local Draft Beers
---
11. Fareground
This giant gourmet food hall in downtown Austin has one of the best happy hours around! Enjoy discounted bites from several of Austin's hottest restaurants like Henbit (from the Emmer & Rye team), Dai Due, and Easy Tiger!
Happy Hour: Mon-Fri 3-6 pm
– $4 local drafts
– $5 wine
– $5 cocktails
– discounted bites at food vendors
---
12. Le Politique
This downtown French restaurant from the New Waterloo is an absolutely stunning place to enjoy yourself at any hour of the day. I love dining here for Sunday brunch or a Friday night date night, but if you'd rather try some small bites, grab a coffee and chocolate croissant from the patisserie in the morning, or enjoy a glass of bubbly and some oysters during happy hour.
Happy Hour: Mon – Fri, 3-6 pm
– Half-off house cocktails, beer and wine
– 25% off fruits de mer
---
Looking for more happy hours? Check out part 1 of the Best Austin Happy Hours series:
SaveSave
SaveSave
SaveSave
SaveSave