What do you do on a rainy day in Austin? We're lucky to get 228 sunny days a year here in beautiful ATX, but if it's one of those rare rainy days, here are the 23 best things to do on a rainy day in Austin, Texas! If you have visitors in town for the weekend and you want some fun, indoor activities, here are a bunch of ideas so you can still have a great time in ATX despite the cloudy skies.
Want my free 3-day guide to Austin? Click here for an immediate download!
---
23 Best Things To Do On A Rainy Day in Austin
1. Check out a new coffee shop
There are so many darling coffee shops in Austin, Texas! When it's rainy outside, grab a friend (or a laptop, or a book, or a notebook and paper) and explore a new coffee shop! Here are 24 fun coffee shops in Austin that are worth a visit.
2. Catch a movie at Violet Crown
Violet Crown is an indie movie theater downtown that has an adjacent restaurant/bar. Order some food and craft beer and bring it to your seat for dinner + a movie.
Bonus: the parking garage is attached to the building, so you don't even have to walk outside to get from your car to the theater! They validate parking during the movie…free downtown Austin parking is a huge win! |WEBSITE|
3. Play indoor mini golf at Punch Bowl Social
Indoor mini golf, bowling, arcade, karaoke, happy hour…this place has it all, and it's all indoors! One of my favorite things to do on a rainy day in Austin is to get some food and drinks and enjoy a fun afternoon at Punch Bowl Social! They have two locations, but check their website to see which ones are currently open due to the pandemic. WEBSITE
4. Explore Wonderspaces

Wonderspaces is an interactive art exhibit in north Austin. (Think: mirrors, hanging twinkle lights, etc.) Super cool spot to wander for about an hour! |WEBSITE| photo via wonderspaces
5. Get tickets to the Bullock Texas State History Museum
Seriously, when was the last time you went here that wasn't for a 5th grade field trip? There's something magical about exploring the museums that you went to as a child and seeing them with fresh eyes. (Or maybe you didn't grow up in Texas and this museum is new to you! Either way, worth a visit.) |WEBSITE|
6. Spend an afternoon at the Downtown Central Library

*COVID-19 Update: the downtown central library is currently curbside pickup only, but is expected to open for indoor use soon. I know, I know…spending a day at the library might not sound all that exciting. But Austin's new library is a 200,000 square foot design gem that overlooks Lady Bird Lake, and it has a restaurant, technology petting zoo, half a million books, a 37-foot-tall clock, and a rooftop garden. This is an easy place to spend several hours. |WEBSITE|
7. Take a brewery tour
There are dozens of breweries in Austin that offer tours and tastings. A few favorites: ABGB, St. Elmo, Hops and Grain, Zilker Brewing, and Lazarus. If you can't find a brewery tour on your rainy day in Austin, just check out a new brewery, try a flight, and hang out with your friends indoors for a few hours! (Tip: bring a card game!) Here are 22 craft breweries in Austin.
8. Get your retail therapy on at Barton Creek Mall
While The Domain in north Austin is definitely theee shopping destination in Austin, it's an outdoor mall which means you'll have to duck out into the rain between shops. Barton Creek Mall in South Austin, while slightly older, is an indoor mall with an excellent collection of shops for a few hours of rainy day fun in Austin. Bonus: you and your shopping bags won't get soaked. |WEBSITE|
9. Taste Texas wine at Infinite Monkey Theorem Urban Winery
*COVID-19 Update: Infinite Monkey Theorem is temporarily closed. Check out The Austin Winery, another great indoor urban winery in Austin.
Everything about Infinite Monkey Theorem makes me happy. The industrial vibes are balanced by delicate vintage furniture, and all sorts of funky graffiti covers the walls. IMT imports their grapes from all over Texas but makes the wine right there on South Congress.
Sip and savor your way through the wine offerings, or ask to set up a guided tasting. WEBSITE
10. Thinkery
Thinkery is an exceptional kids museum. I've brought kids here before, and we had so much fun! Check out their programs to see what's currently available. There toddler-friendly days, adult-only evenings, and camps for kiddos. WEBSITE
11. Shop at Whole Foods and Try A New Recipe
When was the last time you cooked something completely new and adventurous? Go shopping at the epic downtown flagship Whole Foods (bonus: the underground parking garage is connected to the grocery store, so you don't ever have to walk outside in the rain with your groceries), explore all of the artisanal delicacies, and take your goodies home to cook up something new!
(And if the recipe flops? Well, Whole Foods has an entire prepared foods section for that.. )
12. Go for bowling + burgers at Highland Lanes
I absolutely adore this bowling alley in north Austin! Plenty of open lanes, great prices, and Lebowski's Grill for some killer burgers + tots. |WEBSITE| Psst: their burger ranks highly on my list of the best burgers in Austin!
13. Hit up a skating rink
If you can't remember the last time you went skating, it's been too long! |WEBSITE|
14. Games, Drinks, and Food at Bishop Cidercade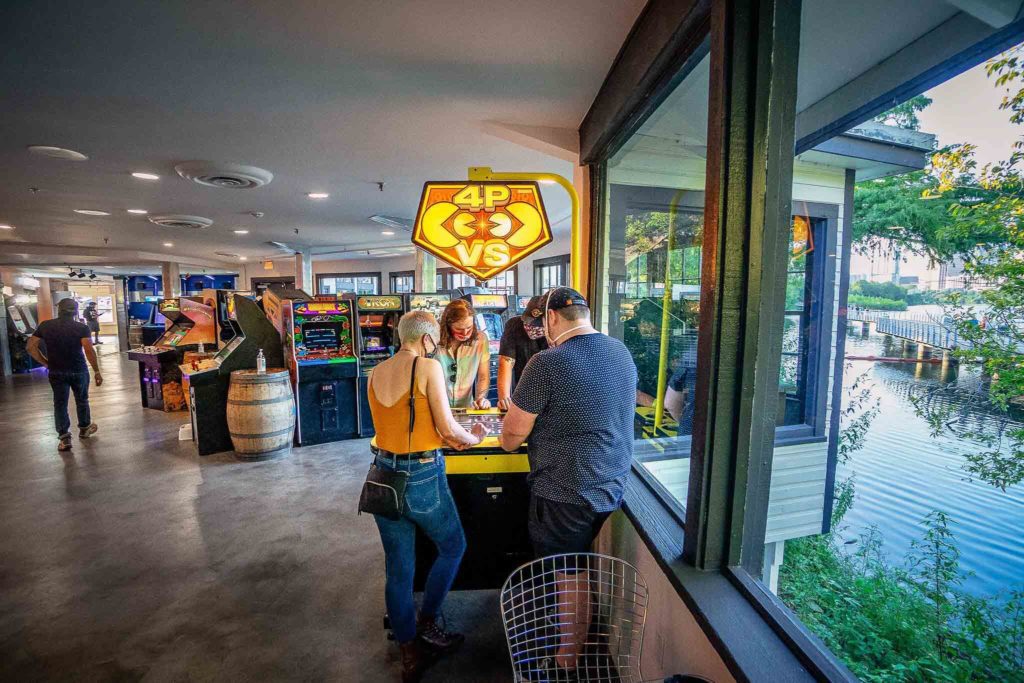 Take out-of-towners to Bishop Cidercade for a fun afternoon of arcade games and drinks! It's located right on Lady Bird Lake, so you'll get a view of downtown Austin from the patio. |WEBSITE| photo via Bishop Cidercade
15. See a show at the Zach Theater
It's one of the 10 oldest theater companies in America! Zach theater offers a variety of plays and musicals for adults and children. Check their schedule to see if your rainy day in Austin coincides with one of their shows.
|WEBSITE| photo via zach theater
16. Slurp some ramen at Ramen Tatsu-ya
Listen y'all…there's no better rainy day food than a big hot bowl of noodles. The owners of Ramen Tatsu-ya say that the best way to enjoy ramen is by slurping it. Slurp away, my friend! |WEBSITE|
17. Discover your next favorite book at Bookpeople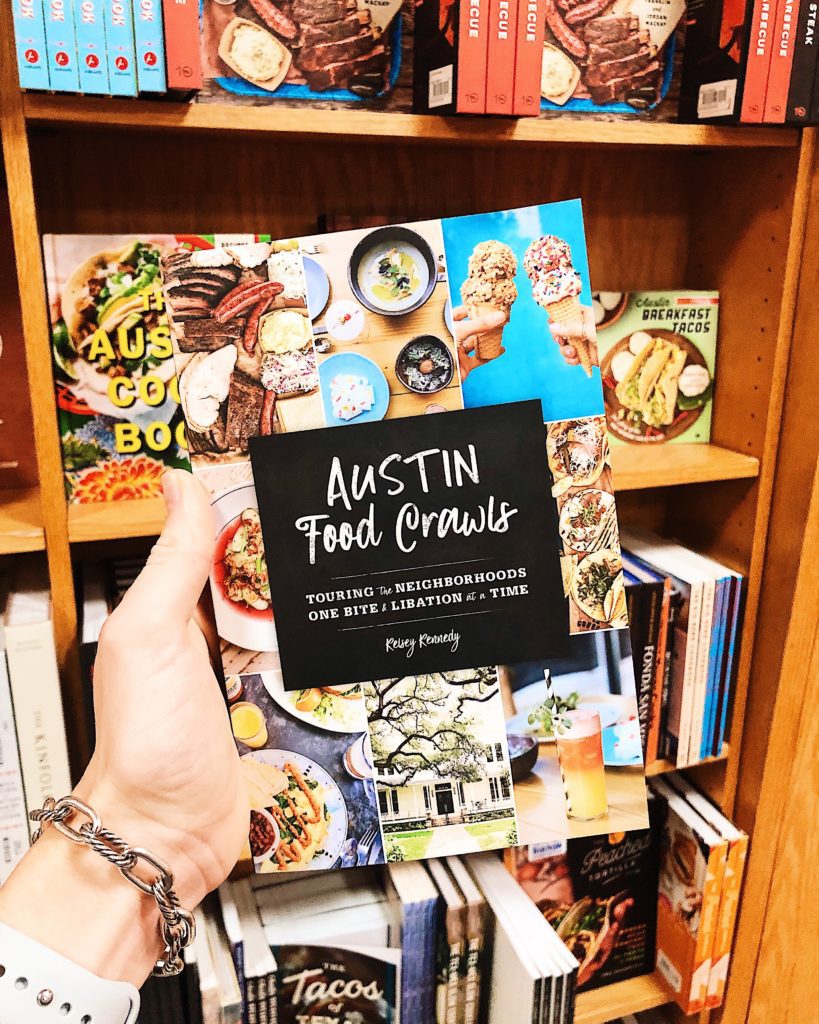 Look for my book, Austin Food Crawls, on the shelves of Texas's largest independent book store! I've spent many rainy afternoons in Austin browsing the shelves at BookPeople. After you find your next new favorite book, enjoy reading it with a hot chocolate in the cafe downstairs. WEBSITE
18. Sing your heart out at Austin Karaoke
Private rooms and incredible sound systems. What's your go-to karaoke song?
19. Experience Art at The Blanton Museum
Explore 18,000 works of art at The Blanton Museum of Art at The University of Texas. Pssst: admission is always free on Thursdays! WEBSITE
20. Go underground at Inner Space Cavern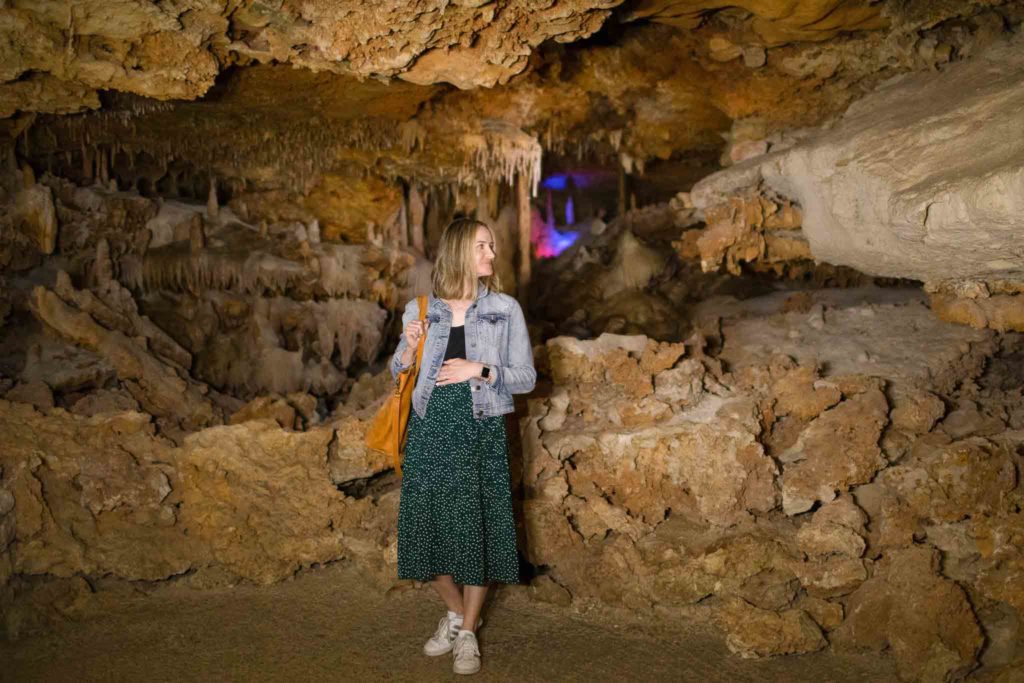 This 25 million year old cave in Texas is a great rainy day idea in Austin, because it's always open and always covered. Tours are available daily and take about 1.5 hours. When you're done, head to one of these amazing restaurants in Georgetown! |WEBSITE|
21. Play vintage arcade games at Pinballz
The original Pinballz arcade in north Austin is a great place to spend a rainy day in Austin. Eat, drink, play, and bring the whole family to this fun Austin arcade. Note that there are three locations, including one in Buda. |WEBSITE|
22. Paint and drink wine at Cafe Monet
Select a piece of pottery (they range from $10-75), and a trained artist will teach you the basics of painting technique. Cafe Monet is BYOB, and we all know that everything is more fun with a glass of wine in hand. |WEBSITE|
23. Learn aerial arts at Sky Candy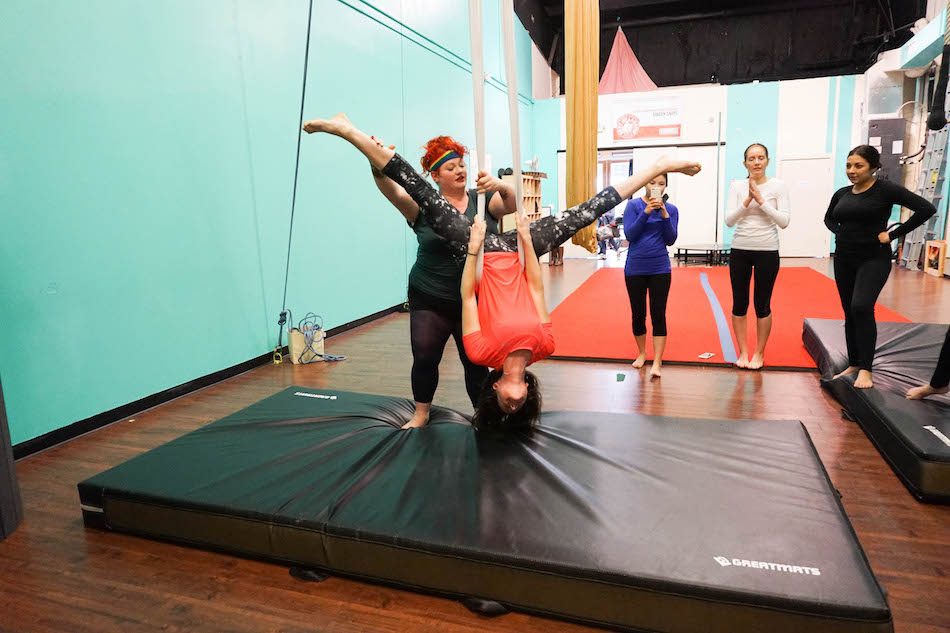 Ever wanted to learn how fly through the air on a trapeze, silks, or hammock? I took an hour-long class at Sky Candy, and while I can't say I learned how to soar elegantly through the air in 60 minutes, I had a lot of fun and worked up a sweat! |WEBSITE| photo via fearless captivations
---