Welcome to ATX!
There are a million awesome ways you could spend your time here, but I'm going to simplify things for you and list the top 10 things to do in Austin Texas that I think EVERYONE should experience! From Texasbarbecue to visiting famous murals to boating on Lake Travis, there are so many fun things to do in ATX.
Read on for the top 10 things to do in Austin Texas!
---
1. Spend Time at Lady Bird Lake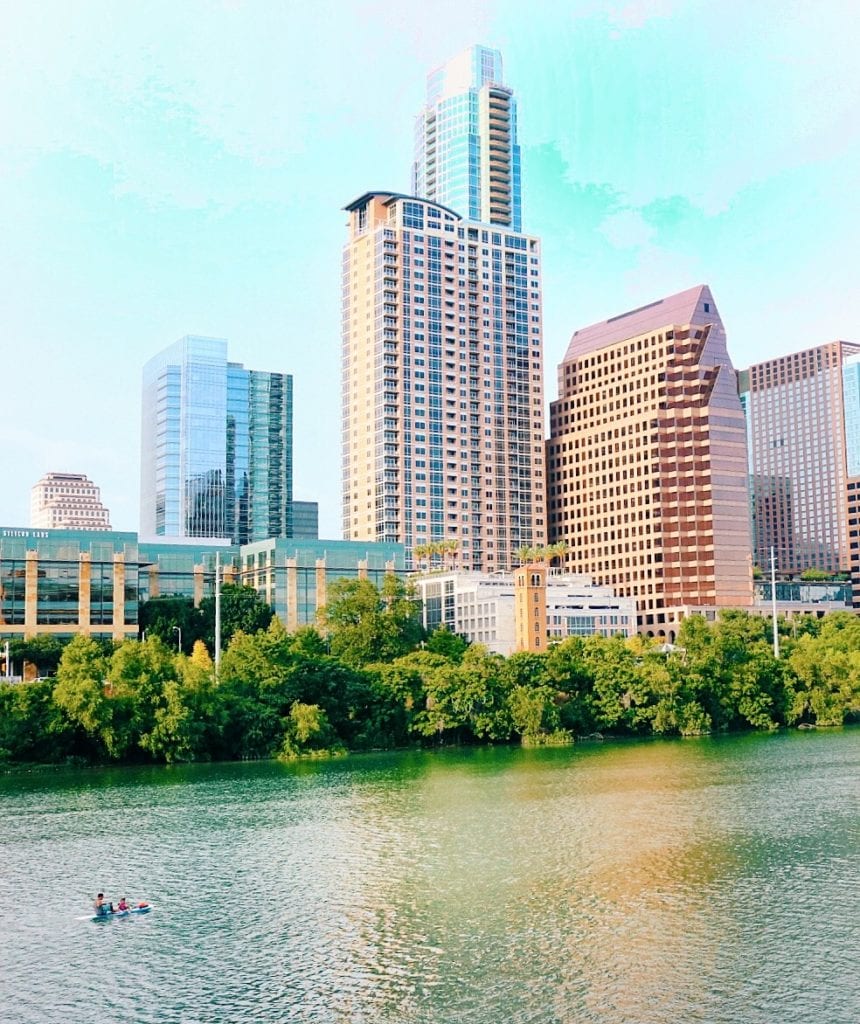 We're fortunate to have a body of water right in the middle of the city! (Granted, no one is quite sure if it's a lake or a river or what to call it….Lady Bird? Town Lake? The Colorado River? Whatever.)
Rent a kayak or SUP, walk or bike around the Hike and Bike Trail, or bring your pup to the off-leash dog park!
---
---
2. Eat Texas Barbecue
DO NOT take a trip to Austin without eating authentic Texas barbecue. Austin is one of the best barbecue cities in the country, y'all! The list of exceptional barbecue joints just keeps getting longer and longer and longer… Here are a few ideas to help you get started with your barbecue journey:
---
3. Go See A Concert
Welcome to the Live Music Capital of the world! The concert options are pretty endless, but here are a few ideas to get you started:
---
4. Walk Around SoCo
This is the biggest tourist street in Austin, but it's no tourist trap. SoCo is actually a really cool place to shop, eat, and take photos. There are a lot of fantastic restaurants, coffee shops, and bars, and some of the most famous murals in Austin are here!
Click here for The Ultimate Guide to South Congress!
(And if you want to avoid the crowds and walk around SoCo's "younger sister" street a few blocks away, click here to read about where to eat on South First Street.)
---
---
5. Swim at Barton Springs Pool
Good news – Austin has summer weather for about 75% of the year, so you can visit naturally spring-fed Barton Springs Pool from about April – November and enjoy those cold 68 degree temps!
---
6. Rent a Boat at Lake Travis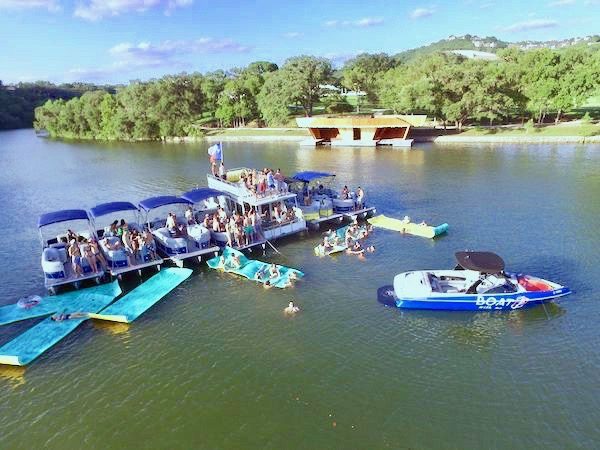 Who knew that a landlocked city could have so many great water activities, right? The guys at Float On give the BEST customer service in Austin (seriously, they're number 1 on Yelp…go check!), so this is where you'll want to rent.
If you're in Austin for a bachelor/bachelorette party, a family gathering, or you're just looking for a unique weekend activity, Float On offers boats for up to 12 people + captain. Lather on some sunscreen, fill up a cooler with your favorite beverages, and get ready to enjoy that Austin sunshine!
---
7. Visit The Downtown Public Library
Time Magazine called it one of the Top 100 World's Greatest Places in 2018. This modern $125 million structure features a floating staircase, rooftop butterfly garden, 3D printer, laptop vending machine, coffee shop and restaurant. Whether you need a quiet place to sit and read/work, or you just want to walk through to say you've been, there are a kazillion insta-worthy spots in this library!
---
8. Go On A Food Tour
The food scene in Austin is a bit overwhelming… If you're not sure where to start, sign up for a food tour with Austin Eats Food Tours. They're the BEST at scoping out the latest and greatest restaurants, their tour guides are fantastic (and hilarious), and they drive you around in a luxurious charter bus so you don't have to mess with traffic or parking.
Click here to read all about that time I went on their brunch tour!
---
9. See the bats (May-Oct)
Alright my friends…this is only available from May-Oct, so don't waste your time standing on the Congress "bat" bridge to watch these critters fly if you're not in Austin in the summertime.
But if you are lucky enough to see them, it's quite the show! 1.5 million Mexican free-tailed Bats emerge at dusk to go on a nighttime feeding frenzy. This is the largest urban bat colony in North America!
---
10. Bar hop on Rainey Street
Granted, there are lots of places to bar hop in Austin. Dirty Sixth is for the rowdy college party crowd, east Sixth is great for more sophisticated bars, and North Austin has an amazing brewery district, but Rainey is where I always send out-of-town guests.
It's a historic district made up of renovated bungalows that have been turned into themed bars. As the quiet neighborhood street has turned into one of the hottest nightlife scenes in the country, big residential towers have started popping up, too. This means that there a funky mix of new and old architecture and about a gazillion places to eat and drinks. Here are my top picks for Rainey Street.
---
That should get you started, but there are obviously TONS of other things to do in Austin! Head to my Austin Index to type in your own search. And here are a few more ideas to get you going:
THINGS TO DO IN AUSTIN
23 Best Things To Do In Austin On A Rainy Day
The Ultimate Austin Bucket List
STUFF TO EAT IN AUSTIN
101 Ways To Ruin Your Diet In Austin This Summer
The Ultimate Guide To The Best Cookies In Austin
24 Tried-And-True Brunch Spots In Austin For Your Bucket List
16 Food Trucks You Have To Try in Austin Texas
21 Best Date Night Restaurants in Austin Texas
PLACES TO DRINK IN AUSTIN
24 Coffee Shops You Should Try In Austin
8 Best Cocktail Bars in Austin Texas
---
Liked this post? Pin it!