Hey there, and happy Monday! Today I'm sharing the fourth and final post of our honeymoon in Spain: SEVILLE!  If you missed any of the other honeymoon recaps and want to check them out, here they are:
We drove our rental car from San Sebastian down to Madrid, then hopped on a high-speed train that brought us to Seville. After a quick cab ride to our Airbnb, Nate and I went out at about 11:00 pm for dinner. If Spanish culture didn't have such a late dinner, I'm not sure what we would have done… Probably gone to McDonald's! But the streets near our apartment were still busting and the restaurants were open late, even on a week night. Here are a few details from our trip:
---
STAY
The main part of the city is small and walkable, so there weren't a lot of options to choose from for our lodging locations. Nate and I ended up staying in this lovely little apartment. It was walking distance from lots of restaurants, bars, and tourism spots we wanted to check out. Loved it! It had this adorable little balcony where we'd sit outside and drink wine. One day for lunch, we went to a specialty food shop downstairs, got some bread and cheese, and called that a meal! Isn't vacation the best?
---
EAT
Paseo de las Delicias, 3
Seville, Spain 41001
Every morning started with a flat white or a pour over from Torch Coffee Roasters. We loved this place and sometimes went twice a day, so they recognized us there by day two…no surprise! It's a charming shop with ample seating in an accessible location. The bright and airy shop also has free wifi (for one hour) that lends itself to a lazy, relaxed morning.
---
Calle Zaragoza, 16, 41001 Sevilla, Spain
I take my ice cream quite seriously on European vacations, and after a few days of sampling cones from around the city, I declared La Fiorentina my favorite. There was typically a line, which is always a good sign to me of quality ice cream.
---
Calle Hernando Colón, 8, 41004 Sevilla, Spain
This is a fun little bar and restaurant that was around the corner from our apartment. We stopped in on our very first night in Seville, tired and hungry from a long day of traveling through Spain. The vibe is lively, the food is tasty and fast, and the drink selection is good. When the waiters bring you your check, they provide small vials full of limoncello for a sweet shot before you head out the door.
---
Paseo de las Delicias, 1, 41013 Sevilla, Spain
We stopped into this Michelin ranked restaurant for lunch on a Monday afternoon. The decor is beautiful, almost with a French/Vietnamese appearance. We only ordered tapas and enjoyed sharing bites of squid, sliders, a cheese plate, and a few glasses of vino. Cheers!
---
Calle Albareda, 2, 41001 Sevilla, Spain
Casa La Viuda had the best Iberian ham we tasted the entire trip, among other things, of course. We ate here for dinner one night and had plate after plate of grilled seafood snacks. Nate noted that the earlier dinner crowd (7-8 pm) was mostly Americans, while the 10:00 dinner crowd was more locals. Not a big surprise!
---
Pl. de S. Lorenzo, 1, 41002 Sevilla, Spain
We travelled in Spain for over two weeks, and I never grew used to the great quality and amount of food we were able to get for so little cost! This Michelin-ranked restaurant was definitely our favorite meal from our time in Seville. We ordered an entire bottle of Crianza, indulged in course after course of decadent food, and still barely hit the triple digits for our bill. Everything was cleverly served. I couldn't wait for each new course to come out, not just so I could taste it, but also so that I could see what sort of serving vessel they'd provide next.
---
DO
Go to the observation deck of the Metropol Parasol: I'm listing this first because, as mundane as it might seem, it was my favorite thing we saw in Seville. These 6 giant "mushrooms" are made of wood and were open to the public in 2011 after a lengthy (and quite pricey) construction period. I love how it felt like walking around on roller coaster tracks with all the hills and turns. And the views weren't too bad, either.
Visit the Alcazar of Seville: This is a UNESCO World Heritage Site was developed by the Moorish Muslim kings in the 1300s, and parts of it are still used by the royal family as the Official Seville  residence. We paid for the audio guide, but it wasn't all that helpful. It was pretty lengthy and dull without much practical information. Unless you're a history buff, I'd skip the audio guide and just google the main facts before you go.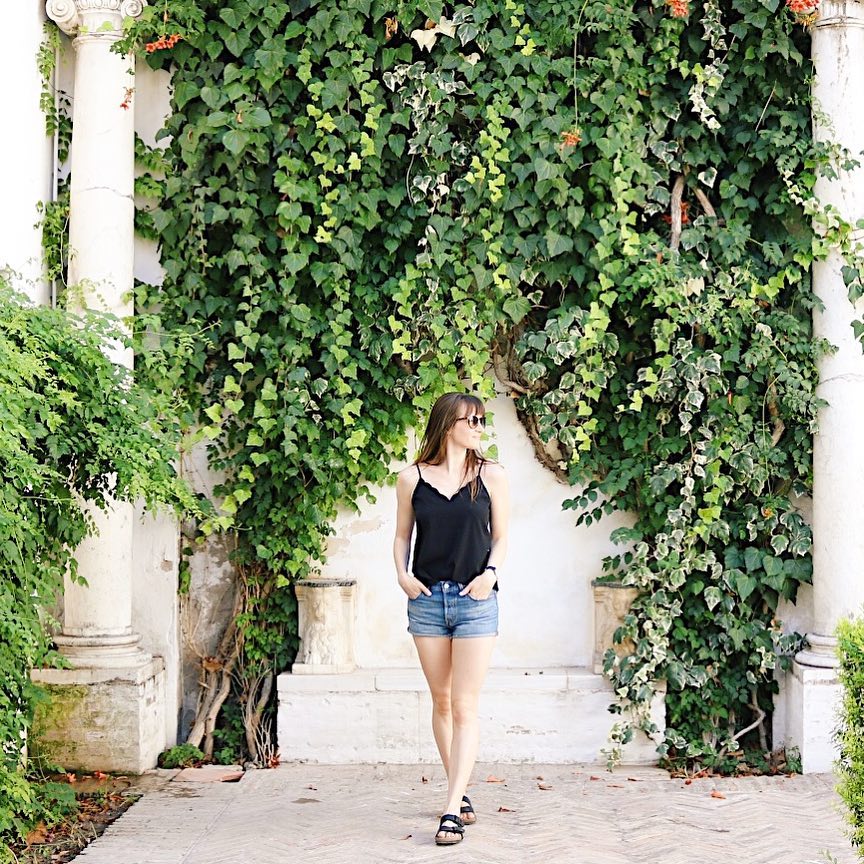 Walk through Maria Luisa Park: One morning, we got our coffee at Torch Coffee Roasters and then meandered through the gardens at Maria Luisa Park for a morning walk. It was developed in part for the world's fair in Seville in 1929. Oh, and there were orange trees everywhere! Maybe I should have already known that about Seville, but I didn't.
Climb to the top of the Torre de Oro: For just a few euro, you can climb several flights of stairs to the top of this military watchtower from the 13th century. This was one of the first things we did in Seville, and it was a fun way to get to see a view of the river and buildings. The museum is small and only takes 30 minutes to walk through, which is exactly the type of museum that I like.
---
Ok friends. That's the conclusion of my honeymoon recaps. Are you traveling to Spain soon and want to talk about it? Let's get coffee! I never get tired of talking about travels!
I'm forever thankful for this adventure I got to share with my man. We made a million memories; some were romantic, others were funny, and a few were annoying.. Spend 17 days with any person in the world, even the one you love most, and you'll find some things to disagree on. Haha! But every memory made us love each other more, and what else could I want?
Wishing you the best Monday!
Kelsey
SaveSave
SaveSave